Should You Buy Logitech Stock Before Q1 Earnings? 3 Things to Know
Logitech International (NASDAQ: LOGI) was one of the big winners of 2020. Share prices climbed 106% last year as remote workers purchased webcams, microphones, and other peripherals to remain productive at home.
However, that was 2020. This year has been all about the reopening, and there is some expectation that Logitech's sales momentum will slow. But investors have remained bullish this year, with the stock price up 25% year to date.
Logitech will release its fiscal 2022 first-quarter earnings on Monday, July 26, after the market closes. Here are three things to know before you decide if Logitech stock is right for your investment goals.
1. Analysts don't see near-term upside
Logitech spent the last several years positioning itself to benefit from the same trends that accelerated during the pandemic, including remote work, video calling, growth in esports, and content creation on streaming platforms.
CEO Bracken Darrell doesn't see demand disappearing. Instead, he sees Logitech's long-term growth opportunity getting bigger than ever. During Logitech's investor day in March, he said, "This year of exceptional growth just raises the long-term water level like a permanent tide."
Still, after seeing sales accelerate and the stock price shooting higher, analysts with Goldman Sachs and Morgan Stanley downgraded the shares in June, citing valuation concerns.
The stock trades at 28 times the consensus analyst estimate for fiscal 2022 earnings per share (EPS), and that valuation has risen sharply in recent months as the stock price continued to increase against lower EPS estimates for the current fiscal year.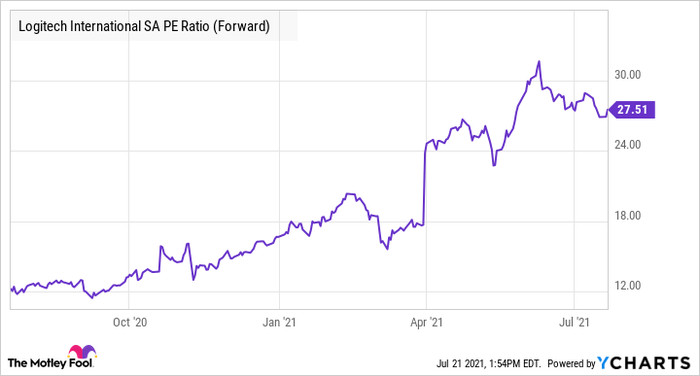 LOGI PE Ratio (Forward) data by YCharts
2. Near-term expectations for Logitech are in line with guidance
While Logitech didn't provide quarterly guidance for fiscal Q1 2022, Wall Street expectations are mostly in line with management's full-year guidance.
For fiscal 2022, the consensus analyst estimate calls for revenue to decline by 0.5% on a currency-neutral basis over fiscal 2021. This is consistent with management's forecast for currency-neutral sales to be approximately flat, plus or minus 5%.
Analysts expect full-year earnings per share to decline by 33% to $4.30 over fiscal 2021. Management doesn't provide specific earnings guidance but expects adjusted operating income to be between $800 million and $850 million, compared to $1.27 billion in fiscal 2021.
However, given Darrell's statement about the secular trends in front of the business, investors should base their investment decision on Logitech's long-term growth prospects, which continue to look bright.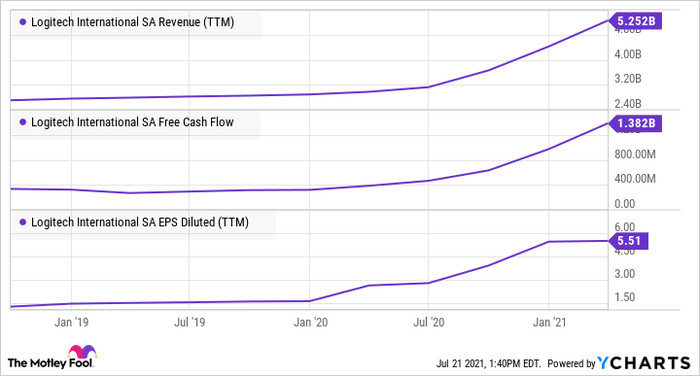 LOGI Revenue (TTM) data by YCharts
3. Logitech is just getting started
Logitech could surprise investors, depending on the strength of the demand for its office products, and whether gaming maintains momentum. Keep in mind, the company has met or exceeded earnings estimates for 12 consecutive quarters.
Darrell noted an important anecdote in the fiscal fourth-quarter earnings report that speaks to how the pandemic is changing the work environment: Citigroup recently announced it would designate most of its employees as "hybrid workers, who will spend at least three days of work in the office and up to two days in home," Darrell said. He noted this as an example of the acceleration in secular trends that should lead to more demand for computer peripherals and conferencing equipment.
Wall Street analysts are notoriously short-term focused, but Logitech still has tremendous growth opportunities. In a 2018 investor presentation, management highlighted that only 2.5% of conference rooms worldwide were equipped with video.
With many people getting used to video calls during the pandemic, there could be an acceleration in demand to upgrade office rooms over the next few years. I recently bought shares of Logitech and wouldn't be afraid to invest in this growth stock ahead of the next earnings report.
10 stocks we like better than Logitech International
When our award-winning analyst team has a stock tip, it can pay to listen. After all, the newsletter they have run for over a decade, Motley Fool Stock Advisor, has tripled the market.*
They just revealed what they believe are the ten best stocks for investors to buy right now... and Logitech International wasn't one of them! That's right -- they think these 10 stocks are even better buys.
*Stock Advisor returns as of June 7, 2021
Citigroup is an advertising partner of The Ascent, a Motley Fool company. John Ballard owns shares of Logitech International. The Motley Fool recommends Logitech International. The Motley Fool has a disclosure policy.
Source