Market Sell-Off 2022: 3 Ultra-Safe Dividend Stocks to Buy Now
The euphoria that helped the S&P 500 double between 2019 and the end of 2021 has evaporated so far in 2022. It's just three weeks into the year, and the S&P 500 is down over 7% while the Nasdaq is down 12%.
Procter & Gamble (NYSE: PG), Clorox (NYSE: CLX), and Kinder Morgan (NYSE: KMI) are three rock-solid dividend stocks to consider if you're concerned with further market volatility. Here's what makes each a great buy now.
1. Procter & Gamble: A Dividend King that's built to last
Procter & Gamble has recession resilience, inflation resistance, strong brands, pricing power, and industry leadership. P&G has long been seen as a defensive investment option for situations when capital preservation, value, and income are more important than growth.
For example, the S&P 500 fell 57% between its 2007 peak on Oct. 9 and the 2009 low on March 9. P&G stock fell 38% over this time frame -- still bad, but a lot less so than the market.
What's more, P&G has been one of the few consumer staple stocks that has kept pace with the S&P 500 during its bull run over the past five years -- all the while producing dividends and being far less volatile than higher-growth names. In a market dominated by mega-tech companies, it's impressive to see a 185-year-old company put up a strong performance.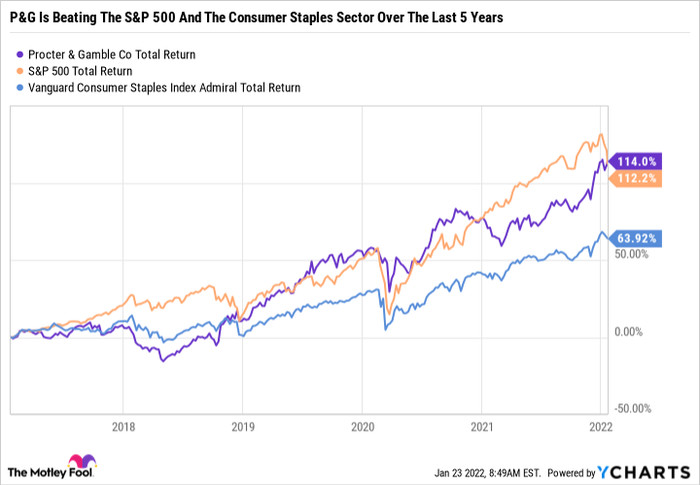 PG Total Return Level data by YCharts
P&G just reported second-quarter results for its 2022 fiscal year, and it showed consistent organic growth, strong margins, and high cash flow generation even in the face of higher costs due to inflation. With 65 consecutive years of dividend raises and a 2.1% yield, P&G is a dividend stock you can count on today.
2. Clorox: A Dividend Aristocrat that's down on its luck
Clorox may not have the market-beating track record of P&G. But it is a Dividend Aristocrat, having increased its annual dividend for 45 consecutive years.
Similar to P&G, Clorox has a portfolio of brands that do well throughout market cycles. Since taking the helm as Clorox's CEO in September 2020, Linda Rendle has implemented a campaign focused on higher spending to lean into a shift in consumer behavior toward cleanliness and hygiene.
What's gotten the company into trouble as of late is its higher advertising spending coupled with supply-chain challenges and higher costs due to inflation. Unfortunately, these factors have taken a sizable toll on Clorox's top and bottom line as well as its free cash flow.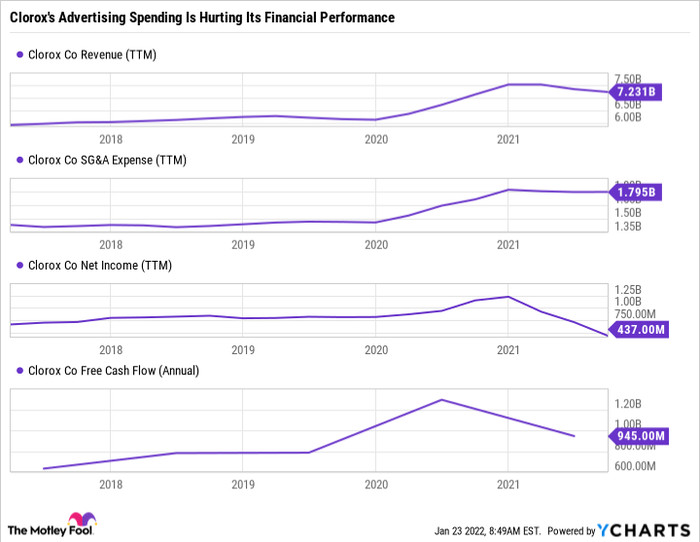 CLX Revenue (TTM) data by YCharts
With Clorox having coming off a record 2020, investors have been rightfully disappointed with its inability to carry forward the momentum. However, long-term investors could take this opportunity to buy shares of Clorox during this period of short-term weakness -- taking solace in its ultra-safe 2.6% dividend yield and prospects for better times ahead.
3. Kinder Morgan: A solid natural gas investment
The oil and gas industry isn't typically synonymous with "ultra-safe dividend." But natural gas pipeline giant Kinder Morgan is in a league of its own. Quarter after quarter, the company makes it abundantly clear that preserving a healthy balance sheet and generating strong distributable cash flow (DCF) to support a growing dividend are its top priorities.
Gone are the days of the fast-growing Kinder Morgan from the first half of the 2010s. The transition from growth to stability may dissuade some oil and gas investors from investing in Kinder Morgan, but it's great news for income investors looking for a high-yield stock they can count on now.
Kinder Morgan operates the largest natural gas pipeline network in the U.S. It also has a large oil, liquids, and CO2 transportation and storage infrastructure. Given the long-term stagnant or even negative growth outlook for fossil fuels, Kinder Morgan is selectively investing in new projects only when the demand is high enough to justify the cost. Over the past few years, it put into service two major pipelines that transport natural gas out of the Permian Basin in West Texas and Eastern Mexico to the U.S. Gulf of Mexico, where natural gas can be cooled and condensed into liquefied natural gas for transport to buyers overseas.
Kinder Morgan has already released full-year 2022 guidance. It's raising its dividend to $1.11 per share annually and expects to generate $1.09 in earnings per share as well as $2.07 in distributable cash flow per share -- all the while keeping a healthy amount of debt on its balance sheet. At a forward dividend yield of 6.4%, Kinder Morgan stands out as my top dividend stock to buy in 2022.
A defensive basket built for more market turbulence
Investing equally in P&G, Clorox, and Kinder Morgan would give you an average dividend yield of 3.7% while exposing your portfolio to industry-leading businesses with strong free cash flow to support their dividends. Though this basket would likely underperform the broader market during times of high growth, it's ideally situated for the rising interest rate and high-inflation environment we are currently experiencing.
10 stocks we like better than Procter & Gamble
When our award-winning analyst team has a stock tip, it can pay to listen. After all, the newsletter they have run for over a decade, Motley Fool Stock Advisor, has tripled the market.*
They just revealed what they believe are the ten best stocks for investors to buy right now... and Procter & Gamble wasn't one of them! That's right -- they think these 10 stocks are even better buys.
*Stock Advisor returns as of January 10, 2022
Daniel Foelber has no position in any of the stocks mentioned. The Motley Fool owns and recommends Kinder Morgan. The Motley Fool has a disclosure policy.
Source