Is XPeng Stock a Buy?
China is a leading market for electric vehicles. BloombergNEF estimates there were global sales of roughly 6.3 million electric vehicles (EVs) in 2021. Of these, around 3 million were sold in China. XPeng (NYSE: XPEV) sold 16,000 EVs in China in December, which looks impressive considering that it is competing with far bigger and more established companies in the sector. Let's discuss if the EV stock is a buy right now.
XPeng's EV sales growth
Some top players dominate the Chinese EV market. BYD (OTC: BYDDY) (OTC: BYDD.F) sold the most electric vehicles in China in December --92,823 -- of which 48,317 were fully electric, while the remaining were plug-in hybrids.
Tesla sold nearly 53,000 EVs in November in China, all of which were fully electric. Other dominant players in the Chinese EV market include a joint venture of SAIC Motor, General Motors, and Wuling Motors, which sold more than 50,000 EVs in November. GAC Group and Great Wall Motors each sold more than 15,000 EVs in November.
Following the above players are new pure-play EV companies including XPeng, Li Auto (NASDAQ: LI), and Nio (NYSE: NIO). Notably, Li Auto currently offers plug-in hybrids rather than fully electric vehicles. XPeng grew its EV sales rapidly in the last couple of months.
XPeng's EV sales have been higher than each of Nio and Li Auto for three months in a row. XPeng delivered 98,155 EVs in 2021, rising 263% year over year. The company has so far delivered 137,953 vehicles.
XPeng has been growing its revenue impressively over the last several quarters.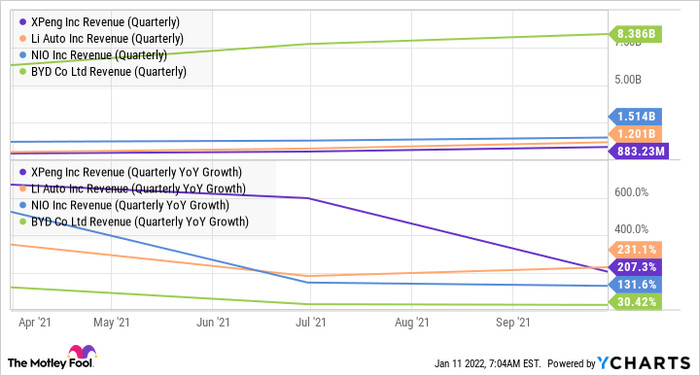 XPEV Revenue (Quarterly) data by YCharts
Its average quarterly year over year revenue growth in the last one year is higher than its top peers. Given the expected growth in the Chinese EV market, XPeng is well-placed to grow even if it maintains its current market share. The company's attractive range of offerings, and the customers' response to its models, could help it achieve that objective.
An attractive range of offerings
XPeng currently offers three models -- the P7 sports sedan, the P5 family sedan, and the G3 SUV. The company offers different versions of P7 with different specifications. Pricing starts from Renminbi 229,900 ($36,000) for the standard version going up to RMB 409,900 ($64,300) for the High Performance version. XPeng started deliveries of the P5 family sedan in October. Its pricing ranges from RMB 160,000 ($25,100) to RMB 230,000 ($36,000). By comparison, pricing for the G3 SUV starts from RMB 149,800 ($23,500).
In November, XPeng launched a new model, the G9. XPeng is launching new models regularly, which are helping it in targeting a broader base of customers and grow its sales.
XPeng targets the mass market with products priced in the range of RMB 150,000 to RMB 400,000. That's lower than all of the models that Tesla sells in China, except the Model 3. XPeng is looking to offer some of the best features in its models, but at much lower price points than that offered by the competitors.
The company operates 661 branded supercharging stations across China. Additionally, it has partnered with third parties, offering a network of over 200,000 chargers. Finally, the company offers its own driver-assistance system and is working to refine it continuously. All in all, XPeng seems to be in the race for the long-term.
Should you buy XPeng stock right now?
Before deciding to invest, it is important to note some key risks associated with investing in international stocks. Apart from currency, political, and country-specific risks, XPeng investors face risks relating to concentrated voting power. XPeng's three co-founders -- Xiaopeng He, Heng Xia, and Tao He -- control 69.5% of the company's total voting power. Further, Taobao China Holding Limited, a wholly owned subsidiary of Alibaba Group, controls 14.6% of the voting power.
Such control may negatively impact the interests of American depositary share (ADS) holders, should they conflict with the interests of those holding the majority voting power. Notably, such risks seem to be already priced in the stock, as reflected in the discounted valuation of XPeng stock compared to its U.S. peers.
XPeng stock is trading at a better price-to-forward-sales ratio than several other EV stocks such as Rivian, Lucid, or Tesla. However, XPeng stock is trading at a slightly higher ratio compared to that of Nio or Li Auto, reflecting its higher expected growth rate.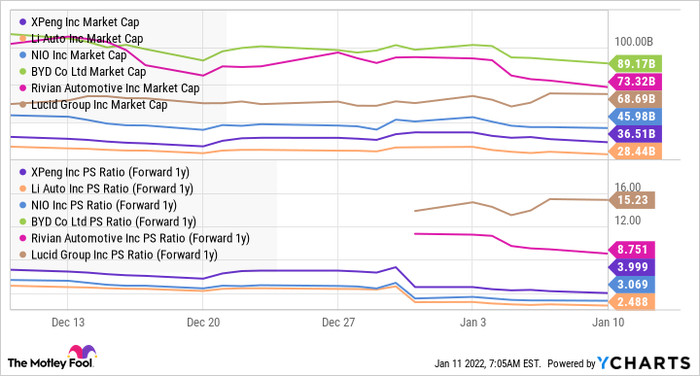 XPEV Market Cap data by YCharts
XPeng stock's valuation seems attractive right now relative to its peers. An exciting products range, impressive sales growth, and a huge addressable market make XPeng stock appealing.
All in all, the stock looks well placed to generate market-beating returns in the long term.
10 stocks we like better than XPeng Inc.
When our award-winning analyst team has a stock tip, it can pay to listen. After all, the newsletter they have run for over a decade, Motley Fool Stock Advisor, has tripled the market.*
They just revealed what they believe are the ten best stocks for investors to buy right now... and XPeng Inc. wasn't one of them! That's right -- they think these 10 stocks are even better buys.
*Stock Advisor returns as of January 10, 2022
Rekha Khandelwal has no position in any of the stocks mentioned. The Motley Fool owns and recommends BYD, NIO Inc., and Tesla. The Motley Fool has a disclosure policy.
Source