Why Shares of Defense Stocks Were Down in February
What happened
Shares of Raytheon (NYSE: RTN) lost 14.7% in February, according to data provided by S&P Global Market Intelligence, and shares of Lockheed Martin (NYSE: LMT) and Northrop Grumman (NYSE: NOC) each fell more than 12%, weighed down by the broader market sell-off and uncertainty created by the Pentagon's 2021 budget request.
It's been a good five-year run for defense stocks, and it appears investors are ready to take their gains and look elsewhere.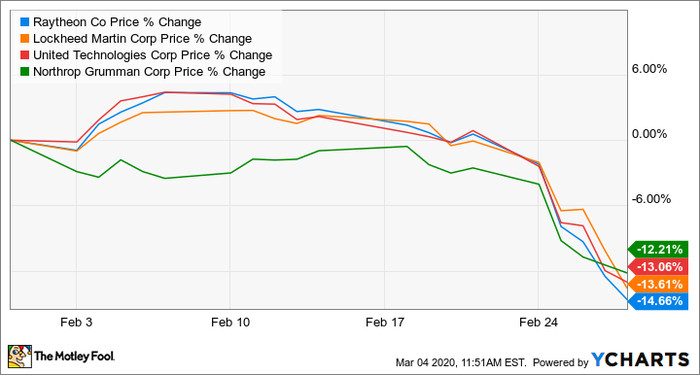 Defense industry data by YCharts.
So what
Defense stocks have been good investments over the past five years, with shares of Raytheon, Lockheed Martin, and Northrop Grumman growing by at least 82.28% over the period compared to the S&P 500's 44% gain. A growing defense budget helped fuel those gains, but this is a cyclical business, and it appears that cycle might be nearing a peak.
The Pentagon's fiscal 2021 budget request, released in mid-February, was down slightly from a year prior, and military officials made it clear they need to get more creative to fund priorities in a presidential election year and as the government budget deficit continues to grow.
That prioritization is not bad news for the defense titans, as Northrop and Lockheed Martin in particular are significantly exposed to Defense Department priorities, including modernization of the nation's nuclear arsenal and the F-35 fighter. But the shift in budget tone could signal a deceleration of growth, which in turn is likely to cause questions about whether these high-flying stocks can grow into their current valuations.
To that point, General Dynamics, which trades at a discounted multiple to the other defense titans thanks to issues with its Gulfstream business jet unit, fell only 8.9% for the month.
Now what
The defense companies still boast billions in bookings and revenue predictability for years to come, and a strong case can still be made to buy Lockheed Martin in particular at these levels. Raytheon, which is in the process of merging with the aerospace arm of United Technologies, also remains a stock to watch.
But there is a growing sense among defense investors that the easy money has been made for this cycle, and gains are going to be harder to come by in the quarters to come. Given the "risk-off" mood that permeated the markets in late February, it's no surprise that investors in defense stocks decided to head for the exits.
10 stocks we like better than Raytheon
When investing geniuses David and Tom Gardner have a stock tip, it can pay to listen. After all, the newsletter they have run for over a decade, Motley Fool Stock Advisor, has tripled the market.*
David and Tom just revealed what they believe are the ten best stocks for investors to buy right now... and Raytheon wasn't one of them! That's right -- they think these 10 stocks are even better buys.
*Stock Advisor returns as of December 1, 2019
Lou Whiteman owns shares of General Dynamics and Lockheed Martin. The Motley Fool has no position in any of the stocks mentioned. The Motley Fool has a disclosure policy.
Source