Ford Just Launched a Start-Up. That's Significant.
Ford Motor Company (NYSE: F) and ADT (NYSE: ADT) said they have formed a $105 million joint venture, called Canopy, to bring a new artificial intelligence (AI)-enabled vehicle security system to market.
ADT is a significant partner and its services are a key piece of the offering, but Ford will hold a majority stake in Canopy, which was developed in the automaker's in-house start-up incubator.
That makes it something of a big deal. Here's what we know.
Canopy: Like a doorbell camera for your truck
The Canopy system is something like a doorbell camera, but for a vehicle. A camera and sensors on the vehicle allow the system to monitor the vehicle's surroundings. If the system detects a "credible threat," such as a potential thief or vandal, it will alert owners via a smartphone app.
The app allows owners to see and hear video and audio from the vehicle, to summon police if needed, and to talk to people near the vehicle via vehicle-mounted speakers, as shown in this video released by Ford.
Canopy owners can also elect to connect the system to ADT's (human) monitoring agents via a monthly subscription. If the system detects a potential threat, ADT's agents can then check the vehicle's sensors and contact the customer, a fleet manager, or the police if additional measures are needed to protect people or property.
The Canopy system will be sold first as a kit designed to protect a truck's cargo areas. Ford's new commercial-fleet unit, Ford Pro, plans to market it to commercial-vehicle owners concerned about the potential theft of tools or cargo from their pickups or vans.
"Thieves have been even more active during the pandemic and know business owners store valuable equipment in vehicles, often hauling more than $50,000 of gear," said Franck Louis-Victor, who leads Ford's new-business incubator. "Canopy is here for those who've had enough of thefts that threaten their livelihoods."
The kit will be available through Ford dealers in the U.S. and U.K., and via online retailers including Amazon starting early next year. In time, it'll be available as an integrated option on Ford's F-Series pickups and Transit vans, possibly on other Fords, and perhaps on vehicles from other automakers as well.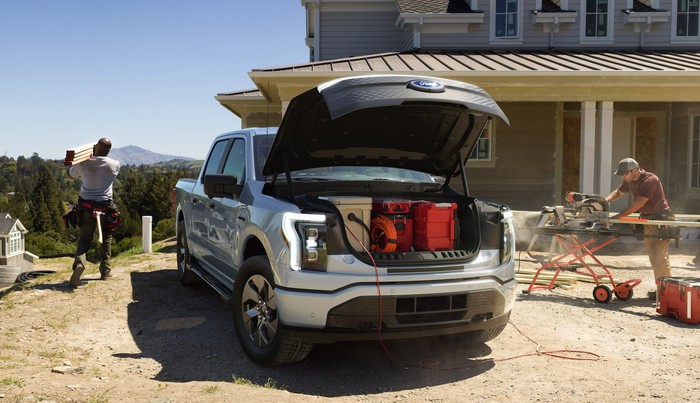 Canopy will be offered as an integrated option to protect cargo areas on Ford commercial vehicles including the upcoming F-150 Lightning Pro. Image source: Ford Motor Company.
About Canopy the company: A Ford-ADT joint venture
Canopy is a product of FordX, an internal unit that functions much like a start-up incubator for ideas conceived within Ford. The Canopy team spent two years developing the technology under the FordX umbrella, in close consultation with ADT.
Ford will invest about $63 million in Canopy over the next three years, in exchange for a 60% stake. ADT will invest roughly $42 million over that same period and will own the remaining 40% of Canopy. The partners' initial investments are expected to close in the second quarter.
Canopy will be headquartered in Detroit and London, Ford said. FordX director Christian Moran will serve as Canopy's interim CEO.
What it means for Ford investors
I think Canopy is important, but not because of the revenue it'll likely generate. (It has the potential to be a nice business, but it probably won't be a huge one by Ford's standards.) I think it's important because it shows that Ford (and specifically FordX) can nurture and develop worthwhile new businesses in-house.
The ramped-up connectivity and on-board computing power that Ford plans to offer in its vehicles over the next few years will in turn offer opportunities for new products and services that create revenue streams. What the Canopy news shows us is that Ford has already developed an in-house structure to identify and nurture ideas that could become those new products and services.
It's one more signal to auto investors that Ford is doing what it needs to do to thrive and profit as the auto industry's transformation unfolds.
10 stocks we like better than Ford
When our award-winning analyst team has a stock tip, it can pay to listen. After all, the newsletter they have run for over a decade, Motley Fool Stock Advisor, has tripled the market.*
They just revealed what they believe are the ten best stocks for investors to buy right now... and Ford wasn't one of them! That's right -- they think these 10 stocks are even better buys.
*Stock Advisor returns as of January 10, 2022
John Rosevear owns Ford. The Motley Fool has no position in any of the stocks mentioned. The Motley Fool has a disclosure policy.
Source