3 Low-Risk Stocks That Trounced the Market in 2020
A surging market meant that many individual stocks delivered head-turning gains for investors last year. The rally was especially strong in volatile growth niches like biotech and digital communications.
But you didn't have to venture into obscure business areas or tiny market capitalizations to find big winners in 2020. Some of the best gains came from well-known, established, and profitable companies.
With that in mind, let's take a closer look at why Tractor Supply (NASDAQ: TSCO), eBay (NASDAQ: EBAY), and Target (NYSE: TGT) stock trounced the market last year.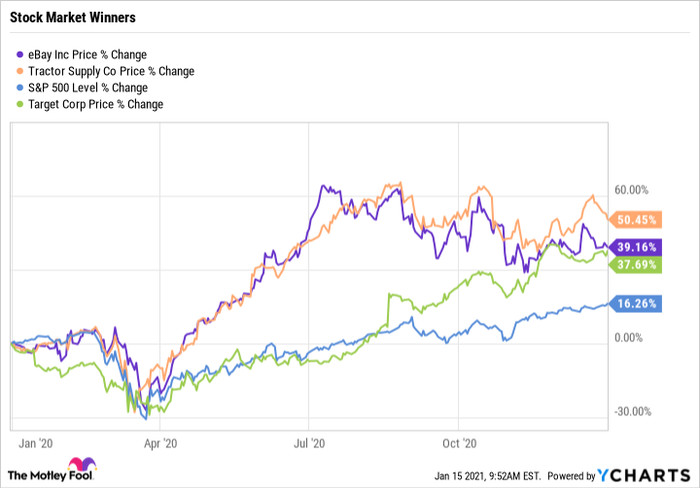 1. Tractor Supply
Tractor Supply's competitive advantages became clearer to investors in a year that turned the retailing world upside down. The lifestyle retailer kept its stores open through the entire pandemic, putting it in that "essential" status that helped other national chains like Home Depot (NYSE: HD) and Walmart (NYSE: WMT). But Tractor Supply notched much faster growth than these peers, with sales soaring 26% in the nine months that ended in late September.
That success came partly from the surging interest in the home, pet, and land care niches that Tractor Supply dominates. But the chain wouldn't have achieved those wins without a robust multi-channel selling platform that could compete with far bigger retailers like Walmart.
But the best news for investors is that CEO Hal Lawton and his team see a long pathway for growth ahead. Following a volatile selling year in 2021, annual sales trends should settle down to gains of at least 6% as earnings expand by between 8% and 10% over the next three to five years. That's a formula for continued positive returns for investors who hold the stock .
2. Target
Each of its direct competitors, from Walmart to Costco (NASDAQ: COST), logged unusually high sales gains last year. But Target brought a few other attractive characteristics to the investment party. Its unique merchandising portfolio allowed it to capitalize a bit better on the wild demand swings, leading to significant market share gains. Comparable-store sales surged 21% in the third quarter and slowed only slightly during the key holiday shopping season.
Target also managed to increase its profitability thanks to higher pricing, a shift toward discretionary product sales, and the popularity of ultra-fast fulfillment options.
In mid-November, executives celebrated what they called "unprecedented market share gains" in recent months as shoppers enthusiastically approved of their merchandising and delivery platforms. Investors might also like the fact that this Dividend Aristocrat is set to announce its 49th consecutive dividend increase this year.
3. eBay
eBay is an attractive option for investors who want to take on less risk than they might in buying stocks like Wayfair (NYSE: W) or Overstock.com (NASDAQ: OSTK). The marketplace still benefits from growth in the wider e-commerce industry. Sales volumes soared by over 20% in each of the last two quarters.
But eBay has a much smaller cost profile, which helps it deliver higher profits. Its operating margin sits well above 20% of sales, while Wayfair and Overstock only recently climbed out of negative territory.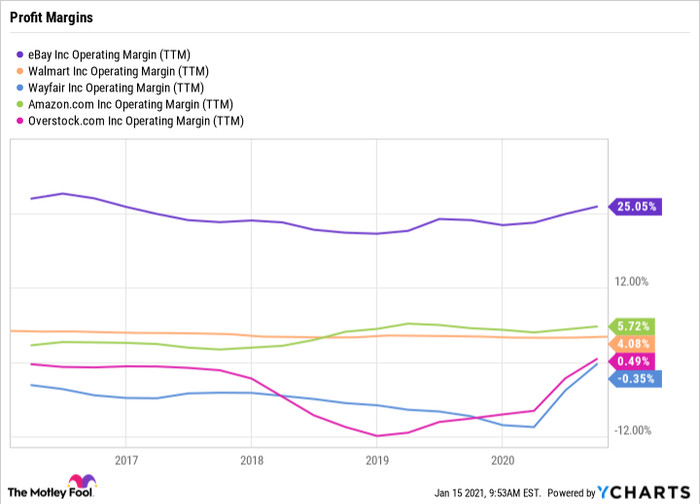 EBAY Operating Margin (TTM) data by YCharts
An eBay investment is also ideal for investors who prefer to see lots of direct cash returns. Wayfair still has several years of aggressive growth spending ahead of it, for example. But eBay is promising to send much of its gushing cash flow back to shareholders through its dividend and stock buyback programs.
Sure, any of these stocks could stumble in 2021 if the company fails to protect its new momentum. But these established, profitable businesses provide a valuable cushion for investors seeking a better balance between risk and reward this year.
10 stocks we like better than eBay
When investing geniuses David and Tom Gardner have a stock tip, it can pay to listen. After all, the newsletter they have run for over a decade, Motley Fool Stock Advisor, has tripled the market.*
David and Tom just revealed what they believe are the ten best stocks for investors to buy right now... and eBay wasn't one of them! That's right -- they think these 10 stocks are even better buys.
*Stock Advisor returns as of November 20, 2020
Demitri Kalogeropoulos owns shares of Costco Wholesale and Home Depot. The Motley Fool owns shares of and recommends Costco Wholesale, Home Depot, Tractor Supply, and Wayfair. The Motley Fool recommends eBay and Overstock.com. The Motley Fool has a disclosure policy.
Source