Why Lordstown Motors Stock Is Higher Today
What happened
Shares of Ohio electric-truck start-up Lordstown Motors (NASDAQ: RIDE) were trading higher on Wednesday, on continued momentum from a Monday business update and upbeat remarks by the company's CEO on Tuesday.
As of 11:30 a.m. EST, Lordstown's shares were up about 13.4% from Tuesday's closing price, and up about 115% since the beginning of November.
So what
Lordstown's shares got a big boost on Monday morning, when the company said in a business update that it has over 50,000 preorders for its electric Endurance pickup truck from commercial fleet operators and that it's on track to begin production of the Endurance in the fall of 2021.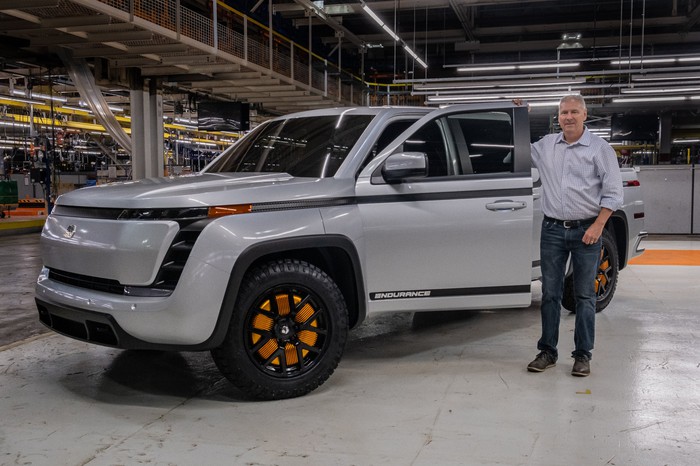 Lordstown CEO Steve Burns said that his company's partnership with GM is about much more than money. Image source: Lordstown Motors.
That boost is probably still driving the stock, but CEO Steve Burns probably gave it more momentum with his remarks on Tuesday afternoon. Appearing on CNBC's Mad Money, Burns said that General Motors (NYSE: GM), a key Lordstown investor, "brings more than money" to the relationship.
Lordstown's home base and factory is a former GM assembly plant. GM has also invested in the company, and -- critically -- has provided some assistance in getting the Endurance ready for mass production.
Now what
Burns also said that he feels the Endurance is "better than the Ford F-150 on every metric." That's the kind of thing that auto investors would expect him to say, of course -- but if the production version of the Endurance turns out to be even in the same ballpark as Ford's huge-selling truck, it'll be a win for the gritty start-up.
10 stocks we like better than Lordstown Motors Corp.
When investing geniuses David and Tom Gardner have a stock tip, it can pay to listen. After all, the newsletter they have run for over a decade, Motley Fool Stock Advisor, has tripled the market.*
David and Tom just revealed what they believe are the ten best stocks for investors to buy right now... and Lordstown Motors Corp. wasn't one of them! That's right -- they think these 10 stocks are even better buys.
*Stock Advisor returns as of October 20, 2020
John Rosevear owns shares of Ford and General Motors. The Motley Fool has no position in any of the stocks mentioned. The Motley Fool has a disclosure policy.
Source