Why InMode Stock Skyrocketed 65% in November
What happened
InMode (NASDAQ: INMD) stock surged 64.7% last month, according to data from S&P Global Market Intelligence. For context, the S&P 500 returned 3.6% in November.
The Israel-based company makes devices that use radio frequency (RF) technology to perform a range of minimally invasive aesthetic procedures. Its stock has been on fire, increasing 250% from its early August initial public offering (IPO), which is sure to land it a spot on the year's best-performing healthcare stocks.
So what
We can attribute InMode stock's powerful performance last month largely to the company's Nov. 5 release of third-quarter results that pleased investors. Shares popped 19.7% following the release and continued their upward climb throughout the month.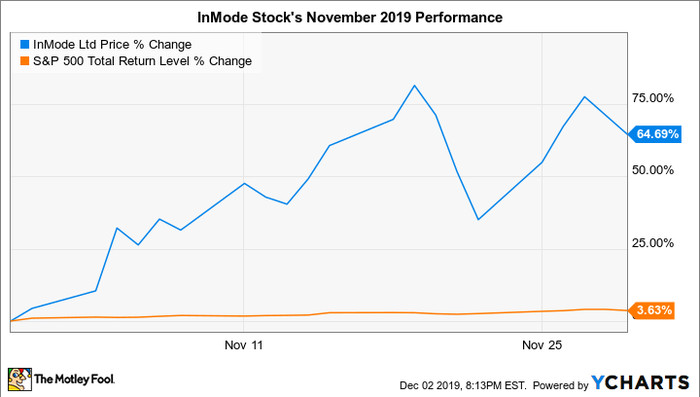 Data by YCharts.
In Q3, the company's revenue jumped 57% year over year to $40 million. Growth was "driven primarily by the continued expansion of InMode's direct sales organization in the U.S.," according to the earnings release. Net income surged 87% to $16.2 million, which translated to earnings per share rising 62% to $0.42. This result easily beat the Wall Street consensus estimate of $0.30.
Now what
InMode appears to be an attractive stock that's worth putting on your watch list. It has a potentially huge total addressable market, with the global market for aesthetic procedures increasing, driven by the population aging and becoming heavier.
10 stocks we like better than InMode Ltd.
When investing geniuses David and Tom Gardner have a stock tip, it can pay to listen. After all, the newsletter they have run for over a decade, Motley Fool Stock Advisor, has quadrupled the market.*
David and Tom just revealed what they believe are the ten best stocks for investors to buy right now... and InMode Ltd. wasn't one of them! That's right -- they think these 10 stocks are even better buys.
*Stock Advisor returns as of June 1, 2019
Beth McKenna has no position in any of the stocks mentioned. The Motley Fool has no position in any of the stocks mentioned. The Motley Fool has a disclosure policy.
Source