3 Reasons to Buy Apple Stock in 2022 — And Never Sell
Tech giant Apple (NASDAQ: AAPL) is one of the largest corporations in the world, boasting a monster market cap of $2.7 trillion. It may be difficult to believe that the California-based company still has significant room to grow at these levels.
But lots of things that are hard to believe are true, and although Apple has smoked the broader market in the past decade, there remains plenty of fuel left in its growth engine. Let's look at three reasons why the tech juggernaut is worth buying and holding onto for a very long time.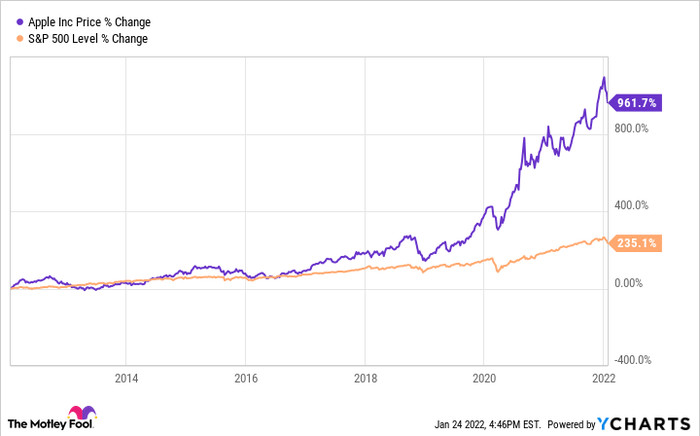 1. iPhone sales are still going strong
Apple's signature device, the iPhone, was first released in 2007. And while it has become one of the leading smartphones on the market, new releases of the iPhone still generate quite a lot of buzz -- more than 14 years after it was first introduced. Perhaps more importantly, iPhone models continue to generate robust sales for the tech company.
During Apple's fourth quarter of its fiscal year 2021, which ended on Sept. 25, 2021, Apple generated $38.9 billion in sales from its iPhone segment, representing a 47% jump compared to the year-ago period. Some analysts had predicted that excitement surrounding new iPhone releases would eventually die down, and sales of the products would plummet as a result.
True, new releases of the product no longer produce the level of enthusiasm they did back in the late 2000s, but even after all these years, the iPhone lives on, and in a big way.
2. Apple's booming services segment
Over the past five years, Apple's services unit has become increasingly important. The company records revenue associated with subscription-based (and other) services in this segment. It includes Apple TV+ revenue, iCloud-related services, Apple Pay, and many other things. During the company's fiscal year 2021, this business was the second largest in sales, only behind the iPhone segment.
Apple's services revenue came in at $68.4 billion for the year, growing 27.3% compared to the fiscal year 2020. One major perk of this unit is that it boasts juicier margins than the rest of Apple's business. In its fiscal year 2021, the company's gross margin was 41.8%. Apple's product gross margin came in at 35.3%, compared to 69.7% for its services unit.
As the tech giant continues to grow this segment, it will have an increasingly positive impact on its bottom line. And that bodes well for the company's future.
3. Brand names matter
Companies that survive the test of time tend to have one thing in common: a competitive advantage. Of course, that can come in many different forms, be it from high switching costs, the network effect, or intangible assets such as patents and copyrights. Apple also has a solid competitive edge, namely its brand name (an intangible asset).
Businesses with solid reputations and influential brand names continue to attract customers even when they face strong competitors with similar or exchangeable products. Apple routinely ranks near (or at) the top in lists of companies with the most valuable brand names. For instance, in Forbes' 2020 iteration of its annual ranking, Apple came in at number 1.
At this point, the company could sell almost anything at a premium by merely branding it with its prized logo. That's something that will help maintain the company's lead over its peers while it keeps delivering solid returns for its shareholders.
Don't jump off this ship
Every company faces obstacles, and Apple has recently encountered its share of headwinds. Most notably, the company's supply chain issues have hindered its ability to meet the demand for certain products. Apple is managing to perform well despite these struggles, but competitive pressures and regulatory problems in countries such as China could weigh on the company in the future.
Investors shouldn't ignore these issues and others that could arise. However, even with these caveats taken into account, Apple's overall business looks rock-solid. Considering the company has such a stronghold on the market, its price to sales (P/S) ratio of 7.6 looks more than reasonable when compared to the broader tech sector's P/S of 30.8. This coupled with a valuation approaching $3 trillion, the tech company is an excellent buy-and-hold stock.
10 stocks we like better than Apple
When our award-winning analyst team has a stock tip, it can pay to listen. After all, the newsletter they have run for over a decade, Motley Fool Stock Advisor, has tripled the market.*
They just revealed what they believe are the ten best stocks for investors to buy right now... and Apple wasn't one of them! That's right -- they think these 10 stocks are even better buys.
*Stock Advisor returns as of January 10, 2022
Prosper Junior Bakiny has no position in any of the stocks mentioned. The Motley Fool owns and recommends Apple. The Motley Fool recommends the following options: long March 2023 $120 calls on Apple and short March 2023 $130 calls on Apple. The Motley Fool has a disclosure policy.
Source