Earnings Preview: Did Costco's Stellar Earnings Growth Continue in Q4?
Costco Wholesale (NASDAQ: COST) has capitalized on the past year and a half of retail disruption to increase its market share. The warehouse club giant has also reported substantial margin expansion over the past few quarters, as surging customer traffic unlocked new efficiencies in its business.
On Thursday afternoon, Costco will release its results for the final quarter of its 2021 fiscal year, which covers the 16-week period that ended on Aug. 29. Here's what investors should be looking for in the upcoming earnings report.
Spectacular sales growth continued
Costco reports its sales results on a monthly basis, so we already know that sales continued to grow rapidly last quarter. Net sales for the quarter surged 17.4% year over year to $61.4 billion on a 15.5% increase in comparable sales. Excluding the significant tailwinds from higher gasoline prices and a weaker U.S. dollar, adjusted comparable sales rose 9.4% in the fourth quarter.
This does represent a step down compared to the first three quarters of fiscal 2021, when adjusted comparable sales jumped 15.2%. However, Costco faced an incredibly tough year-over-year comparison last quarter, as adjusted comp sales increased 14.1% in the fourth quarter of fiscal 2020. That makes Costco's Q4 sales performance quite impressive.
What about core gross margin?
In addition to reporting strong sales growth, Costco has recorded significant gross margin increases for the past several quarters, particularly when zeroing in on its core merchandise categories. CFO Richard Galanti has attributed much of the gross margin improvement to higher labor productivity for prepared foods and lower spoilage of fresh foods due to the strong growth in customer traffic and sales.
The strong gross margin performance helped Costco continue to post solid earnings growth over the past year and a half, despite added pandemic-related costs (including premium pay of $2 per hour). As some of those pandemic-related costs have receded -- the premium pay ended in March -- profit growth has accelerated further. In the third quarter of fiscal 2021, net income surged 46% year over year.
That said, Costco's gross margin expansion already slowed significantly in the third quarter. Rising inflation -- combined with the company's desire to hold down prices as much as possible -- may have taken a bite out of gross margin last quarter.
Even so, the analyst consensus calls for fourth-quarter adjusted earnings per share to reach $3.55: up 17% year over year. That projection looks very achievable, thanks to the combination of Costco's rapid sales growth and the end of the retail giant's premium pay for employees earlier this year.
Are margin gains sustainable?
For most of the past five years, Costco's operating margin has hovered between 3.1% and 3.2%. However, operating margin moved up to around 3.4% for the 12-month period ending in early May.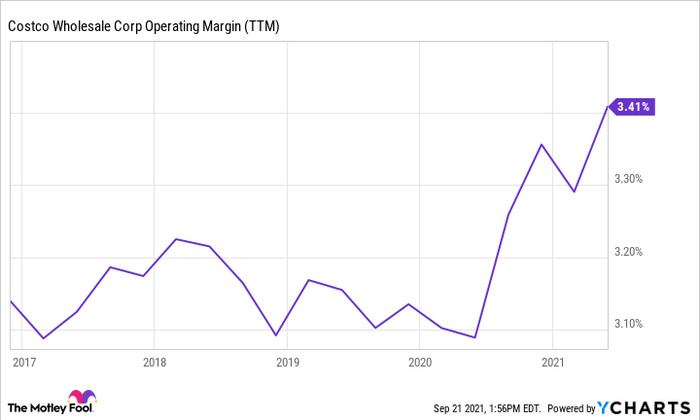 Costco Wholesale Operating Margin (TTM), data by YCharts. TTM = trailing 12 months.
That may seem like a very small increase. But because Costco operates on such thin margins, even a modest amount of margin expansion can drive disproportionate profit growth. The key question for investors now is whether Costco's recent margin expansion is sustainable.
Costco stock currently trades for about 38 times forward earnings: an extremely high valuation by historical standards. Between its deep moat, ongoing market share gains, and massive long-term expansion opportunities, Costco clearly deserves a premium valuation. That said, if the company's operating margin will eventually recede to pre-pandemic levels, it implies that earnings growth would slow, making the stock's valuation seem excessive.
On the other hand, if Costco shows signs of being able to continue expanding its profit margin gradually, Costco stock could continue rallying to new heights.
10 stocks we like better than Costco Wholesale
When our award-winning analyst team has a stock tip, it can pay to listen. After all, the newsletter they have run for over a decade, Motley Fool Stock Advisor, has tripled the market.*
They just revealed what they believe are the ten best stocks for investors to buy right now... and Costco Wholesale wasn't one of them! That's right -- they think these 10 stocks are even better buys.
*Stock Advisor returns as of September 17, 2021
Adam Levine-Weinberg owns shares of Costco Wholesale. The Motley Fool owns shares of and recommends Costco Wholesale. The Motley Fool has a disclosure policy.
Source