Why BlackLine Stock Climbed 15.1% in November
What happened
BlackLine (NASDAQ: BL) stock posted double-digit gains in November thanks to market momentum and better-than-expected third-quarter earnings results. Shares rose 15.1% in the month, according to data from S&P Global Market Intelligence.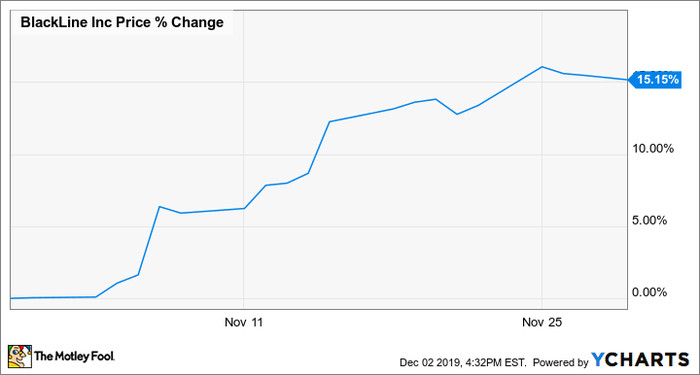 BlackLine published its third-quarter results on Nov. 6, delivering results that surpassed the market's top- and bottom-line expectations. The software-as-a-service (SaaS) company posted non-GAAP (adjusted) earnings of $0.12 per share on sales of $74.9 million, topping the average analyst estimate's call for per-share earnings of $0.03 on revenue of $72.3 million.
So what
Better-than-expected quarterly results combined with a rebound for the cloud software space after sell-offs in October boosted BlackLine stock in November. The cloud-based accounting and payroll services company added 87 net new customers in the third quarter, bringing its total client count to 2,871. It also expanded its partnerships with Google Cloud and Workiva in the quarter.
Now what
BlackLine stock has dipped roughly 3% in December's trading as another turn for the worse in the U.S.-China trade war prompted sell-offs for the broader market. The company is now valued at roughly 138 times expected earnings for the year and roughly 10 times expected sales.
BlackLine is guiding for sales between $77.3 million and $78.3 million in the fourth quarter, with adjusted net income for the period expected to be between $7 million and $8 million -- working out to adjusted earnings per share between $0.12 and $0.13. For the full year, BlackLine projects revenue to come in between $286 million and $287 million and adjusted EPS to be between $0.36 and $0.38 on net income between $21.2 million and $22.2 million.
10 stocks we like better than BlackLine, Inc.
When investing geniuses David and Tom Gardner have a stock tip, it can pay to listen. After all, the newsletter they have run for over a decade, Motley Fool Stock Advisor, has quadrupled the market.*
David and Tom just revealed what they believe are the ten best stocks for investors to buy right now... and BlackLine, Inc. wasn't one of them! That's right -- they think these 10 stocks are even better buys.
*Stock Advisor returns as of June 1, 2019
Keith Noonan has no position in any of the stocks mentioned. The Motley Fool owns shares of and recommends BlackLine, Inc. The Motley Fool has a disclosure policy.
Source