3 U.S. Stocks to Watch in July
July is, of course, the most patriotic of months for Americans, thanks to Independence Day. But even though the sparklers have fizzled out and the picnics have all been cleaned up, it's still a good time to consider investing in U.S. stocks.
In honor of the country we call home, we asked three of our Motley Fool contributors which American stocks they're watching this month (when they aren't busy watching fireworks). They came back with Bristol-Myers Squibb (NYSE: BMY), Qualcomm (NASDAQ: QCOM), and Oshkosh (NYSE: OSK). Here's why they think you might want to keep an eye on these U.S. stocks.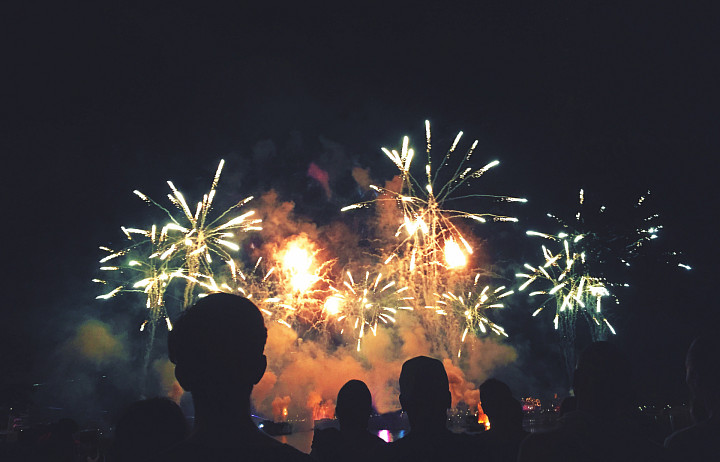 The best U.S. stocks can make your portfolio shine brighter than a fireworks display. Image source: Getty Images.
Big developments on the way
Keith Speights (Bristol-Myers Squibb): Bristol-Myers Squibb (BMS) is anything but a boring big pharma stock. There are plenty of things to watch with BMS in July and in the following months.
By far the biggest upcoming event for BMS is its pending acquisition of Celgene (NASDAQ: CELG). Shareholders of both companies have already approved the deal. Now BMS must secure the necessary regulatory approvals.
The drugmaker recently announced that it intends to sell Celgene's psoriasis and psoriatic arthritis drug, Otezla, which raked in $1.6 billion last year, in an effort to clear the way for winning a thumbs-up from regulators for the acquisition. There might not be any hard news on this divestiture in July, but it wouldn't be surprising if rumors emerge about which company might pick up the blockbuster immunology drug.
Another thing to look forward to from BMS is its announcement of results from a phase 3 clinical study evaluating a combination of Opdivo and Yervoy as a first-line treatment for non-small cell lung cancer. CFO Charles Bancroft said in the company's Q1 conference call that the results from this study will be announced this summer.
Market researcher EvaluatePharma projects that two of the five biggest blockbusters of the future are drugs in BMS' lineup: Opdivo and Eliquis. BMS will pick up several potential blockbusters with the Celgene acquisition, including liso-cel, one of the most valuable pipeline drugs in development right now. With key steps in making that Celgene buyout a reality on the way and an important update for Opdivo right around the corner, keep your eyes on Bristol-Myers Squibb.
A besieged chipmaker
Leo Sun (Qualcomm): In late May, the U.S. Federal Trade Commission won its antitrust case against Qualcomm, the largest mobile-chip maker in the world. The court ruled that Qualcomm "strangled competition" with "unreasonably high" royalty rates, anti-competitive bundling strategies, and exclusive partnerships.
This ruling raises tough questions about Qualcomm's future. The company generates most of its revenue by selling mobile chipsets, but most of its profits come from its portfolio of wireless patents. Those patents entitle it to a cut of every smartphone sold worldwide.
Government regulators in several markets (including China, Europe, South Korea, and now the United States) and several original equipment manufacturers (OEMs) claim that the chipmaker's licensing fees are too high. Rival chipmakers also argued that Qualcomm forced them out of the mobile market by offering OEMs lower licensing fees for using its mobile chips.
The recent U.S. ruling requires Qualcomm to eliminate any exclusive partnerships with OEMs, license its technologies to rival chipmakers at lower rates, and be monitored for seven years to ensure its compliance. That ruling could cripple Qualcomm's core profit engine, and the chipmaker immediately attempted to pause the ruling with an appeal.
Unfortunately, the appeal was denied in early July, sending Qualcomm scrambling to file another appeal. Wall Street already expects Qualcomm's revenue to decline 10% this year as it faces slower smartphone sales, and sees its earnings -- buoyed by buybacks -- growing just 3%. Therefore, a barrage of new restrictions for its licensing unit could exacerbate the pain. I don't think Qualcomm is worth buying as it faces these headwinds, but it will certainly be one of the top stocks to monitor this month.
Ups and downs and ups
John Bromels (Oshkosh): If you attended a Fourth of July parade this year, chances are it contained a fire engine. And that fire engine might have been a product of specialty truck maker Oshkosh, which I'm keeping an eye on this month.
Oshkosh's stock has been something of a roller-coaster ride (another quintessential July activity) lately. After the 2016 election, Oshkosh's share price soared as hopeful investors expected increases in federal defense and infrastructure spending. Oshkosh's defense segment would have benefited from the former and its access equipment and commercial segments from the latter. By the end of 2017, the stock had risen 66.8% from its pre-election levels.
Unfortunately, a big infrastructure spending bill didn't materialize and defense spending only rose modestly. But what did show up were tariffs on aluminum and steel -- both crucial components in Oshkosh's trucks. Although Oshkosh was largely able to pass on the increased costs to customers, a nervous market gave the stock a 32.5% haircut in 2018.
But 2019 has been good to Oshkosh so far, with shares up 36% year to date. The company is predicting continuing growth despite some setbacks for its defense division. And with a price-to-earnings ratio of 11.2, it looks cheaper than fellow defense contractors and other equipment manufacturers. Be sure to keep this unique company on your radar screen this month.
10 stocks we like better than Oshkosh Corporation
When investing geniuses David and Tom Gardner have a stock tip, it can pay to listen. After all, the newsletter they have run for over a decade, Motley Fool Stock Advisor, has quadrupled the market.*
David and Tom just revealed what they believe are the ten best stocks for investors to buy right now... and Oshkosh Corporation wasn't one of them! That's right -- they think these 10 stocks are even better buys.
*Stock Advisor returns as of June 1, 2019
John Bromels owns shares of Oshkosh. Keith Speights owns shares of Celgene. Leo Sun has no position in any of the stocks mentioned. The Motley Fool owns shares of and recommends Celgene. The Motley Fool owns shares of Qualcomm. The Motley Fool has a disclosure policy.
Source