Why Big Lots Stock Jumped 27% Friday Morning
What happened
Shares of Big Lots (NYSE: BIG), a discount retailer offering products in categories that include furniture, seasonal, consumables, and electronics, among others, jumped over 27% in early Friday trading after the company released third-quarter results that beat expectations. As of noon EST today, the stock was up more than 26%.
So what
Third-quarter net sales increased 1.6% to $1.17 billion, checking in just ahead of analysts' estimates for $1.16 billion. The better-than-expected revenue came despite a 0.1% decline in comparable-store sales.
Excluding items such as the sale of a distribution center, Big Lots lost $0.18 per share, also slightly better than the $0.20 loss analysts expected and on the lower end of management's guidance for a loss between $0.15 and $0.25 per share. Gross margins declined 20 basis points to 39.7%, and operating-income margin checked in at 14.6%.
"We are pleased to have delivered operating results in line with our guidance, while strengthening our balance sheet with the proceeds from the sale of our California distribution center," CEO Bruce Thorn said in a press release.
Now what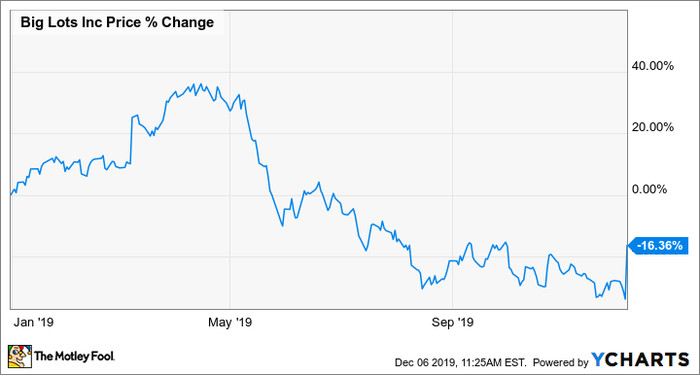 This has been a bit of a transitional year for Big Lots as it fine-tuned strategies to drive foot traffic, lower costs, and remodel stores. Management expects to return to EBIT and earnings-per-share growth in 2020, a slight increase in comps, and improved free cash flow.
One important factor for Big Lots to drive improved results will be staying on schedule and within budget with its store remodels. Through the first half of the year, it had remodeled roughly 323 stores out of more than 1,400 total, and should have more than 400 stores remodeled for the high-volume holiday season. There's plenty of competition in consumer-goods stocks, but investors seem optimistic that Big Lots has the right strategy to improve in 2020.
10 stocks we like better than Big Lots
When investing geniuses David and Tom Gardner have a stock tip, it can pay to listen. After all, the newsletter they have run for over a decade, Motley Fool Stock Advisor, has tripled the market.*
David and Tom just revealed what they believe are the ten best stocks for investors to buy right now... and Big Lots wasn't one of them! That's right -- they think these 10 stocks are even better buys.
*Stock Advisor returns as of December 1, 2019
Daniel Miller has no position in any of the stocks mentioned. The Motley Fool has no position in any of the stocks mentioned. The Motley Fool has a disclosure policy.
Source