Another Pot Stock Is Headed for the Nasdaq: Should You Buy It?
Many of the top Canadian-based pot stocks trade on the Nasdaq exchange, including Aurora Cannabis, Hexo, OrganiGram, and Tilray. And soon there will be another in that group: Valens (OTC: VLNCF).
The cannabis extraction company announced in April that it had submitted an application to list on the exchange. And in an update posted this month, it says that it expects to finally hit the Nasdaq before the end of fiscal 2021 (its year ends in November). By letting it reach a larger pool of investors, the move could help this fairly small pot stock (which is barely a small cap), gain some much-needed popularity.
The stock is thinly traded compared to other marijuana companies
Today, Valens' stock trades over the counter and on the Toronto Stock Exchange. Moving to the Nasdaq would help add credibility to Valens with larger investors. And by trading on one of North America's top exchanges, Valens could gain some traction and get greater trading volumes. Its average volume today is relatively light compared to those of other Nasdaq-listed stocks: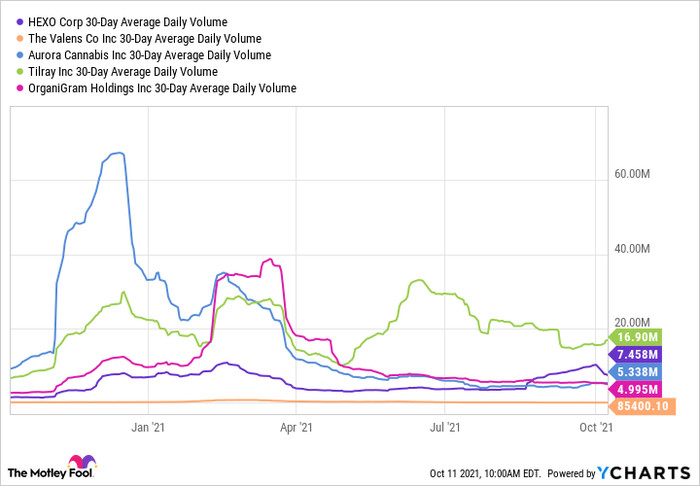 HEXO 30-Day Average Daily Volume data by YCharts
While investors may be quick to point out that some of those stocks are more popular because those companies also have more market share, Valens revenue over the past 12 months is around 75 million Canadian dollars, which is comparable to how much cannabis producer OrganiGram has reported during the same period. And those figures could get bigger in light of recent acquisitions.
Valens has been expanding
Although Valens isn't a large cannabis business today, the company has been making moves to expand its reach and increase its sales. Earlier this year, Valens announced the acquisition of U.S.-based Green Roads, which makes hemp-derived cannabis products (which are legal in the U.S. due to their minimal tetrahydrocannabinol content). On a pro forma basis, the companies together would have reported CA$111.6 million in 2020.
In addition to that deal, Valens announced on Aug. 31 that it will acquire a craft cannabis producer, Citizen Stash. And on Sep 1., it would be acquiring another producer, Verse Cannabis. While it didn't offer any pro forma numbers here, it did say that with these acquisitions, it will become a "top tier Canadian licensed producer," giving it 220 product listings in seven provinces and territories.
Is Valens a good buy?
In the company's third-quarter results (period ending Aug. 31), Valens reported gross revenue of CA$24.6 million, which was up 33% year over year. Green Roads contributed CA$4.7 million in its first partial quarter as part of the business -- that transaction closed on June 21. Valens' net loss of CA$12.8 million in Q3 was four times higher than the CA$3 million loss the company incurred in the prior-year period, as its gross margin of 26.8% was notably lower than what it was a year ago (40.3%). However, that could change once the dust settles from all these acquisitions. And Valens also noted in its earnings release that it has been transitioning away from relationships with smaller marijuana producers and instead has been setting up manufacturing agreements with larger companies to help improve efficiency and profitability.
Valens' stock trades at just four times its revenue, which is relatively cheap compared with other marijuana companies; OrganiGram trades at nine times revenue, while cannabis producer Canopy Growth trades at more than 12 times its sales. Trading on the Nasdaq could help Valens bridge a bit of that gap.
With a relatively low valuation and the company being on the extraction side of the marijuana business, Valens could be an attractive buy for cannabis investors who want to diversify their holdings.
Here's The Marijuana Stock You've Been Waiting For
A little-known Canadian company just unlocked what some experts think could be the key to profiting off the coming marijuana boom.

And make no mistake – it is coming.
Cannabis legalization is sweeping over North America – 15 states plus Washington, D.C., have all legalized recreational marijuana over the last few years, and full legalization came to Canada in October 2018.
And one under-the-radar Canadian company is poised to explode from this coming marijuana revolution.
Because a game-changing deal just went down between the Ontario government and this powerhouse company...and you need to hear this story today if you have even considered investing in pot stocks.
Simply click here to get the full story now.
David Jagielski has no position in any of the stocks mentioned. The Motley Fool owns shares of and recommends OrganiGram Holdings and The Valens Company Inc. The Motley Fool recommends HEXO Corp. The Motley Fool has a disclosure policy.
Source