The 3 Smartest Real Estate Stocks to Buy Right Now
What makes for a smart stock to buy? A lot depends on your perspective. In my case, I'm an income investor, with a focus on a dependable and growing flow of dividend payouts. That has led me to put a lot of my attention and money toward real estate investment trusts (REITs).
There are about 225 publicly traded REITs available right now, and they're all required to pay at least 90% of their taxable income in the form of a dividend to investors. But beyond that, the differences can be vast.
Narrowing it down to three REITs
All REITs have that payout obligation. They also can raise rents to help counter inflation, but that capacity varies greatly depending on the industries and geographic markets in which they operate. Then there are their performance records, which indicate that their beaten-down prices may be an overreaction and, thus, a good buying opportunity.
Finally, I'm looking for stocks that are in the S&P 500. Stocks in that group not only are bought because of their individual merits. It's a widely used benchmark, too, so institutional and index buyers also buy these stocks simply because they're on the list. There are 25 REITs in the S&P 500, so plenty to choose from.
After narrowing that down, I chose two REITs I already own -- Alexandria Real Estate Equities (NYSE: ARE) and Crown Castle International (NYSE: CCI) -- and a third I'm considering adding, Camden Property Trust (NYSE: CPT).
First, let's look at two charts that speak to the broad picture here for these three stocks, and then I'll include some details about each. The first chart shows the 10-year total return, and the second is the year-to-date total return. Total return combines share price and dividends, and for a benchmark, I've included the Vanguard Real Estate ETF, an exchange-traded fund that typically comprises about 160 REITs.
First, the 10-year look. A maxim I believe in is to buy great companies and hold them for the long term. These three show why.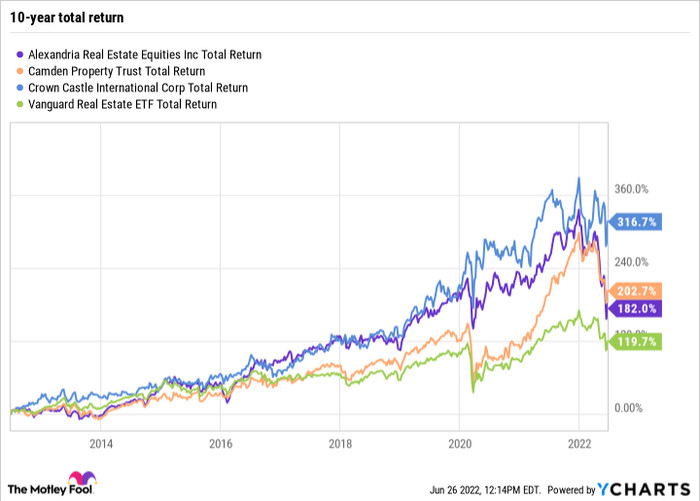 ARE Total Return Level data by YCharts.
The below chart shows how they've done so far this year, showing where these stocks have to go to get back to where they were before the current downturn.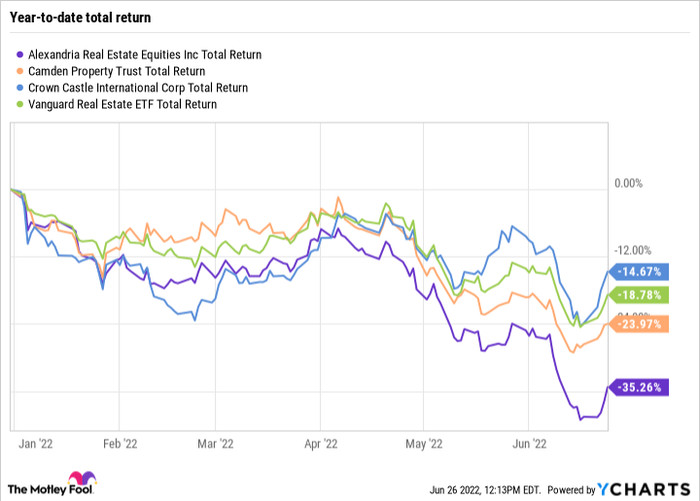 ARE Total Return Level data by YCharts.
Below is a look at each REIT, including some of their more notable metrics.
1. Alexandria Real Estate Equities
Alexandria Real Estate Equities has taken a plunge in the market so far this year, along with a lot of its major tenants, such as biopharmaceutical companies. But there's still a lot to like about this pioneer of collaborative life science space.
Recent projects added to its growing portfolio include Moderna's new headquarters in Cambridge, Massachusetts and the expansion of its Alexandria LaunchLabs project with Columbia University in New York City. The latter provides space and start-up help to about 25 new start-ups a year.
Alexandria has financially managed that combination of traditional office real estate operations and leading-edge life sciences investment quite well, growing its funds from operations (FFO) by 382% over the past 10 years, while boosting its dividend for 13 straight years. A price/FFO per-share ratio of 15.7 helps make this company look like a bargain in today's market.

2. Camden Property Trust
Camden Property Trust is a newcomer to the S&P 500 but boasts a collection of 170 apartment properties with about 58,000 units. This makes it one of the country's largest publicly traded multifamily operators.
Camden's concentration on high-demand Sunbelt markets is allowing it to further leverage the inflation-fighting ability to raise rents quickly that's inherent to short-term leases in this kind of commercial property. The company responded by raising its 2022 guidance for FFO recently by $0.27 per share to $6.51. That's a 4.3% boost that builds on a 10-year record of growing that crucial measurement of REIT performance by about 153%.

A price/FFO ratio of about 17.5 makes this stock look relatively cheap, and a payout ratio of about 53% makes the current dividend yield of about 2.8% look highly sustainable. Analysts who follow this stock also have given it a consensus target price of about $171 a share, which would be a nice gain from the $135 or so it's trading at now. .

3. Crown Castle International
Crown Castle International is the largest of these three REITs, with a market cap of about $76 billion and a fast-growing portfolio of mobile communications infrastructure anchored by about 40,000 cell towers and 80,000 miles of fiber cable. Despite Crown Castle's name, this is a domestic company that's extending its networks well beyond those tall towers, with a vigorous focus on small-cell node sites that are critical to pushing 5G networks across communities and through buildings.
The major mobile carriers and public and private entities alike depend on this infrastructure, and Crown Castle has handsomely rewarded investors as its grown, posting dividend growth of 320% in just the past 10 years.

CCI stock is currently yielding about 3.4% at a beaten-down share price of about $175 that analysts' consensus estimates see rising to about $203, an upside of some 16%. That, along with a growing dividend, would make a buy here look very smart.
Smart is in the eye of the beholder
Past performance is no guarantee of future profits, but Alexandria Real Estate Equities, Crown Castle International, and Camden Property Trust have the portfolios in place to keep the passive income flowing while their discounted share prices now could add to the bargain later. And behold! That result would make you feel pretty smart.
10 stocks we like better than Alexandria Real Estate Equities
When our award-winning analyst team has a stock tip, it can pay to listen. After all, the newsletter they have run for over a decade, Motley Fool Stock Advisor, has tripled the market.*
They just revealed what they believe are the ten best stocks for investors to buy right now... and Alexandria Real Estate Equities wasn't one of them! That's right -- they think these 10 stocks are even better buys.
*Stock Advisor returns as of June 2, 2022
Marc Rapport has positions in Alexandria Real Estate Equities, Crown Castle International, and Vanguard Real Estate ETF. The Motley Fool has positions in and recommends Camden Property Trust, Crown Castle International, and Vanguard Real Estate ETF. The Motley Fool recommends Alexandria Real Estate Equities and Moderna Inc. The Motley Fool has a disclosure policy.
Source