2 Reasons Square's Results Are Better Than You Think
Square's (NYSE: SQ) fourth quarter 2020 earnings report was met with some disappointment on Tuesday after the company revealed that its retail payments platform is growing relatively slowly, and most of its growth is driven by the volatile cryptocurrency Bitcoin.
On the surface, Square's non-Bitcoin growth of 23% during the quarter doesn't look impressive, and compared to other e-commerce companies, it isn't. But if we look at the foundation of Square and where the company is heading, the picture looks a little better for this high-profile tech stock.
In-person retail is Square's core
There are a number of confusing trends in Square's earnings report, but one I want to highlight is how important in-store sales have traditionally been to the company. In the fourth quarter, the company grew revenue 141% year over year to $3.16 billion, but the seller ecosystem that's at the core of the business saw revenue grow just 5% to $987 million. A vast majority of growth is coming from Cash App. Compare that to the pandemic-fueled growth at Shopify and Amazon, and it looks like Square is falling behind.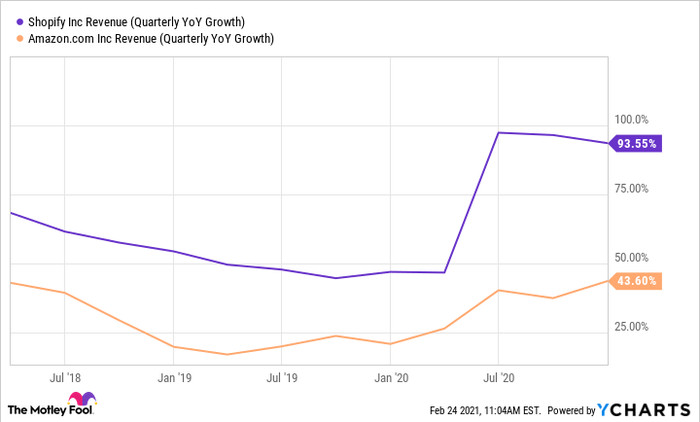 Data by YCharts.
A slow retail growth rate may sound terrible for a digital payments company, but keep in mind that Square's business was built on small businesses like food trucks, salons, and boutique shops. These are businesses that rely on in-person connections rather than online sales, so the arrival of the pandemic heavilly impacted Square's core business.
To put the numbers into perspective, Square said that in the fourth quarter, online and omnichannel (which includes online or in-person channels) sales accounted for over half of the gross payment volume (GPV) it processed. And that was up "nearly 3x" from four years ago, implying that in late 2016, the platform generated over 80% of GPV from in-person transactions.
This has a couple of implications going forward. One is that Square may be a big beneficiary from recovering in-person sales when the economy fully reopens and people start going to breweries, restaurants, boutiques, and other "brick and mortar" businesses in large numbers. The other thing we can see is that Square is now setting itself up with Cash App at its center, and that could have vast applications for the company long term.
Cash App is Square's future
The biggest single cost for Square's traditional payment processing business is interchange fees, which are paid to banks and credit card companies like Mastercard and Visa. When Square charges 2.65% to process a retailer's transaction, between 1.5% and 2% goes to interchange and other fees. Fellow Fool Evan Niu highlighted this challenge shortly after Square's IPO, noting that Square's spread on each transaction is only about 1%.
Square has overcome some of the low margins in the retail business by adding services like capital and charging fees for features like scheduling, payroll, and marketing. But the biggest opportunity for Square is lowering its transaction costs long term. And that's where Cash App comes in.
With Cash App, Square is effectively creating its own financial system built on top of the existing bank and credit card infrastructure. Today, it's using traditional credit and debit cards and ACH transfers, but there could be a day where it starts peeling away from those ingrained players. Financial transactions could be from one Cash App account to another, lowering fees and increasing the margin Square keeps from each transaction.
This isn't the way Cash App operates today, but now that Square is processing Bitcoin transactions and stock trades, we could see the use cases for Cash App growing. And if people and businesses keep balances in their Cash App accounts regularly, it could effectively act like a bank account and further establish Square as an easy transaction intermediary for people and businesses.
Taking the big picture into account
What I like about Square's business is that it's set up to rebound quickly as the economy opens up, and the company has lots of optionality to grow and profit from innovations in Cash App. Its core transaction and business infrastructure operations are great, but the true disruption potential lies in the ability for Cash App to become essential to digital wallets in the future. And the growing number of users and use cases for the app is why I'm still bullish on the stock, even after a "disappointing" quarter.
10 stocks we like better than Square
When investing geniuses David and Tom Gardner have a stock tip, it can pay to listen. After all, the newsletter they have run for over a decade, Motley Fool Stock Advisor, has tripled the market.*
David and Tom just revealed what they believe are the ten best stocks for investors to buy right now... and Square wasn't one of them! That's right -- they think these 10 stocks are even better buys.
*Stock Advisor returns as of November 20, 2020
John Mackey, CEO of Whole Foods Market, an Amazon subsidiary, is a member of The Motley Fool's board of directors. Travis Hoium owns shares of Mastercard, Square, and Visa. The Motley Fool owns shares of and recommends Amazon, Mastercard, Shopify, Square, and Visa. The Motley Fool recommends Bitcoin and recommends the following options: long January 2022 $1920 calls on Amazon and short January 2022 $1940 calls on Amazon. The Motley Fool has a disclosure policy.
Source