Why EV Charging Stock EVgo Tumbled 21% in December
What happened
After a stunning rally in November, electric vehicle (EV) charging stock EVgo (NASDAQ: EVGO) shed 20.7% of its value in December, according to data provided by S&P Global Market Intelligence.
If President Joe Biden's $1.2 trillion infrastructure bill and a surprise quarterly profit from EVgo sent its shares soaring in November, macro concerns and an unexpected jolt to Biden's bigger infrastructure plans weighed heavily on EVgo in December despite more analysts turning bullish about the stock. Shares are down about another 4.2% so far this year.
So what
On Nov. 10, EVgo reported solid 73% year-over-year growth in revenue for its third quarter and upgraded its full-year revenue outlook to a range of $20 million to $22 million from its previous guidance of $20 million. One month later, EVgo revealed that downloads of its PlugShare app, which helps drivers locate and select public chargers, had crossed 1 million since the beginning of 2021, reflecting growing demand for EVs and charging infrastructure.
The same day, J.P. Morgan (NYSE: JPM) analyst Bill Peterson gave EVgo stock an overweight rating with a price target of $20 a share, representing nearly 56% upside at that point in time. Peterson considers EVgo a leader in the EV charging industry with rising capacity and growing partnerships, and expects its subscription revenue to propel growth.
EVgo primarily earns revenue by selling electricity directly to drivers who use its public charging network, either paying on the go or through subscriptions. The company recently extended partnerships with Uber and General Motors.
Later in December, Needham analyst Vikram Bagri initiated coverage on EVgo shares and called them a formidable play in the charging space. But Bagri added a note of caution, saying consensus estimates on the stock appear "too aggressive" in the long term.
Indeed, expectations from EVgo hit a dizzying high after the passage of Biden's infrastructure bill, which earmarked $7.5 billion for building a network of 500,000 EV chargers in the U.S. The shares jumped a staggering 90% in just the second week of November. It wasn't surprising, therefore, to see selling pressure mount on EVgo shares in the following days and through the year's end.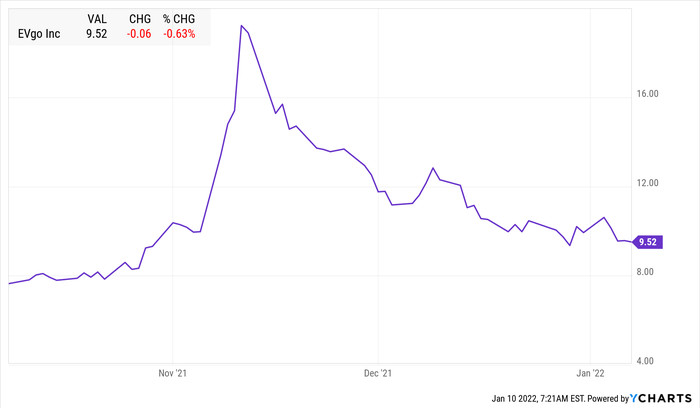 EVGO data by YCharts.
In fact, EVgo wasn't the only stock that felt the heat. The emergence of the omicron coronavirus variant refueled fears of a shutdown and hit stocks across sectors. It was a double blow for stocks like EVgo as Biden's Build Back Better plan, which proposed heavy incentives for EVs to spur the industry's growth, was also rejected by Sen. Joe Manchin, a West Virginia Democrat, in December. The development sent clean energy stocks, and EV stocks in particular, crashing.
Now what
While it's true that the Build Back Better Act, if passed into law, could have provided a huge impetus to the EV industry, it's also true that the industry is already growing like gangbusters, as evidenced by the recent sales numbers from leading EV manufacturers. Companies like EVgo should benefit from the boom.
During its analyst day presentation in March 2021, EVgo projected its revenue to rise to a whopping $1.3 billion by 2027. While that may appear overly optimistic to some given that the company's 2021 revenue is expected to be just over $20 million, EVgo shares could head for the skies again if it can more than double its revenue in 2022, as it earlier estimated.
10 stocks we like better than EVgo, Inc.
When our award-winning analyst team has a stock tip, it can pay to listen. After all, the newsletter they have run for over a decade, Motley Fool Stock Advisor, has tripled the market.*
They just revealed what they believe are the ten best stocks for investors to buy right now... and EVgo, Inc. wasn't one of them! That's right -- they think these 10 stocks are even better buys.
*Stock Advisor returns as of December 16, 2021
JPMorgan Chase is an advertising partner of The Ascent, a Motley Fool company. Neha Chamaria has no position in any of the stocks mentioned. The Motley Fool recommends Uber Technologies. The Motley Fool has a disclosure policy.
Source