Why These Upscale Fashion Stocks Are Surging Today
What happened
Shares of upscale apparel companies were rising on Tuesday morning, buoyed by growing investor optimism about a recovery from the coronavirus pandemic.
Here's where things stood for these three companies' shares as of 10:00 a.m. EDT, relative to their closing prices on Monday:
Capri Holdings

(NYSE: CPRI)

was up 30.4%.
Ralph Lauren

(NYSE: RL)

was up 10.9%.
Tapestry

(NYSE: TPR)

was up 11%.
So what
All three companies have been hit hard in recent weeks by events related to the outbreak of COVID-19 in North America and Europe. All have closed their factory-owned stores in those regions and all continue to deal with struggling suppliers.
But all three were rebounding on Tuesday morning as consumer-discretionary stock investors grew more optimistic about the post-coronavirus economy after some encouraging data points emerged over the weekend and on Monday. Among them: There's growing evidence that consumers -- at least the affluent consumers targeted by these companies' brands -- have continued to shop online while sheltering at home.
Here are the latest developments for each.
Capri Holdings, the parent company of the Michael Kors, Jimmy Choo, and Versace brands, said on Monday that it will furlough about 7,000 North America retail employees from April 11 until stores reopen, which it expects will be after June 1. (Furloughed employees will receive no pay, but will continue to get benefits.) It is also cutting executive pay, and it has drawn down the remaining $300 million from its credit line. As of April 1, it had about $900 million in cash, it said. Capri's bond ratings were cut to BB+ by Fitch Holdings on April 2.

Ralph Lauren also said on Monday that it will furlough its North America store employees as of April 11 while continuing to provide benefits, and that it is also cutting executive salaries. (Ralph Lauren himself, the company's executive chairman, will forego his fiscal 2020 bonus as well as his entire salary for fiscal 2021. The company is currently in the fourth quarter of its 2020 fiscal year.) The company noted that most of its retail stores in China and South Korea have now reopened, and that the fulfillment centers that support its online stores reopened on April 1.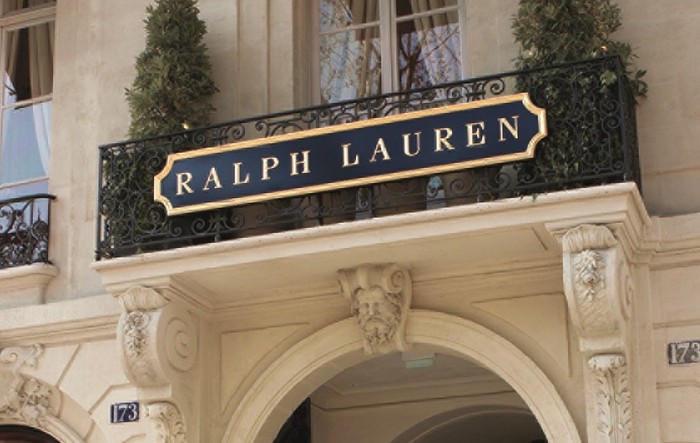 Ralph Lauren's stores in North America and Europe will remain closed indefinitely, the company said. Image source: Ralph Lauren.
Tapestry, the parent company of the Coach, Stuart Weitzman, and Kate Spade brands, hasn't yet announced furloughs for the employees of its shuttered retail stores as of Tuesday morning. But in its last update, on March 26, it said that its stores will remain closed until at least April 10, and that employees will continue to receive pay and benefits through that date. The distribution centers that support its online stores remain open. Tapestry has also suspended its dividend and share-repurchase program for the time being, and has drawn down $700 million of a total $900 million from its existing lines of credit.
Now what
All three companies have so far done a good job of keeping investors updated on developments as they deal with the current crisis. All three are expected to report earnings next month: Capri Holdings typically reports its fourth-quarter and full-fiscal-year results in late May, Ralph Lauren generally reports fourth-quarter and full-fiscal-year results in mid-May, and Tapestry usually reports its fiscal third-quarter results in early May.
10 stocks we like better than Capri Holdings
When investing geniuses David and Tom Gardner have a stock tip, it can pay to listen. After all, the newsletter they have run for over a decade, Motley Fool Stock Advisor, has tripled the market.*
David and Tom just revealed what they believe are the ten best stocks for investors to buy right now... and Capri Holdings wasn't one of them! That's right -- they think these 10 stocks are even better buys.
*Stock Advisor returns as of March 18, 2020
John Rosevear has no position in any of the stocks mentioned. The Motley Fool owns shares of and recommends Tapestry. The Motley Fool has a disclosure policy.
Source