Should You Buy Nutanix After Its Latest Spike?
Nutanix (NASDAQ: NTNX) has been busy getting back on track after a major setback in February that saw investors hitting the sell button on account of its lukewarm guidance. But shares of the cloud-based hyper-convergence specialist have recovered dramatically over the past six months, thanks to signs of a turnaround in the business.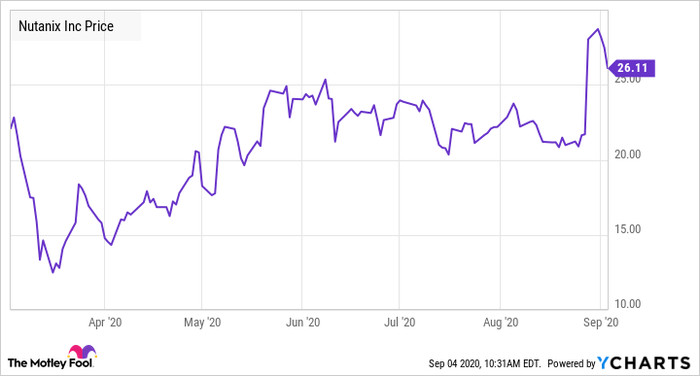 Data by YCharts.
But the stock's rally hit a higher gear in late August as the stock shot up nearly 30% in a single day following the company's fiscal 2020 fourth-quarter earnings report. That sharp spike had less to do with the company's financial performance, as revenue increased just 9% year over year to $328 million, beating the Wall Street consensus by a small margin.
The gains had more to do with a $750 million investment in the form of convertible senior notes from Bain Capital Private Equity -- an infusion some think will bring about a change in the company's fortunes. But does that make the stock a buy? Let's find out.
Nutanix is headed in the right direction
Nutanix operates in the fast-growing hyper-converged cloud infrastructure (HCI) market that is clocking an estimated compound annual growth rate of 30.7%, according to Allied Market Research. The market is expected to sustain that pace through 2026, but Nutanix has failed to capitalize on this opportunity as its declining revenue growth rate over the past few years shows us.
In fact, Nutanix is growing its top line at a much slower pace than the industry overall -- fiscal 2020 revenue was up just 5.7%.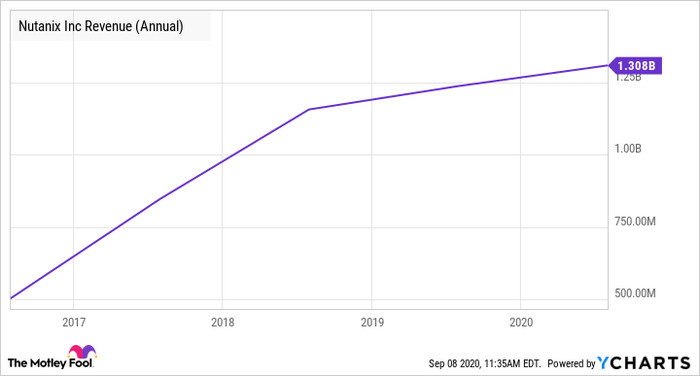 Data by YCharts.
One could lay the blame for the slow revenue growth on the transition from a product-based model to a subscription-based one that Nutanix made nearly three years ago. As a result, it had to recognize revenue over the lifetimes of the contracts penned with customers instead of recording them upfront.
However, that pivot has paid dividends as Nutanix's gross margin has improved dramatically over the years. Additionally, the transition is going well -- subscription revenue jumped 46% year over year to $285 million in the fiscal fourth quarter. It now accounts for 87% of total revenue versus 65% at the end of the prior-year period.
Deferred revenue also increased 30% year over year to $1.18 billion at the end of the fiscal fourth quarter. That level of growth hints at the strength of the subscription business as this figure measures the revenue collected in advance for services that will be provided later. The deferred revenue will be recognized as actual revenue when the service delivery takes place, indicating that Nutanix might be able to improve its top-line performance.
The company's customer base swelled 22% year over year, and the number of high-value clients also increased at an impressive pace. This latter group -- the number of customers with lifetime bookings of more than $1 million -- increased 31% from the prior-year period to 1,207 last quarter. The number of customers who have pledged to spend more than $10 million with Nutanix saw a sharp increase of 43%.
In all, it is evident that Nutanix is pulling the right strings, and its growth should accelerate going forward. Management will use the $750 million investment from Bain Capital, which should close later this month, to support the company's growth initiatives.
So don't be surprised to see Nutanix bump its spending on sales and marketing -- an area that was previously trending lower -- to acquire more customers in the new fiscal year and beyond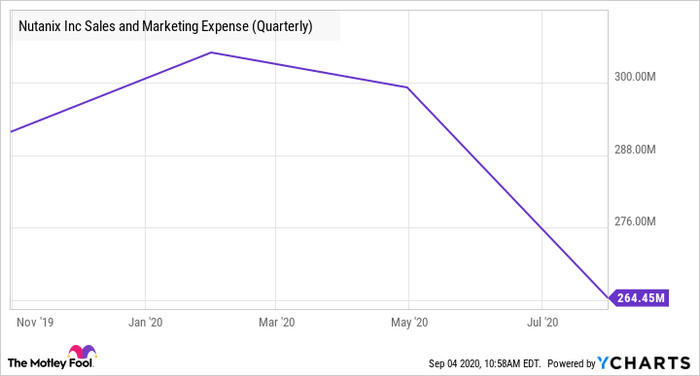 Data by YCharts.
Is the stock a good bet?
Nutanix is one of the top players in the fast-growing HCI market. IDC estimates that Nutanix controlled nearly 14% of the market at the end of 2019, second only to Dell Technologies, which leads this space with a third of the market under its control.
Beyond the fresh infusion of capital from Bain that can help Nutanix strengthen its position in the space and accelerate the pace of customer growth and subscription sales, company founder and CEO Dheeraj Pandey announced he will also be stepping down after 11 years at the helm. New leadership could be a blessing in disguise for Nutanix as the company works to reestablish its momentum, and the stock is still an attractive long-term tech play.
10 stocks we like better than Nutanix
When investing geniuses David and Tom Gardner have a stock tip, it can pay to listen. After all, the newsletter they have run for over a decade, Motley Fool Stock Advisor, has tripled the market.*
David and Tom just revealed what they believe are the ten best stocks for investors to buy right now... and Nutanix wasn't one of them! That's right -- they think these 10 stocks are even better buys.
*Stock Advisor returns as of August 1, 2020
Harsh Chauhan has no position in any of the stocks mentioned. The Motley Fool recommends Nutanix. The Motley Fool has a disclosure policy.
Source