Why Stocks of These Niche Electric Vehicle Players Are Soaring Today
What happened
Stocks of companies in the electric-vehicle (EV) sector have been on a tear recently. Today, investors are pushing shares higher in three companies that are in the commercial and municipal fleet automotive segment.
As of 11:45 a.m. EST, GreenPower Motor (NASDAQ: GP) shares are up 21%, while shares of special purpose acquisition companies (SPACs) CIIG Merger (NASDAQ: CIIC) and Pivotal Investment II (NYSE: PIC) are up 38% and 8%, respectively. CIIG is merging with U.K.-based Arrival, while Pivotal will merge with XL Fleet to bring those EV companies public in the next few weeks.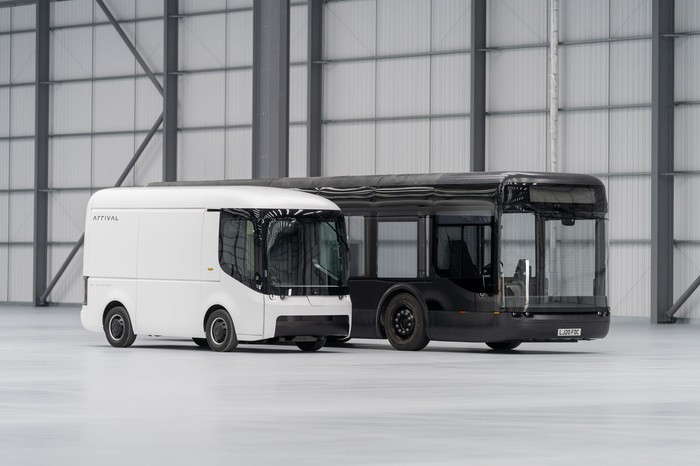 Arrival will begin production on its bus and van in late 2021 and 2022, respectively. Image source: Arrival.
So what
Arrival, which will trade on the Nasdaq under the new symbol ARVL, will be going public through its merger with CIIG at an estimated enterprise value of $5.4 billion, according to CIIG. Arrival will be making electric municipal buses and commercial transport vans using what it calls a new method of manufacturing, including "low cost microfactories." The company says the products will be priced competitively with fossil fuel vehicles, and significantly below comparable EVs.
GreenPower Motor is also building buses and vans. Today's surge in the share price follows a jump on Friday after an analyst wrote that he was bullish on the company after meeting with management. The Canadian company is already producing vehicles, including its EV Star shuttle bus and its all-electric school bus dubbed the BEAST (Battery Electric Automotive School Transportation). The company reports it has $13.5 million in 2020 revenue, more than double its sales year over year.
XL Fleet is taking a somewhat different approach, albeit also with an eye on the fleet truck market. After its merger with Pivotal Investment is complete by the end of the year, XL will have an implied enterprise value of approximately $1 billion, with about $350 million in net cash.
XL provides hybrid and plug-in hybrid electric drive systems for commercial fleet vehicles built by Ford, General Motors, and Isuzu.
Now what
XL reports over 130 million miles have been driven on its modified powertrain solutions. Its more than 200 customers include municipalities, universities, and public companies such as Coca-Cola, FedEx, and Verizon Communications.
XL Fleet also has fully electric solutions in development. It will be traded on the New York Stock Exchange under the new symbol XL when it goes public in the next several weeks.
Each of these companies has attracted new investor interest recently. In fact, shares of CIIG and GreenPower have more than doubled in the last month. For investors looking to get into a niche of the EV space that has much potential, all three of these stocks are worth looking into. But investors should keep them in the speculative part of a portfolio until the businesses show they have long-term traction.
10 stocks we like better than CIIG Merger Corp.
When investing geniuses David and Tom Gardner have a stock tip, it can pay to listen. After all, the newsletter they have run for over a decade, Motley Fool Stock Advisor, has tripled the market.*
David and Tom just revealed what they believe are the ten best stocks for investors to buy right now... and CIIG Merger Corp. wasn't one of them! That's right -- they think these 10 stocks are even better buys.
*Stock Advisor returns as of November 20, 2020
Howard Smith owns shares of Pivotal Investment II. The Motley Fool owns shares of and recommends FedEx. The Motley Fool recommends Verizon Communications. The Motley Fool has a disclosure policy.
Source