Boeing Stumbles Again With Big Q4 Loss
Boeing (NYSE: BA) has disappointed investors and customers repeatedly in recent years. Just since the beginning of 2019, the majority of its major revenue-generating aircraft and defense programs have experienced significant setbacks.
Investors got more of the same on Wednesday, when Boeing reported its fourth-quarter results. The aerospace giant recorded a massive quarterly loss and offered subpar guidance for 2022.
Another weak quarter
Boeing posted revenue of $14.8 billion for the fourth quarter, down from $15.3 billion a year earlier. This missed even the most pessimistic analysts' estimates by a wide margin. In 2018 -- before the 737 MAX grounding and the COVID-19 pandemic -- the company generated over $28 billion of revenue in the fourth quarter.
Meanwhile, big one-time charges caused Boeing to report a quarterly core operating loss of $4.5 billion and a core loss per share of $7.69. These charges included $3.5 billion to cover customer concessions and other costs related to pausing 787 Dreamliner deliveries to address numerous quality-control issues -- $402 million for further cost increases on the troubled KC-46 tanker program and a $220 million inventory writedown in the services division.
However, there were two bright spots in Boeing's Q4 performance. First, the company booked several big commercial-jet orders during the quarter as it works to rebuild its backlog. Second, it surprised many investors by generating positive free cash flow of $494 million for the quarter.
That said, Boeing may have offered big discounts to win many of the 737 MAX orders it recorded last quarter. If so, it would limit the future revenue and profit contribution of those orders.
Highlighting this point, Boeing delivered 99 commercial jets in the fourth quarter (up 68% from 59 a year earlier), but its commercial-airplanes segment revenue inched up less than 1%. As for cash flow, management acknowledged that the company benefited from some favorable timing factors in the quarter.
Expect slow improvement
Boeing expects its financial performance to improve in 2022. That's no surprise. Ramping up 737 MAX deliveries and restarting 787 Dreamliner deliveries ought to support big increases in revenue, earnings, and cash flow.
However, Boeing faces numerous near-term headwinds, including the ongoing 787 delivery pause and the omicron variant's impact on the airline industry. As a result, CFO Brian West warned that cash burn this quarter could be similar to the $3.7 billion Boeing burned in the first quarter of 2021.
For the full year, Boeing still expects to generate positive free cash flow as it finally starts to reduce its finished-goods inventory. But customer compensation related to the 737 MAX grounding and 787 delivery delays, unfavorable timing of receipts in the defense business, and other working-capital headwinds will offset much of this benefit. Management didn't provide an exact cash flow target, but its guidance implied that 2022 free cash flow will be quite modest by pre-pandemic standards.
Still a poor investment choice
Boeing ended 2021 with over $40 billion of net debt, up from around $5 billion three years earlier. Based on the company's current outlook, Boeing won't start to make meaningful progress on debt reduction until 2023, when its pace of aircraft deliveries will be closer to normal.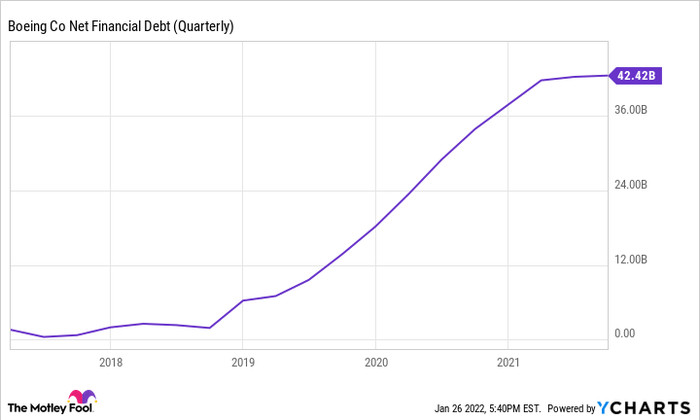 Boeing net debt (quarterly), data by YCharts.
That means Boeing is still years away from fixing its balance sheet, which will prevent it from returning any meaningful amount of cash to shareholders before 2025. Even after 2025, the company will have to juggle shareholders' interest in dividends and buybacks with the major investments needed to update its portfolio of commercial jets.
Boeing could also struggle to capitalize on the long-term growth of commercial aviation. Most notably, the market has shifted toward large narrow-bodies -- where Airbus offers clearly superior products -- at the expense of pricier wide-body jets and less-efficient medium narrow-bodies.
Boeing stock continues to trade well below pre-pandemic levels, which might make it seem like a bargain. However, considering the company's weak balance sheet and mediocre prospects in its core commercial-aviation market, investors can find better deals elsewhere.
10 stocks we like better than Boeing
When our award-winning analyst team has a stock tip, it can pay to listen. After all, the newsletter they have run for over a decade, Motley Fool Stock Advisor, has tripled the market.*
They just revealed what they believe are the ten best stocks for investors to buy right now... and Boeing wasn't one of them! That's right -- they think these 10 stocks are even better buys.
*Stock Advisor returns as of January 10, 2022
Adam Levine-Weinberg has no position in any of the stocks mentioned. The Motley Fool has no position in any of the stocks mentioned. The Motley Fool has a disclosure policy.
Source