General Motors Stock History: Is the Automaker Doomed to Underperform?
General Motors (NYSE: GM) is one of the oldest American businesses in the industrial sector, with roots that date back nearly to the beginning of the 20th century. For 100 years, the automaker found pathways to growth, starting with Will Durant's purchase of the Buick Motor Company and soon growing to include key brands like Cadillac and Chevrolet. Yet after growing to become the colossus of the global vehicle market, General Motors fell prey to the financial crisis and recession of 2008, filing for bankruptcy in 2009 and leaving past shareholders with nothing.
After emerging from bankruptcy, General Motors made its new stock available to the public in late 2010. Although the car giant has seen extremely strong fundamental business performance since then, GM stock hasn't done as much to reward shareholders as they would have liked. Looking at what has happened with General Motors in recent years and how it has affected its share price can shed some light on whether a future rebound for the stock is likely.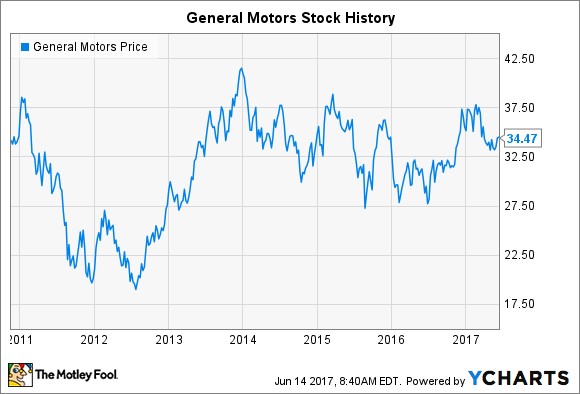 How the U.S. government affected GM stock
As you can see in the chart above, the first couple of years after its IPO were rocky ones for General Motors. GM faced significant operational challenges, especially in Europe, where it was still losing considerable amounts of money due to sluggish economic conditions on the continent. But also weighing on General Motors was the fact that the U.S. Treasury still owned a large stake in the automaker, which it had acquired as part of its bailout package during the financial crisis.
It took the government several years to exit its position in General Motors, which had originally started at roughly 60%. Within a few years after the IPO, the Treasury had sold off most of its shares in the automaker, and GM found itself without any government ownership at all by the end of 2013. That proved to be a high point for the stock, as many saw the potential for success in a fast-growing U.S. economy to be encouraging.
Why GM stock has gone nowhere
Yet the most frustrating thing for shareholders since early 2014 is how far General Motors' business has come and how little that has been reflected in the stock price. In 2014, GM set a record by delivering 9.92 million vehicles worldwide. North America was an important part of that success, but the company also claimed record sales and market share in the emerging Chinese auto market, actually outpacing the number of vehicles it sold in North America . The automaker also claimed strong sales in 2015 and 2016, and despite a small decline in U.S. sales last year, continued record growth in China helped GM sell a record 10.3 million vehicles.
Despite the strong performance for General Motors' business, investors have been nervous about what they see as an inevitable cyclical downturn in the near future. Some analysts have forecast substantial declines in auto sales in the coming years, with potential drops of as much as 15% on an annual sales basis for the industry as a whole. That has held back auto stocks across the sector, and has left GM investors waiting impatiently for share-price appreciation while they collect a lucrative 4% dividend yield.
What's ahead for General Motors?
Currently, investors aren't giving General Motors much credit for its success. Instead, they've focused on innovations like electric vehicles and self-driving autonomous cars, and that has made them more interested in Tesla (NASDAQ: TSLA) and other new-economy stocks. Indeed, Tesla's market cap exceeded GM's recently, even though Tesla is still losing considerable amounts of money while General Motors is solidly profitable.
The problem is that even though GM has plenty of opportunities for growth, it has little or no chance to provide explosive growth. That has high-growth investors interested solely in Tesla, even though General Motors has worked hard to keep up with its Chevy Bolt electric vehicle platform and its autonomous driving projects.
General Motors stock hasn't done well since its emergence from bankruptcy and subsequent IPO, and investors have suffered the brunt of GM's lack of popularity. Until rank-and-file investors appreciate the stability and dependable growth prospects that the automaker provides, General Motors stock could have trouble joining in on the bull market that has lifted so many U.S. stocks in other industries.
10 stocks we like better than General Motors
When investing geniuses David and Tom Gardner have a stock tip, it can pay to listen. After all, the newsletter they have run for over a decade, Motley Fool Stock Advisor, has tripled the market.*
David and Tom just revealed what they believe are the 10 best stocks for investors to buy right now... and General Motors wasn't one of them! That's right -- they think these 10 stocks are even better buys.
Click here to learn about these picks!
*Stock Advisor returns as of June 5, 2017

Dan Caplinger has no position in any stocks mentioned. The Motley Fool owns shares of and recommends Tesla. The Motley Fool has a disclosure policy.