Why AeroVironment Shares Are Up Today
What happened
It's been a good week for AeroVironment (NASDAQ: AVAV). Shares of the drone maker are up more than 11% as of 3 p.m. EST on Thursday, as investors digest the company's earnings report and a new military contract.
So what
AeroVironment shares were caught up in some of the momentum trading early in the year, soaring higher in January in part thanks to its association with exchange-traded funds (ETFs) run by Cathie Wood's Ark Invest.
But the stock in recent days has been running based on the company's own merits. Earlier in the week, AeroVironment reported fiscal third-quarter results that topped expectations by 14 cents per share on better-than-expected revenue, and the company provided full-year fiscal 2022 guidance for earnings and revenue that came in ahead of expectations.
It backed that up Thursday with a new defense department contract award, announcing a nearly $6 million contract via the Pentagon's foreign military sales program to deliver a drone, training, and support to an unnamed European ally.
Now what
AeroVironment is a good company and a fine long-term investment, but I do question how much higher the stock can go in the near term. The shares have more than doubled over the past year, experiencing a steady climb even when backing out some of the January excitement.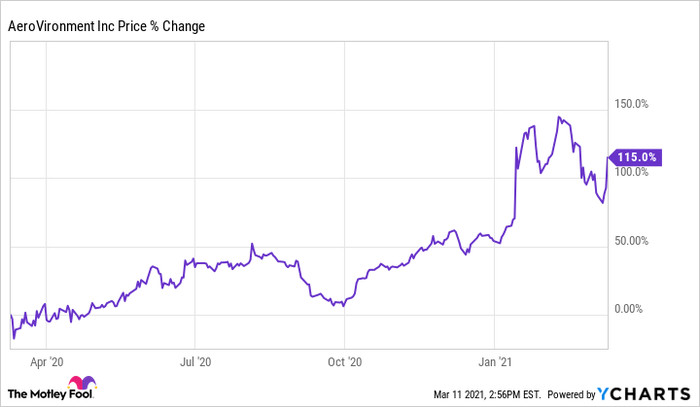 AeroVironment has done a series of acquisitions designed to broaden its portfolio and grow its addressable market. In time that should lead to higher sales, but military-focused companies tend to be slow and steady growers instead of overnight sensations. As the business matures, the case for buying and holding AeroVironment improves, but the odds that we will continue to see dramatic jumps in the future are likely to diminish.
10 stocks we like better than AeroVironment
When investing geniuses David and Tom Gardner have a stock tip, it can pay to listen. After all, the newsletter they have run for over a decade, Motley Fool Stock Advisor, has tripled the market.*
David and Tom just revealed what they believe are the ten best stocks for investors to buy right now... and AeroVironment wasn't one of them! That's right -- they think these 10 stocks are even better buys.
*Stock Advisor returns as of February 24, 2021
Lou Whiteman has no position in any of the stocks mentioned. The Motley Fool owns shares of and recommends AeroVironment. The Motley Fool has a disclosure policy.
Source