3 Dividend Stocks You'll Wish You'd Bought on the Dip
When a company has a long track record of paying out dividends to shareholders regularly, that tells you a lot about what kind of business you're looking at. Such companies are usually able to produce consistent profits from their operations no matter what is going on with the economy.
Dividends are particularly valuable for investors during bear markets. For example, dividends contributed 73% of the market's total returns during the 1970s, and have averaged 40% of stock returns over all decades since 1930, according to Hartford Funds.
We asked three Motley Fool contributors to recommend dividend stocks they think are well worth considering right now. Their picks: McDonald's (NYSE: MCD), Home Depot (NYSE: HD), and eBay (NASDAQ: EBAY). Dividend stocks won't make you rich overnight, but they are good for promoting restful nights during turbulent market environments.
The golden arches still stand tall after 60 years
John Ballard (McDonald's): You usually can't go wrong investing in name-brand companies during bear markets. Over the last 10 years, McDonald's has nearly doubled its quarterly payout to $1.38 per share. That gives it a payout ratio of 55% compared to earnings, so the fast-food giant has plenty of breathing room to keep its dividend up even if its profits drop for a time. Over the last decade, long-term McDonald's shareholders who opted to reinvest their dividends into more shares have earned a 262% cumulative return -- outperforming the S&P 500 index's total return of 242%.
McDonald's strong brand power and consistent growth have allowed it to become a Dividend Aristocrat, with 46 consecutive years of payout hikes. Most importantly, the company is coming out of the pandemic growing faster than it did in 2019. Its global comparable sales grew by 5.9% in 2019, but slipped by 7.7% during the shelter-in-place environment of 2020. Comp sales grew again by 17% in 2021, which comes to 8% when measured on a two-year basis.
Delivering that magnitude of growth is not easy for a global business of this size. What's clear is that McDonald's is a well-managed business. Its Accelerating the Arches strategy has centered around better marketing, focusing on core menu items, and doubling down on digital ordering and delivery, and it's clearly working. A well-run, iconic consumer brand is a recipe for great shareholder returns.
No matter how saturated a company's market might seem, investors shouldn't underestimate how a great brand can find ways to keep delivering market-beating returns to shareholders over many decades. McDonald's stock has outperformed Wall Street year to date, down only 9% compared to the S&P 500's decline of 20%. At the current share price, its dividend yield is an above-average 2.23%. This stock would make a great portfolio addition for those looking to invest in simple businesses that distribute extra cash to shareholders.
A solid and fast-growing dividend
Jennifer Saibil (Home Depot): Home Depot is a no-brainer stock to own for several reasons, but my investment thesis for it centers on two of the most important factors when choosing stocks: potential for gains and dividends.
Investors will commonly categorize equities as either growth stocks or value stocks. Those companies that pay dividends are typically mature and past their high-growth stages, which puts them in the value camp, but as a group, dividend stocks tend to perform better than those that don't pay dividends. Home Depot is a classic example of a well-run organization that distributes a hefty fraction of its excess cash to its shareholders while also funding new ventures. That combination has led to market-beating performance.
The pandemic brought an unprecedented opportunity for the company as people staying at home spent heavily on home improvements. As the largest home improvement retailer in the world -- and with a robust omnichannel program -- it was able to meet surging demand both in stores and online. As was to be expected, its growth is slowing down now. But it beat expectations in 2022's first quarter and raised its outlook for the year. So far, it's managing through inflation and supply chain problems. The strong housing market has also been a tailwind, although things might change on that score with rising interest rates. There's a lot that's up in the air right now with macroeconomic shifts, and that will probably affect Home Depot to some extent the same way it's affecting most retailers and many other companies. At times like these, it's particularly wise for investors to focus on well-managed companies with established track records and clear potential.
As for its dividend, at today's share prices, the stock yields an above-average 2.8%. That's not the highest around, but Home Depot is growing its payout faster than many higher-yielding stocks.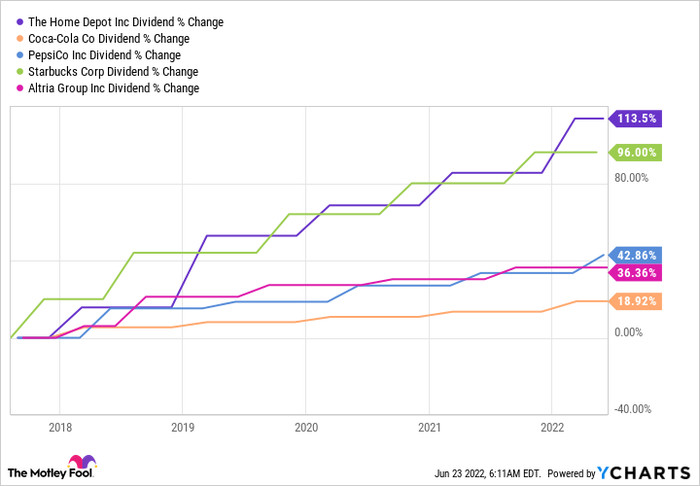 HD Dividend data by YCharts
Home Depot is a dependable stock that offers the chance for both share price gains and steady income. And with the stock down 35% this year, investors have a buying opportunity they won't want to miss.
eBay could be an excellent source of passive income.
Parkev Tatevosian (eBay): My favorite dividend stock to buy on this dip is eBay. It thrived earlier in the pandemic when hundreds of millions of people were looking to avoid shopping in person. But now, as economies are reopening and social distancing efforts have been relaxed, folks are shopping less online. That may be a temporary headwind, but it partly explains why the stock price has fallen by 46.5% from its peak.
That said, eBay has done an excellent job of growing its earnings over the longer run.
Over the past decade, it has grown its earnings per share at an impressive compound annual rate of 23.6%. For income investors, that's a critical point, because dividends are paid out of earnings. Without sufficient profits, no enterprise can sustain those payouts. But eBay's robust earnings growth history suggests that it should be able to continue supplying healthy dividend hikes.
The online marketplace operator only started paying a dividend in 2019, but has already increased the per-share payout twice from its inaugural $0.56 -- first to $0.64 in 2020, and then to $0.72 in 2021. It generated an operating profit margin of at least 20% in each of the last 10 years, so investors can reasonably expect eBay to further increase its payouts over time.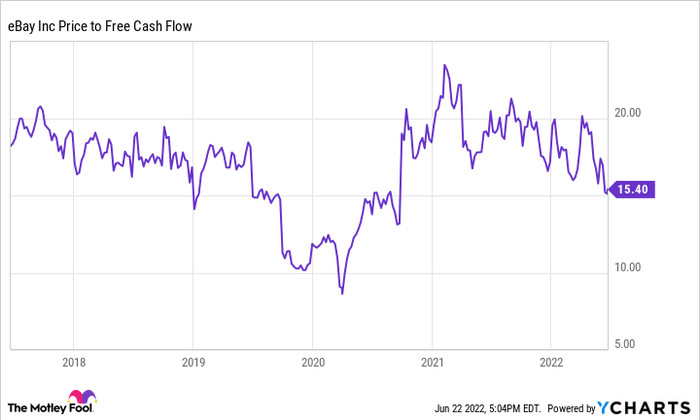 EBAY Price to Free Cash Flow data by YCharts
This year's sell-off has eBay selling at a relatively inexpensive valuation. Income investors can scoop up shares of eBay at a price-to-free-cash-flow ratio of 15.4, right about its average over the last five years.
10 stocks we like better than McDonald's
When our award-winning analyst team has a stock tip, it can pay to listen. After all, the newsletter they have run for over a decade, Motley Fool Stock Advisor, has tripled the market.*
They just revealed what they believe are the ten best stocks for investors to buy right now... and McDonald's wasn't one of them! That's right -- they think these 10 stocks are even better buys.
*Stock Advisor returns as of June 2, 2022
Jennifer Saibil has no position in any of the stocks mentioned. John Ballard has no position in any of the stocks mentioned. Parkev Tatevosian has positions in eBay. The Motley Fool has positions in and recommends Home Depot. The Motley Fool recommends eBay and recommends the following options: short July 2022 $57.50 calls on eBay. The Motley Fool has a disclosure policy.
Source