Why NIO, TuSimple, and Other Auto Stocks Fell This Week
What happened
Shares of some established and emerging companies in the automotive space had a rough week. Some portion of the declines was attributable to broader market choppiness as traders sold off many of the more speculative electric-vehicle (EV) and self-driving companies, but that wasn't the only factor at work.
Here are four companies in the space that had particularly large declines this week through Thursday's close.
ChargePoint

(NYSE: CHPT)

was down about 12.4%.
NIO

(NYSE: NIO)

was down about 9.5%.
Tata Motors

(NYSE: TTM)

was down about 13.6%.
TuSimple

(NASDAQ: TSP)

was down about 13.5%.
So what
There were a few different stories driving these declines.
For Indian automaker Tata Motors, the story was a fundamental one. While Tata is a leading manufacturer of trucks and SUVs in India, about three-quarters of the company's revenue is generated by its subsidiary, British luxury-vehicle maker Jaguar Land Rover (JLR).
JLR is among the many automakers that's having a tough time weathering the global shortage of semiconductors that has forced production cuts at auto factories around the world. The company reports its financial results separately from Tata, and warned on July 6 (Tuesday) that it expects to report a negative EBIT (earnings before interest and tax) margin and a cash outflow of 1 billion British pounds for the quarter that ended on June 30.
Perhaps worse, the company said that it expects chip supplies to tighten further in the current quarter ending September 30, costing it about half of its production and another 1 billion pounds in cash.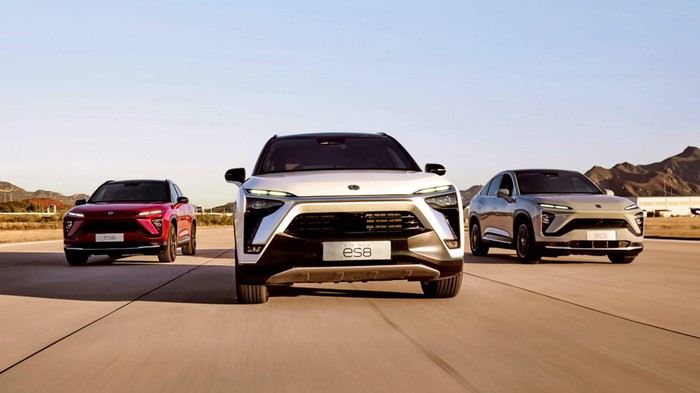 NIO had good sales in June and no bad news to report. But U.S. investors had reasons to be wary of Chinese companies this week. Image source: NIO, Inc.
Of note, JLR said that it had about 3.7 billion pounds in cash as of June 30, and a billion pounds is serious money. Why was Tata's stock down this week? Look no further.
While Chinese electric-vehicle maker NIO has also faced some production constraints amid the chip shortage, it didn't have any bad news to report this week.
I think NIO's stock was caught in a broader sell-off of U.S.-listed shares of Chinese companies, triggered by Chinese government action against DiDi Global (NYSE: DIDI) and several other Chinese companies that had initial public offerings on U.S. markets this year. While NIO went public way back in 2018 and has ample cash after a series of secondary offerings during last year's electric-vehicle bull market, I think the actions against DiDi have made U.S. investors wary.
As for electric-vehicle charging network ChargePoint and self-driving truck start-up TuSimple, they were simply caught in the broader sell-off of speculative EV- and autonomous-vehicle-related stocks I mentioned earlier.
Now what
Investors hoping for more information can look forward to the companies' upcoming quarterly earnings report. JLR will report at the end of July. ChargePoint, NIO, and TuSimple haven't yet announced dates for their earnings reports, but I expect all three to report in mid-August.
10 stocks we like better than NIO Inc.
When our award-winning analyst team has a stock tip, it can pay to listen. After all, the newsletter they have run for over a decade, Motley Fool Stock Advisor, has tripled the market.*
They just revealed what they believe are the ten best stocks for investors to buy right now... and NIO Inc. wasn't one of them! That's right -- they think these 10 stocks are even better buys.
*Stock Advisor returns as of June 7, 2021
John Rosevear has no position in any of the stocks mentioned. The Motley Fool owns shares of and recommends NIO Inc. The Motley Fool has a disclosure policy.
Source