Apple Caves on App Store Fees
In the face of mounting pressure and the glare of the antitrust spotlight, Apple (NASDAQ: AAPL) cut its app store commission in half for qualified developers. The company on Wednesday announced a new App Store Small Business Program, which will lower the commission for eligible developers to 15% from the current 30%.
The program will be available to companies that generated up to $1 million in revenue over the previous calendar year and will launch on Jan. 1, 2021.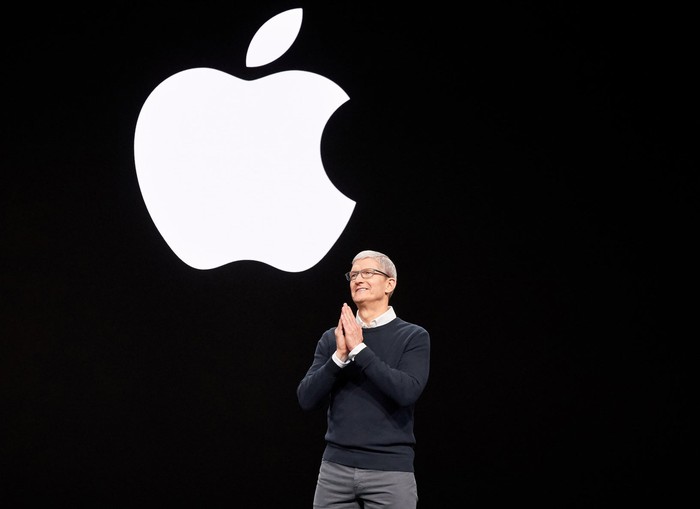 Apple CEO Tim Cook announced a cut in App Store fees for some developers on Wednesday. Image source: Apple.
"Small businesses are the backbone of our global economy and the beating heart of innovation and opportunity in communities around the world," said Apple CEO Tim Cook in a statement Wednesday.
Apple noted that the "vast majority" of its developers would benefit from the change, without providing specifics. The company has previously reported that roughly 85% of the apps in the App Store are free, so developers aren't charged by Apple for those apps to be listed. Every developer is charged a nominal fee of between $99 and $299 to participate in the company's developer program.
Since the onset of the pandemic, Apple has been increasingly criticized for the hefty fees it charges developers, with most paying nearly a third of their proceeds in order to maintain a presence in the App Store. Many companies increase the cost of their apps and pass the higher charges on to customers in order to avoid footing the bill.
The iPhone maker has been in an ongoing legal battle with Fortnite creator Epic Games after the company tried to circumvent Apple's fee structure by asking players to pay Epic directly, cutting Apple out of the loop. Apple subsequently banned Fortnite from the App Store, resulting in dueling legal challenges.
10 stocks we like better than Apple
When investing geniuses David and Tom Gardner have a stock tip, it can pay to listen. After all, the newsletter they have run for over a decade, Motley Fool Stock Advisor, has tripled the market.*
David and Tom just revealed what they believe are the ten best stocks for investors to buy right now... and Apple wasn't one of them! That's right -- they think these 10 stocks are even better buys.
*Stock Advisor returns as of October 20, 2020
Danny Vena owns shares of Apple. The Motley Fool owns shares of and recommends Apple. The Motley Fool has a disclosure policy.
Source