1 Monster Opportunity in the Global Chip Shortage
ASML Holding (NASDAQ: ASML) may not be a household name in semiconductors, but it holds the key to solving the shortage that's plaguing the industry. This explains why ASML stock has been in fine form on the market this year, easily outpacing the broader market's gains thanks to its terrific top- and bottom-line growth.
Let's see what ASML does and why the company is one of the best bets to take advantage of the global semiconductor shortage.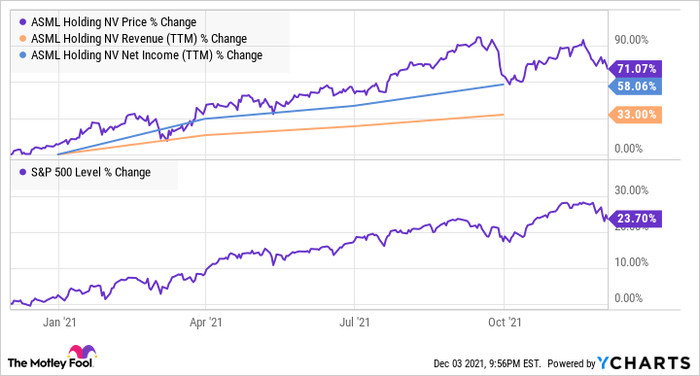 ASML holds the key to solving the shortage
ASML is the largest supplier of photolithography machines in the world. These machines are used by large semiconductor foundries such as Taiwan Semiconductor Manufacturing, Samsung, and others to make chips that power several applications ranging from smartphones to cars to gaming consoles to factories. Not surprisingly, the demand for the machines sold by the Dutch giant has shot through the roof.
This is evident from ASML's third-quarter results that were released on Oct. 20. The company sold 72 new lithography systems during the quarter, along with seven used systems. This was up from the 57 new machines and three used machines that ASML had sold in the prior-year period. But the more important thing to note is the sharp increase in the bookings for ASML's machines.
ASML had net bookings of nearly 6.2 billion euros at the end of the third quarter, up 115% from the year-ago period's bookings of 2.87 billion euros. ASML management pointed out on the October earnings conference call that 84% of these bookings came from foundry/logic customers, while the remaining came from manufacturers of memory chips.
This isn't surprising as the capital intensity ratio of logic semiconductor fabs is expected to increase to 20% in 2021 from 17% last year, according to Counterpoint Research. The capital intensity ratio of TSMC and Samsung's foundries is set to rise to 42% this year from 36% in 2020. A higher capital intensity ratio means that foundry/logic players are looking to add capacity or implement new technology to expand their fabs.
In 2022, the capital intensity ratio is set to rise again. Samsung and TSMC are expected to clock a combined ratio of 43%, while the broader industry is expected to witness a capital intensity ratio of 22%. As Samsung and TSMC are ASML customers, this bodes well for the latter's prospects next year.
More importantly, ASML is the only manufacturer of extreme ultraviolet lithography (EUV) machines that are critical to making chips smaller. It is worth noting that there is a race between foundries to reduce the size of their chips so that they can pack in more transistors to make those chips more powerful, faster, and energy-efficient. Samsung and TSMC, for instance, are aiming to produce chips based on a 3-nanometer (nm) manufacturing node in 2022.
ASML is the only company that could help them achieve their targets as its EUV machines are capable of mass-producing chips as small as 3nm. Each of those EUV machines reportedly cost $150 million. This tells us why there has been a sharp increase in ASML's bookings and is also the reason why the company is built for growth in the long run.
All set for impressive long-term growth
The market for EUV machines is expected to grow at an annual pace of 27% to 29% through 2026, according to a third-party report. Meanwhile, ASML projects that its annual revenue could range between 24 billion euros and 30 billion euros by 2025. For comparison, the company had clocked 14 billion euros in sales last year, so its top line could nearly double in five years at the midpoint of its guidance range.
What's more, ASML is projecting 55% in gross margin in 2025, which would be a significant increase over its 2020 gross margin of 48.6%. Analysts, on the other hand, are expecting ASML's earnings to grow at an annual rate of almost 30% for the next five years.
ASML peer Applied Materials anticipates that the semiconductor market could hit $1 trillion in revenue by 2030 as compared to $466 billion in 2018, indicating that foundries would continue to pour more money into semiconductor equipment. So, ASML looks set to gain in the long run from the global chip shortage as it will play a critical role in helping foundries make enough chips to satisfy the booming semiconductor demand.
However, getting into this growth stock won't be cheap as it trades at 53 times trailing earnings and 16 times sales. That's expensive compared to the S&P 500's earnings multiple of 28.8 and sales multiple of 3.13. But that expensive valuation seems justified given the potential earnings growth in the cards and the company's solid position in a market that's set to expand rapidly in the future, making ASML a top growth stock to buy for the long run.
10 stocks we like better than ASML Holding
When our award-winning analyst team has a stock tip, it can pay to listen. After all, the newsletter they have run for over a decade, Motley Fool Stock Advisor, has tripled the market.*
They just revealed what they believe are the ten best stocks for investors to buy right now... and ASML Holding wasn't one of them! That's right -- they think these 10 stocks are even better buys.
*Stock Advisor returns as of November 10, 2021
Harsh Chauhan has no position in any of the stocks mentioned. The Motley Fool owns shares of and recommends Taiwan Semiconductor Manufacturing. The Motley Fool recommends ASML Holding and Applied Materials. The Motley Fool has a disclosure policy.
Source