Forget Cypress Semiconductor, Buy Alphabet Instead
In June 2019, Cypress Semiconductor (NASDAQ: CY) announced that it was being acquired by Infineon (OTC: IFNNY) for $23.85 per share. The deal still hasn't been finalized but could go through any day now. As of this writing, Cypress stock is trading at $23.41 -- meaning there's only about 2% upside from here.
A 2% short-term return isn't worth it when there are plenty of other top stocks for investors to chose from. But maybe Cypress' business is something you're excited about, and you're sad to see it be acquired. In that case, here's why you should consider buying Alphabet (NASDAQ: GOOG)(NASDAQ: GOOGL) instead.
Why investors liked Cypress Semiconductor
Cypress' legacy business segment produces semiconductor memory products. But in recent years, the company divested parts of its memory segment as it went all-in on producing semiconductor products for two huge industry trends: self-driving cars and the Internet of Things (IoT). Right now, these two arenas account for 79% of Cypress' revenue.
Free cash flow was another reason investors liked Cypress Semiconductor. In 2017, 15% of revenue was turned into free cash flow. In 2018, margins improved slightly to convert 16% into free cash flow. Management targeted returning 50% of all free cash flow to investors through share buybacks and dividends. It hadn't quite reached that long-term target but was getting there. In the first quarter of 2019 -- its last earnings call as an independent company -- Cypress returned 45% to shareholders.
Why investors should consider Alphabet now
Alphabet may seem like a strange investment alternative to Cypress Semiconductor. But when it comes to trends like autonomous vehicles and the IoT, Alphabet looks to benefit from both the production and consumer sides. The company is more than just Google and YouTube. It's a collection of subsidiary companies including Waymo and DeepMind, while Google produces a line of IoT consumer products under the Nest brand.
Waymo is a leader in autonomous vehicles. Earlier this year, the company began offering a completely driverless taxi for a select group of people in the Phoenix area. Besides having its own app, it has also partnered with Lyft to offer driverless taxis on its platform. Future applications of Waymo's technology include retail delivery. The company has already partnered with AutoNation to deliver car parts autonomously in the Phoenix area.
For the record, Waymo is still miles away from profitability. Alphabet records Waymo financials under its Other Bets segment. In the third quarter of 2019 alone, Other Bets recorded an operating loss of $941 million on only $155 million of revenue. That's a lot of cash burned, so it's worth watching. But the positive takeaway is that Alphabet's spending is positioning it for a leadership spot in the space.
Machine learning and artificial intelligence (AI) algorithms are an integral part of the autonomous driving future and require an extreme amount of computing power. Traditional CPUs are inadequate, with production shifting to much more powerful GPU processors. DeepMind is Alphabet's AI division, and to better serve its computing needs, it has created its own processors that are even more powerful, called TPUs (for tensor processing units). Unlike its semiconductor peers, Alphabet offers access to these processors for consumers using its Google Cloud.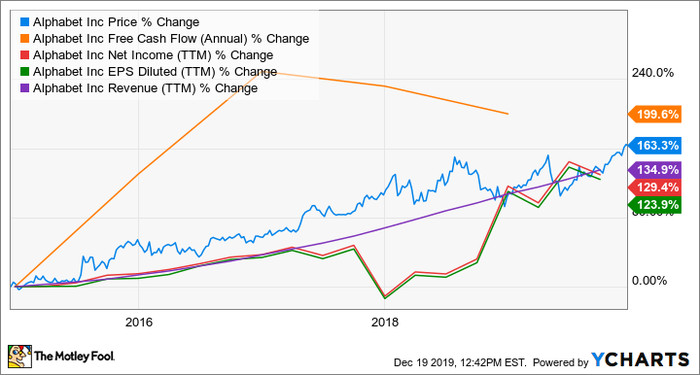 Over many years (including the last five, shown in the above chart), Alphabet has consistently grown both its top and bottom lines. Investors who liked Cypress Semiconductor's policy of returning cash to shareholders should also like Alphabet. The company doesn't pay a dividend, but in July it authorized a new stock buyback plan of $25 billion. So far in 2019, it has bought back $12.3 billion in stock, which was 31% of the free cash flow during that span.
Betting on Alphabet
With nearly a $1 trillion market cap, Alphabet is a massive company, and it's impossible to discuss every facet of the business in one article. The point is, shareholders of Cypress Semiconductor were invested in certain trends: IoT and self-driving cars. Alphabet gives investors exposure to those trends as well. Far from a pure-play, this company is a diverse portfolio of products and solutions that continue propelling double-digit top-line growth. And it's a great company, especially for new investors.
10 stocks we like better than Alphabet (A shares)
When investing geniuses David and Tom Gardner have a stock tip, it can pay to listen. After all, the newsletter they have run for over a decade, Motley Fool Stock Advisor, has tripled the market.*
David and Tom just revealed what they believe are the ten best stocks for investors to buy right now... and Alphabet (A shares) wasn't one of them! That's right -- they think these 10 stocks are even better buys.
*Stock Advisor returns as of December 1, 2019
Suzanne Frey, an executive at Alphabet, is a member of The Motley Fool's board of directors. Jon Quast has no position in any of the stocks mentioned. The Motley Fool owns shares of and recommends Alphabet (A shares) and Alphabet (C shares). The Motley Fool has a disclosure policy.
Source