Why Axon Enterprise Stock Rose 17% in April
What happened
Shares of Axon Enterprise (NASDAQ: AAXN), the maker of TASER stun guns and body cameras, moved higher last month, gaining 17% according to S&P Global Market Intelligence. The company, which also runs a cloud-based data management service for law enforcement, benefited from an analyst upgrade, as well as hopes for its upcoming first-quarter earnings report.
The chart below shows the stock's upward trend over the month.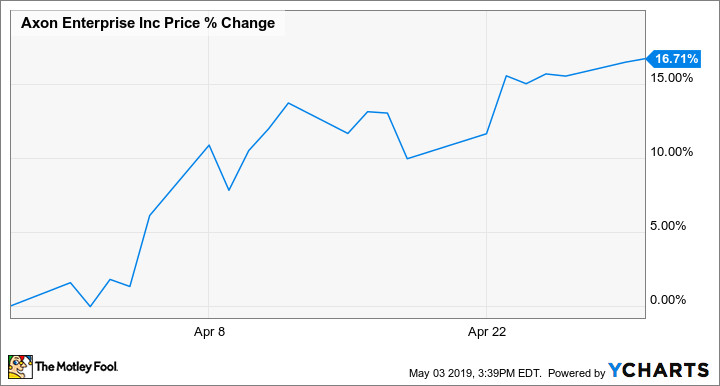 So what
Axon's best day of the month came on April 8 as the stock rose 4.5%, following a similar gain the session before after the stock got an upgrade from Raymond James.
Analyst Brian Gesuale lifted his rating from outperform to strong buy but maintained his price target at $79. Gesuale also said the company's stock could hit $100 a share by 2021, arguing that the power of the company's growing subscriber base is being underestimated. He also said that the business is still being valued like a hardware company, even though its emerging cloud business could deliver significant profit growth, and noted that software sales made up just 2% of revenue in 2014, compared to 20% in 2018, a sign of the shift in the overall business.
That was the biggest news driving Axon shares higher last month, but the company also announced further expansions including in Kingston, Ontario and other Canadian communities and improvements in its product lineup including Axon Performance, which helps agencies measure officer performance and identify training needs.
Now what
Investors are also looking ahead to Axon's earnings report coming out on May 9 but hoping for a different result than the sell-offs that followed the last two earnings reports. Analysts have a low bar, expecting revenue to grow 9.3%, to $110.61, and for earnings per share to fall from $0.29 to $0.16. Axon said previously that it expects revenue growth to pick up in the second half of the year as shipments of the TASER 7 and Axon Body 3 increase, so investors should keep on eye on guidance, as well, when the report comes out.
10 stocks we like better than Axon Enterprise
When investing geniuses David and Tom Gardner have a stock tip, it can pay to listen. After all, the newsletter they have run for over a decade, Motley Fool Stock Advisor, has quadrupled the market.*
David and Tom just revealed what they believe are the ten best stocks for investors to buy right now... and Axon Enterprise wasn't one of them! That's right -- they think these 10 stocks are even better buys.
*Stock Advisor returns as of March 1, 2019
Jeremy Bowman owns shares of Axon Enterprise. The Motley Fool owns shares of and recommends Axon Enterprise. The Motley Fool has a disclosure policy.
Source