Why These Top Retail Stocks Plunged This Week
What happened
Shares of Wayfair (NYSE: W), Farfetch Limited (NYSE: FTCH), The Container Store Group (NYSE: TCS), and Under Armour (NYSE: UA) (NYSE: UAA) all traded down over the last week as investors grew concerned about the strength of the economic recovery, especially with COVID-19 cases spiking over the last few months.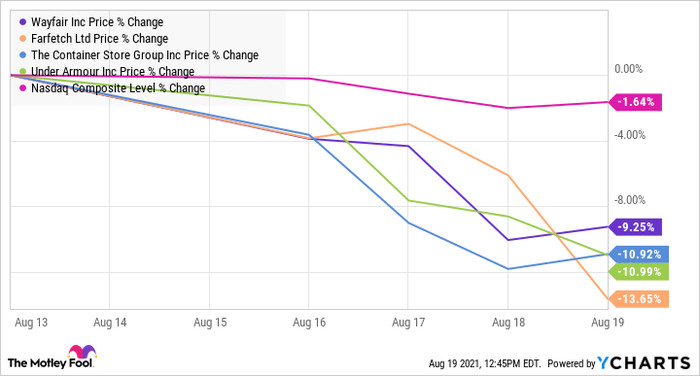 So what
Stocks have had a strong recovery since the start of the pandemic in March 2020, but with valuations stretching higher, investors are starting to be extra cautious by looking for any signs of slowing momentum.
While the latest jobs data for July showed the unemployment rate dipping 50 basis points to 5.4%, consumer prices are still trending above historical averages, climbing 5.4% over the last 12 months through July. This could pressure consumer spending in the near term, which is not what retail companies would like to see, as brick-and-mortar stores are just starting to recover from the challenges of 2020. This would impact The Container Store and Under Armour, which rely more on physical store channels than e-commerce specialists like Wayfair and Farfetch.
Now what
Farfetch was the worst performer over the past week, and its shares are currently down 13% as of 12:59 p.m. EDT on Thursday. The online luxury goods seller will report earnings after the market closes. Analysts have high expectations, with revenue projected to increase 36% year over year to $496 million.
In the most recent quarter, The Container Store and Under Armour reported sales growth of 62% and 91%, respectively. Wayfair posted a decline in revenue of 10% over the year-ago period, although revenue was still up 69% compared the same quarter two years ago.
Out of the four companies, Farfetch seems to be in the best position for continued growth in the near term, given its focus on selling luxury goods from other brands over its online retail platform. Farfetch continued to report robust growth throughout the pandemic, and management feels confident in its ability to continue taking market share in the $300 billion global luxury market.
10 stocks we like better than Farfetch Limited
When our award-winning analyst team has a stock tip, it can pay to listen. After all, the newsletter they have run for over a decade, Motley Fool Stock Advisor, has tripled the market.*
They just revealed what they believe are the ten best stocks for investors to buy right now... and Farfetch Limited wasn't one of them! That's right -- they think these 10 stocks are even better buys.
*Stock Advisor returns as of August 9, 2021
John Ballard has no position in any of the stocks mentioned. The Motley Fool owns shares of and recommends Farfetch Limited, The Container Store Group, Under Armour (A Shares), and Under Armour (C Shares). The Motley Fool recommends Wayfair. The Motley Fool has a disclosure policy.
Source