Why DraftKings Stock Soared 48% in November
What happened
Shares of DraftKings (NASDAQ: DKNG) rocketed 48% higher last month, according to data provided by S&P Global Market Intelligence, following a host of positive developments for the online betting company.
So what
DraftKings' stock price got a boost early in November after voters in three states -- Maryland, South Dakota, and Louisiana -- approved measures to legalize wagers on sporting events. They'll join 21 other states that already allow such bets to be made, thereby expanding DraftKings' already sizable market opportunity.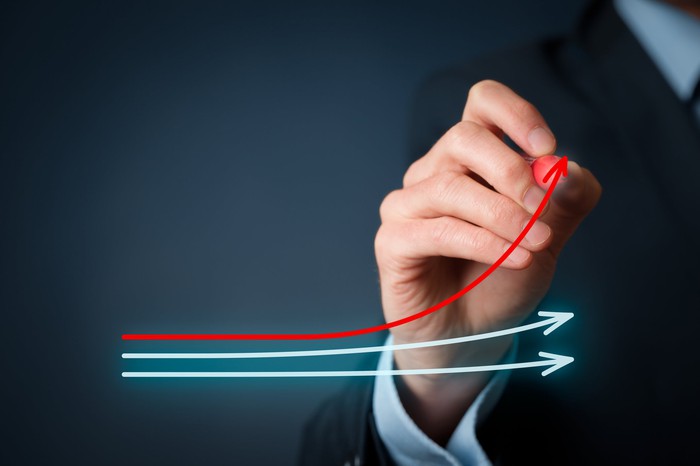 DraftKings' stock rose sharply after more states moved to legalize sports betting. Image source: Getty Images.
The sports betting leader's gains accelerated in mid-November, following its strong third-quarter financial results. DraftKings' revenue soared 98% compared to Q3 2019, boosted by its merger with Diamond Eagle. Yet even after adjusting for this, DraftKings' sales still rose an impressive 42%, driven by a 64% surge in active users. "The resumption of major sports such as the NBA, MLB, and the NHL in the third quarter, as well as the start of the NFL season, generated tremendous customer engagement," CEO Jason Robins said in a press release.
Now what
DraftKings' business held up well during the early stages of the coronavirus pandemic, even as the major sports leagues were forced to cancel games. It was able to keep gamblers engaged by providing them with the opportunity to place bets on other events, such as esports. Then, once traditional sports returned, DraftKings' growth accelerated.
Still, its stock has pulled back about 6% in December, as surging COVID-19 case counts threaten to once again derail the seasons of the NFL and other sports leagues. But with so much growth still ahead -- sports betting could become a $58 billion market in the U.S. alone, according to analysts at investment bank Needham -- long-term investors should consider purchasing shares if they decline further in the coming weeks.
10 stocks we like better than DraftKings Inc.
When investing geniuses David and Tom Gardner have a stock tip, it can pay to listen. After all, the newsletter they have run for over a decade, Motley Fool Stock Advisor, has tripled the market.*
David and Tom just revealed what they believe are the ten best stocks for investors to buy right now... and DraftKings Inc. wasn't one of them! That's right -- they think these 10 stocks are even better buys.
*Stock Advisor returns as of November 20, 2020
Joe Tenebruso has no position in any of the stocks mentioned. The Motley Fool has no position in any of the stocks mentioned. The Motley Fool has a disclosure policy.
Source