Why Sturm, Ruger & Company Stock Gained 17.2% Last Month
What happened
Shares of Sturm, Ruger & Company (NYSE: RGR) gained 17.2% in May, according to data from S&P Global Market Intelligence. The stock popped after the company reported first-quarter earnings early in the month, and it closed out the month at a 52-week high thanks in part to momentum for the broader market.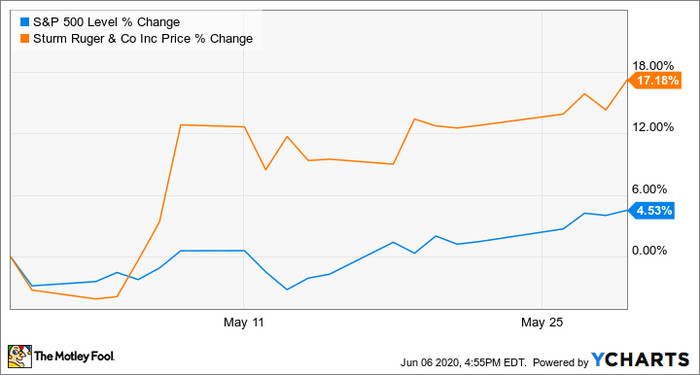 Data by YCharts.
Sturm, Ruger reported first-quarter results on May 6, delivering both sales and earnings that topped the market's expectations. Revenue climbed 8.4% year over year to $123.6 million, and earnings per share rose 17.6% to $0.87. The average analyst target had called for per-share earnings of $0.72 on sales of $116.1 million.
So what
Ruger has seen increased demand related to uncertainty created by the novel coronavirus pandemic, and the tailwinds were evident in the fiscal first-quarter results released on May 6. Unit sell-through from distributors to dealers increased 37% year over year.
The company also declared a dividend of $0.35 per share for the quarter, up from the per-share dividend of $0.29 it paid in the prior-year period and in line with the company's goal to keep its payout at roughly 40% of net income. Ruger had a net cash and short-term investment position totaling $187.6 million as of March 28, and management noted that strong performance in April had subsequently pushed the company's cash and short-term investment position above $200 million.
Now what
Ruger stock has gained even more ground in June, up 11.5% after just the first week of trading.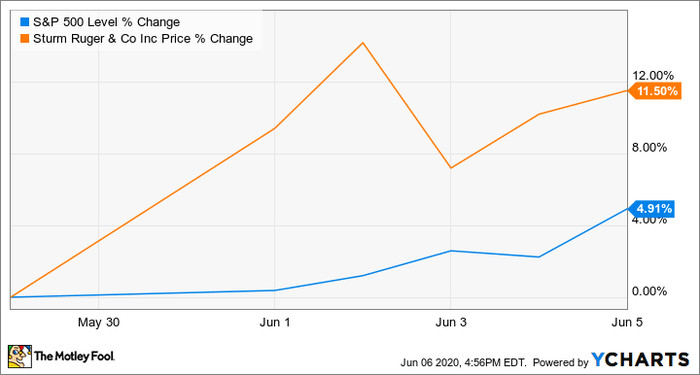 Data by YCharts.
The company doesn't usually provide forward-looking guidance, but CEO Chris Killoy indicated that it was looking at ways to increase production while still keeping long-term demand fluctuations in mind.
Sturm, Ruger stock trades at 17 times forward earnings estimates and has a dividend yield of 1.1%.
10 stocks we like better than Sturm, Ruger & Company
When investing geniuses David and Tom Gardner have a stock tip, it can pay to listen. After all, the newsletter they have run for over a decade, Motley Fool Stock Advisor, has tripled the market.*
David and Tom just revealed what they believe are the ten best stocks for investors to buy right now... and Sturm, Ruger & Company wasn't one of them! That's right -- they think these 10 stocks are even better buys.
*Stock Advisor returns as of June 2, 2020
Keith Noonan has no position in any of the stocks mentioned. The Motley Fool has no position in any of the stocks mentioned. The Motley Fool has a disclosure policy.
Source