3 Things to Watch in the Stock Market This Week
Stocks ticked lower last week, as both the Dow Jones Industrial Average and the S&P 500 shed less than 1%. This left both indexes near their all-time highs and in positive territory so far in 2020.
It's a shortened week ahead, but several big businesses will announce operating results over the next few trading days. Below we'll look at the key trends from Ambarella (NASDAQ: AMBA), Best Buy (NYSE: BBY), and Urban Outfitters (NASDAQ: URBN) that might send their stocks moving this week.
Ambarella's market share
Ambarella reports its results after the market closes on Monday, and investors are eager to hear updates about its video chip business. Its last quarterly announcement showed significant pandemic-related stress on the company, with sales declining 11% to $50 million. Yet CEO Fermi Wang and his team said they were excited about Ambarella's latest push into artificial intelligence applications, including in the growing autonomous driving niche.
In early September, management predicted that sales will likely shrink for a second straight quarter, with revenue landing between $52 million and $56 million in the third quarter, compared to $68 million a year ago. Investors might be willing to look past that short-term slump if Ambarella can show progress at building a strong customer base for its newest AI and computer vision systems. But that's also a significant challenge, considering the crowded competitive market, both in niche video processing segments and from major global players like NVIDIA. Investors will be listening carefully on Monday for any signs that Ambarella is establishing an industry foothold despite these tall odds.
Best Buy's holiday outlook
Investors are looking forward to Best Buy's Tuesday earnings announcement -- and not simply because that report will land at the start of the key holiday shopping season. The consumer electronics retailer revealed encouraging momentum in late August, as sales growth bounced right back in the fiscal second quarter following store closures in the first quarter. "We are reporting strong quarterly results in the midst of unprecedented times," CEO Corie Barry said at the time.
Another surge in e-commerce spending should help Best Buy report impressive growth this week. On average, analysts who follow the stock are looking for revenue to rise 12% to approximately $11 billion. But whether the stock can continue to rally into late 2020 will likely depend on the comments that Barry and her team make regarding demand trends heading into the holiday shopping season.
Urban Outfitters' rebound path
2020 has been a roller coaster ride for Urban Outfitters' shareholders. However, the stock is in rally mode heading into Monday's earnings release, having climbed back from a nearly 60% loss in early April to crack back into positive territory for the year.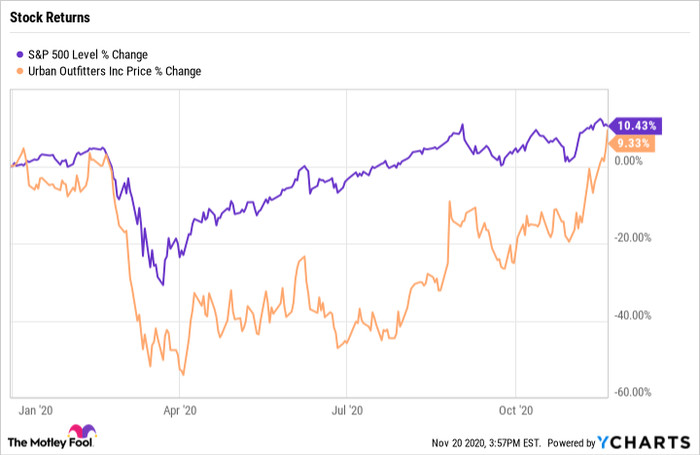 Urban Outfitters vs. S&P 500 performance, data by YCharts.
That recovery reflects growing confidence in an operating rebound that started in the fiscal second quarter. Sure, sales dropped 17% overall. But Urban Outfitters notched some solid wins, including in its growing Free People banner.
CEO Richard Hayne said in late August that the chain was entering the fall selling season with positive momentum and a lean inventory position. Those factors have investors predicting that the retailer will take a big step toward sales and profit growth this week. Urban Outfitters might even forecast a modest revenue uptick for the fiscal fourth quarter as part of its Monday announcement. That would mark a crucial step toward getting the apparel business back on track in fiscal 2021.
10 stocks we like better than Best Buy
When investing geniuses David and Tom Gardner have a stock tip, it can pay to listen. After all, the newsletter they have run for over a decade, Motley Fool Stock Advisor, has tripled the market.*
David and Tom just revealed what they believe are the ten best stocks for investors to buy right now... and Best Buy wasn't one of them! That's right -- they think these 10 stocks are even better buys.
*Stock Advisor returns as of October 20, 2020
Demitri Kalogeropoulos has no position in any of the stocks mentioned. The Motley Fool owns shares of and recommends Ambarella and NVIDIA. The Motley Fool has a disclosure policy.
Source