Why MakeMyTrip Stock Rose 13.1% in November
What happened
MakeMyTrip (NASDAQ: MMYT) shares spiked after the company reported second-quarter earnings on Nov. 4. The India-based travel company's stock lost some ground in the trading following its post-earnings pop, but it still closed out the month with gains of roughly 13.1%, according to data from S&P Global Market Intelligence .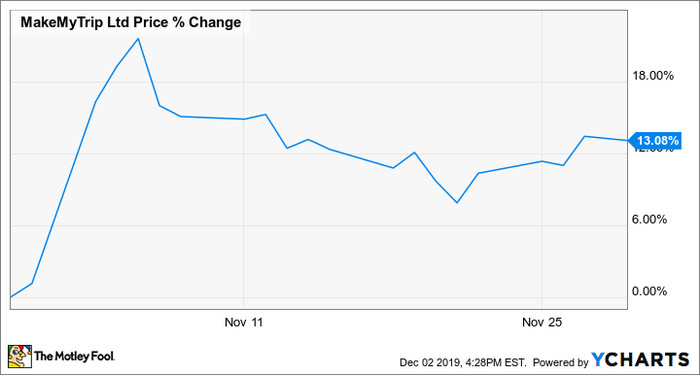 Sales for the quarter grew roughly 14.2% year over year on a currency-adjusted basis to come in at roughly $118 million, and currency-adjusted non-IFRS (adjusted) revenue grew 13.6% year over year to come in at $181.1 million. MakeMyTrip's adjusted revenue came in roughly $1.1 million ahead of the average analyst target, and its adjusted earnings per share were in line with the market's expectations.
So what
Gross bookings on the company's platform grew 20.6% year over year to reach $1.5 billion. Operating loss for the period came in at $19.3 million, narrowing from an adjusted operating loss of $25.4 million in the prior-year quarter. The company reported that its lifetime customer base in the quarter rose 25% year over year to reach 44 million customers. Adjusted air-ticketing revenue increased 17.2% on a currency-adjusted basis to reach roughly $66 million, and adjusted constant-currency bus ticketing revenue went up 38.3% year over year to roughly $16.6 million.
MakeMyTrip continued to grow its user base and service offerings, but there were also signs of pressure from increased competition and less favorable deals with supplier partners. Adjusted hotels-and-packages sales increased just 2.4% year over year in the quarter on a constant currency basis, reaching roughly $87.1 million. Adjusted revenue margin for the segment in the quarter slipped to 22.7% from 24.4% in the prior-year quarter. However, management seemed to have a more optimistic growth outlook for the segment in the third quarter.
Now what
MakeMyTrip has dipped roughly 5.4% in December amid a pullback in the broader market. The company is now valued at roughly 3.3 times this year's expected sales.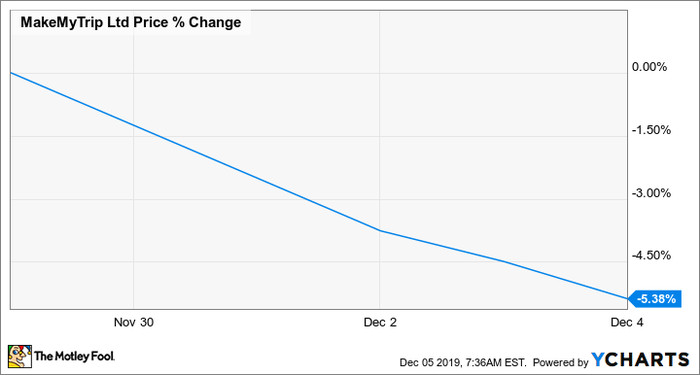 MakeMyTrip faces increasing competition and isn't currently profitable, but it is operating in a large, expanding market and has leading positions in its core service categories. Research from Bain suggests that only 25% of India's travel bookings were made online in 2018, but that the online market will account for 35% of travel bookings in 2021. The country's online travel industry is growing quickly, and increased per capita purchasing power will likely be a long-term tailwind. Investors looking for exposure to the Indian market should keep an eye on MakeMyTrip.
10 stocks we like better than MakeMyTrip
When investing geniuses David and Tom Gardner have a stock tip, it can pay to listen. After all, the newsletter they have run for over a decade, Motley Fool Stock Advisor, has quadrupled the market.*
David and Tom just revealed what they believe are the ten best stocks for investors to buy right now... and MakeMyTrip wasn't one of them! That's right -- they think these 10 stocks are even better buys.
*Stock Advisor returns as of June 1, 2019
Keith Noonan has no position in any of the stocks mentioned. The Motley Fool owns shares of and recommends MakeMyTrip. The Motley Fool has a disclosure policy.
Source