Why Cannabis Stocks Are Trading Mixed Today
What happened
Shares of some Canadian cannabis stocks are moving in different directions today. As of 11:30 a.m. EST, Tilray (NASDAQ: TLRY) shares were 9% higher, HEXO (NYSE: HEXO) shares had gone up 10% before settling down to a 1% gain, and Village Farms International (NASDAQ: VFF) shares had sunk 11%.
So what
Tilray shares are building on gains from yesterday, after the company's merger partner, Aphria (NASDAQ: APHA), reported strong earnings. HEXO announced a new CBD beverage yesterday with its joint venture partner Molson Coors (NYSE: TAP), while Village Farms shares dropped after it announced a new stock offering.
Now what
Tilray and Aphria announced merger plans last month, with Aphria's CEO Irwin Simon leading the newly combined company. The combination will make it the largest global cannabis company by sales. Since the announcement, shares of Tilray have more than doubled.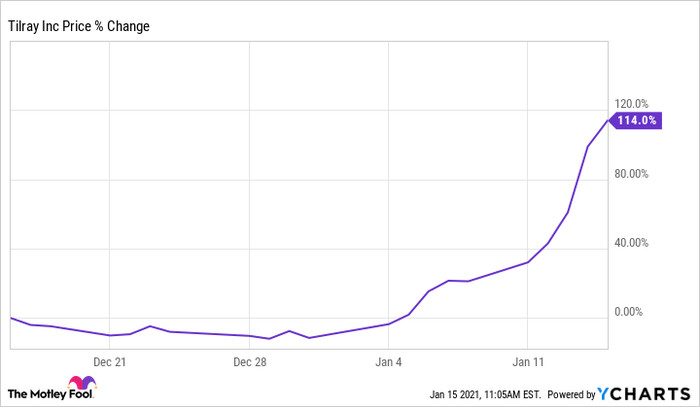 Aphria reported strong earnings yesterday, and Tilray shares have responded by rising sharply, as Tilray shareholders will retain their existing shares once the merger is complete.
Also yesterday, Truss CBD USA -- the HEXO and Molson Coors joint venture -- announced it is preparing to launch a new beverage for the U.S. market. HEXO's Truss Beverage Brands already has a top market position with Canadian consumers. Veryvell, the new nonalcoholic, sparkling CBD drinks, will be available in three flavors, exclusively in Colorado.
Village Farms, the laggard of the day, has seen its stock more than double over the past year. Today, the company announced a stock offering that will take advantage of those gains. The Canadian greenhouse marijuana grower said an agreement with institutional investors for the sale of more than 10 million shares will result in about $135 million in gross proceeds for the company. The shares are being sold at $12.40 per share, representing a 13.6% discount to Thursday's closing price of $14.35.
Village Farms said it expects the transaction to close next week, with proceeds being used for "general working capital purposes." In the nine months ended Sept. 30, 2020, Village Farms reported net income dropped by more than half versus the comparable 2019 period. But the company remained profitable through the pandemic-affected year that brought lower product prices. Investors who believe in the company's business and management should look at the capital raise as a buying opportunity, presuming the money will be used to help grow the long-term business.
10 stocks we like better than Tilray, Inc.
When investing geniuses David and Tom Gardner have a stock tip, it can pay to listen. After all, the newsletter they have run for over a decade, Motley Fool Stock Advisor, has tripled the market.*
David and Tom just revealed what they believe are the ten best stocks for investors to buy right now... and Tilray, Inc. wasn't one of them! That's right -- they think these 10 stocks are even better buys.
*Stock Advisor returns as of November 20, 2020
Howard Smith has no position in any of the stocks mentioned. The Motley Fool owns shares of and recommends Village Farms International Inc. The Motley Fool recommends HEXO. The Motley Fool has a disclosure policy.
Source