This Is BMW's Tesla Model 3 Fighter, Coming Next Year
German automaker BMW AG (OTC: BMWYY) (OTC: BAMXF) has revealed a near-final version of its upcoming i4, a compact sedan set to challenge the Tesla (NASDAQ: TSLA) Model 3 starting next year.
BMW said that the production version of the Concept i4, a sleek four-door that BMW is calling a "Gran Coupe," will incorporate what BMW calls its "fifth-generation" electric drivetrain system, providing power comparable to the company's current V-8 engines, but with instantaneous response.
The system is centered on an 80 kilowatt-hour battery pack and an all-new electric motor. BMW said that the system will give the production version of the i4 up to 530 horsepower and range up to 600 kilometers (372 miles) on the European WLTP standard. (U.S. EPA range ratings for electric vehicles tend to be somewhat lower than WLTP results.)
The Concept i4's design incorporates futuristic touches, including active aerodynamic aids intended to help maximize battery range, as well as a curved dashboard display made with non-reflective glass.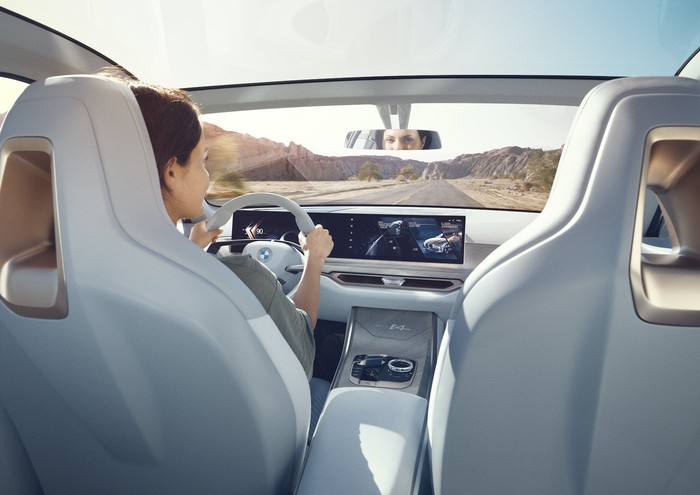 BMW executives said that the i4's futuristic interior is intended to be practical. Image source: BMW AG.
Most of those futuristic features will carry over to the production car. But BMW executives emphasized that the i4 is meant to be a practical daily driver, with a roomy interior enabled by the compact electric drivetrain.
Production of the i4 will begin next year at BMW's main factory in Munich, on an assembly line shared with internal-combustion and hybrid models. BMW said it is investing about 200 million euros ($222.4 million) to prepare the factory for electric-vehicle production.
10 stocks we like better than BMW
When investing geniuses David and Tom Gardner have a stock tip, it can pay to listen. After all, the newsletter they have run for over a decade, Motley Fool Stock Advisor, has tripled the market.*
David and Tom just revealed what they believe are the ten best stocks for investors to buy right now... and BMW wasn't one of them! That's right -- they think these 10 stocks are even better buys.
*Stock Advisor returns as of December 1, 2019
John Rosevear has no position in any of the stocks mentioned. The Motley Fool owns shares of and recommends Tesla. The Motley Fool recommends BMW. The Motley Fool has a disclosure policy.
Source