Here's Why Dropbox Stock Rose 10% in 2021
What happened
Dropbox (NASDAQ: DBX) climbed by 10% in 2021 due to shifting valuation ratios and steady growth. After building some momentum on positive fundamental results early in the year, the stock became one of the victims of the fourth quarter's stay-at-home sell-off.
So what
Dropbox's revenue grew by about 13% in 2021. Over the nine months that have been reported so far, the company produced $500 million in free cash flow. That's a nice step up from its FCF of $330 million in the corresponding period of the prior year. Other workflow and file-sharing software companies might get more attention, but Dropbox is notching consistent, respectable growth.
It's a solid narrative, but it puts the stock in a sort of limbo. Right now, growth investors have their eyes trained elsewhere on companies with higher potential. Dropbox is priced more like a value stock as a result. However, value investors are usually drawn to businesses with more long-term stability. Dropbox doesn't have any competitive moat to speak of, and there are numerous capable players operating in its niche, including Alphabet (NASDAQ: GOOGL) (NASDAQ: GOOG), Amazon (NASDAQ: AMZN), and Microsoft (NASDAQ: MSFT). Dividends are an attractive feature for value stocks in times of market volatility. Dropbox doesn't pay one, pushing it further off the radar of many investors.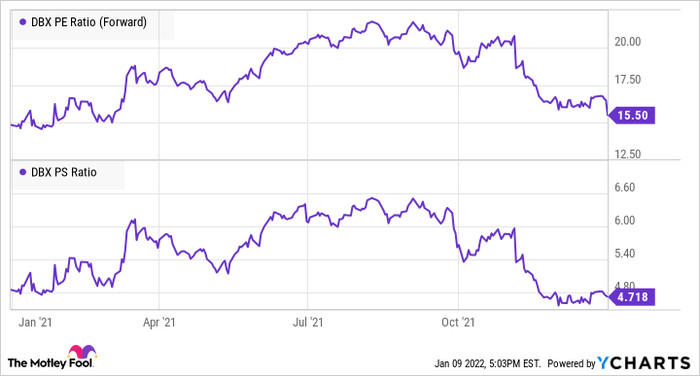 DBX Price-to-sales and PE Ratio (Forward) data by YCharts
Dropbox's valuation ratio charts clearly illustrate these forces in action. The stock's price was all over the map last year, even though revenue and earnings were overall steady. The shares went on a three-month tear after the company delivered its first-quarter earnings report in May, rising more than 30% to nearly $33.
But all the momentum that Dropbox built in the first half of the year was wiped out as investors fled from work-from-home stocks. The company narrowly outpaced estimates in the third quarter, but its shares still dropped steeply. Fighting an uphill battle against overall market forces, Dropbox was ultimately carried along with them. The stock lagged the S&P 500 by 18 percentage points in 2021.
Its 10% return can be attributed to fundamentals, but the volatility throughout the year can be attributed to a boom and bust in valuation.
Now what
Dropbox stock still faces the same challenges that it did last year. Its growth prospects are fine, but not spectacular. There are legitimate concerns about its long-term competitive advantage.
The major silver lining here is its cheap valuation. Dropbox sports a price-to-sales ratio of 4.5, a forward price-to-earnings ratio of 14.7, and an enterprise-value-to-EBITDA ratio of 23.1. Those are all pretty astounding for a profitable tech stock, even if it's "only" growing by 10% to 15% annually. A cheap stock valuation doesn't necessarily imply upside, but it should limit investors' risks, assuming that the company keeps delivering sound fundamentals.
Once the work-from-home rout ends, Dropbox could enjoy some momentum as rising rates push investors toward value stocks.
10 stocks we like better than Dropbox, Inc.
When our award-winning analyst team has a stock tip, it can pay to listen. After all, the newsletter they have run for over a decade, Motley Fool Stock Advisor, has tripled the market.*
They just revealed what they believe are the ten best stocks for investors to buy right now... and Dropbox, Inc. wasn't one of them! That's right -- they think these 10 stocks are even better buys.
*Stock Advisor returns as of January 10, 2022
Suzanne Frey, an executive at Alphabet, is a member of The Motley Fool's board of directors. Teresa Kersten, an employee of LinkedIn, a Microsoft subsidiary, is a member of The Motley Fool's board of directors. John Mackey, CEO of Whole Foods Market, an Amazon subsidiary, is a member of The Motley Fool's board of directors. Ryan Downie owns Alphabet (A shares), Amazon, and Microsoft. The Motley Fool owns and recommends Alphabet (A shares), Alphabet (C shares), Amazon, and Microsoft. The Motley Fool recommends the following options: long January 2022 $1,920 calls on Amazon and short January 2022 $1,940 calls on Amazon. The Motley Fool has a disclosure policy.
Source