Why The Rubicon Project Stock Skyrocketed on Tuesday
What happened
Shares of The Rubicon Project (NYSE: RUBI) skyrocketed higher on Tuesday, outpacing the broad stock market's gains by a mile. By 2:30 p.m. EDT, the stock was a full 18% higher, compared to the 2% gain of the S&P 500 benchmark.
However, there wasn't any news released regarding The Rubicon Project. In the absence of news, it's just speculation, but it appears investors are scooping up shares of this forgotten advertising technology (adtech) stock on increasing optimism of a stabilizing economy.
So what
In the advertising world, The Rubicon Project is a supply-side ad platform, working on behalf of publishers to optimize ad revenue. Companies like The Trade Desk work on the demand side of that exchange. LiveRamp is a middleware company tying together supply-side platforms, demand-side platforms, publishers, and advertisers. Then there's publishers like Roku and Spotify Technology that generate some revenue from advertising.
All of these stocks fell early in the year -- a weak economy reduces advertising spending. But in time, the fear is slowly abating. All the stocks mentioned here have recovered from March lows. Not only that, they're dramatically outperforming The Rubicon Project.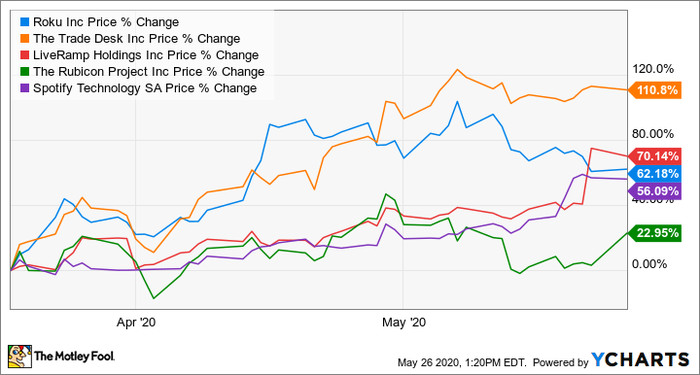 Even after today's rally, shares of The Rubicon Project are still more than 50% off 52-week highs, underlining the stock's logical consideration as a top value stock.
Now what
I don't wish to imply that all of The Rubicon Project's underperformance is due to macro-economic concerns. The stock got hammered in early May after the company guided for a sequential drop in revenue for the upcoming second quarter. That's concerning since its merger with Telaria was recently completed, and one would have expected higher revenue because of the combined financials.
There's legitimate reason for concern. However, there's also legitimate reason for long-term optimism. Consider that just in the past year, major streaming-video on demand platforms have launched, including Apple TV+, Disney+, and Peacock from NBCUniversal, a Comcast subsidiary. All these new launches are exemplary of the profound shift under way from linear TV to connected TV.
The Rubicon Project won't count all content publishers among its customers. But as the largest supply-side platform around, it's uniquely positioned to benefit from an industry growing at a healthy pace. You could buy shares hoping for a short-term bounce back to where the stock traded a few months ago. But buying a top company in a growing industry is a much better long-term thesis.
10 stocks we like better than The Rubicon Project
When investing geniuses David and Tom Gardner have a stock tip, it can pay to listen. After all, the newsletter they have run for over a decade, Motley Fool Stock Advisor, has tripled the market.*
David and Tom just revealed what they believe are the ten best stocks for investors to buy right now... and The Rubicon Project wasn't one of them! That's right -- they think these 10 stocks are even better buys.
*Stock Advisor returns as of April 16, 2020
Jon Quast owns shares of LiveRamp and The Rubicon Project. The Motley Fool owns shares of and recommends Apple, Roku, Spotify Technology, The Rubicon Project, The Trade Desk, and Walt Disney. The Motley Fool recommends Comcast and recommends the following options: long January 2021 $60 calls on Walt Disney and short July 2020 $115 calls on Walt Disney. The Motley Fool has a disclosure policy.
Source