Why Etsy Inc Stock Jumped 25% Last Month
What happened
Shares of Etsy (NASDAQ: ETSY) surged last month after three activist investors disclosed their holdings in the crafty online marketplace. The stock climbed 25% in May, according to data from S&P Global Market Intelligence.
As the chart below shows, the stock jumped 22% on May 16 as two activist investors, TPG Capital and Dragoneer, said they would push to streamline the business after acquiring a joint 8% stake in the company.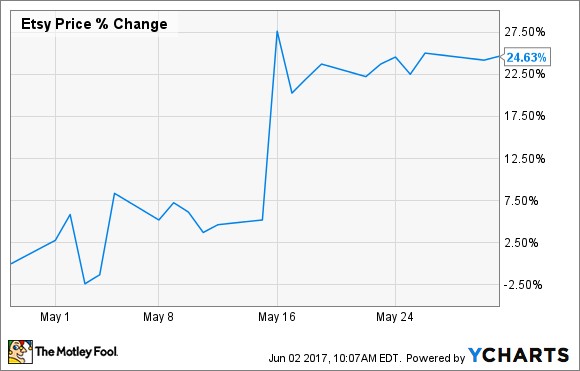 Data by YCharts.
So what 
The call comes after Etsy stock continues to struggle after two years on the market -- the online marketplace made up of individual artisans has been unable to turn a GAAP profit despite running the fourth-most trafficked e-commerce site. 
The announcement from TPG and Dragoneer followed an earlier revelation during the month that Black-and-White Capital had also acquired an activist stake (about 2% of outstanding shares). In fact, that news came out on the same day as Etsy's disappointing earnings report, but management did seem to respond to earlier calls from Seth Wunder -- the founder of Black-and-White Capital -- to trim expenses.
When it reported earnings at the beginning of the month, the company also said it would lay off 80 staff members at its headquarters, or about 8% of corporate employees, and fire CEO Chad Dickerson. He was replaced by Josh Silverman, who has previously served as an executive at Skype and eBay.
Silverman responded to the activists by saying the company is pursuing "value-enhancing opportunities" and would "prudently invest in areas that deliver the greatest returns."
Now what
Investors tend to cheer activist intrusions, especially when demands for a sale are in the mix. Finding a buyer may not be so easy, however, as Jet.com is the only e-commerce company that has been sold for more than Etsy's market valuation of $1.6 billion.
With or without a prospective sale, the activist pressure should help move the company toward profitability, as there is significant evidence that corporate expenses are bloated, including a new Brooklyn office featuring a built-in irrigation system that captures rainwater from the roof, a printmaking studio, and a community weaving loom.
No news has emerged since the May 16 announcement, but look for progress reports to come out over the coming months. With three activist parties pushing for change, the company is likely to bend.
10 stocks we like better than Etsy
When investing geniuses David and Tom Gardner have a stock tip, it can pay to listen. After all, the newsletter they have run for over a decade, Motley Fool Stock Advisor, has tripled the market.*
David and Tom just revealed what they believe are the 10 best stocks for investors to buy right now... and Etsy wasn't one of them! That's right -- they think these 10 stocks are even better buys.
Click here to learn about these picks!
*Stock Advisor returns as of May 1, 2017

Jeremy Bowman has no position in any stocks mentioned. The Motley Fool owns shares of and recommends eBay and Etsy. The Motley Fool has a disclosure policy.