Amazon Q2 Earnings: Did Reopening Economies Hurt Sales?
Amazon (NASDAQ: AMZN) has been a quintessential beneficiary of the stay-at-home trend. Sales at the international e-commerce giant surged at the pandemic's onset and have remained elevated.
The company is scheduled to report second-quarter earnings on Thursday, July 29, after the market closes. However, this quarter will be the first for Amazon during the economic reopening. Nearly 4 billion doses of coronavirus vaccines have been administered worldwide, and that is allowing governments to ease business restrictions. Investors will be watching intently to see how the company performs as stay-at-home trends reverse.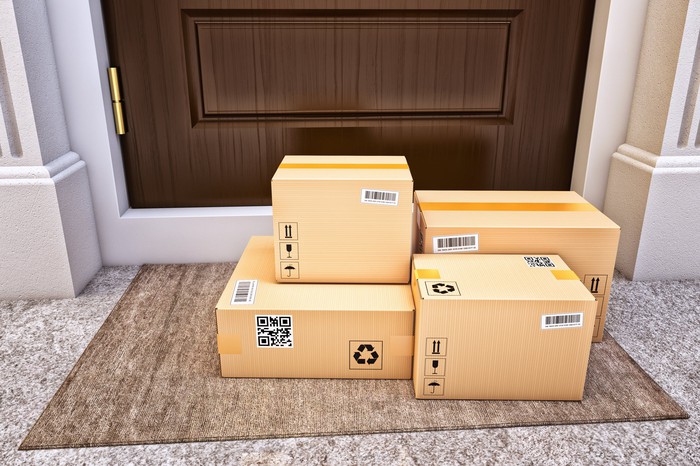 Amazon is guiding investors to look for over $100 billion in second-quarter revenue. Image source: Getty Images.
Amazon thrived during lockdowns
In the first quarter, ended March 31, Amazon reported overall revenue growth of 44% from the same period of the previous year. Keep in mind, economic lockdowns in most of the world did not start until March of 2020. So when comparing this year's first-quarter results with last year, Amazon benefited from easier comparisons.
That will not be the case when it reports second-quarter results. In fact, the opposite will be true. The second quarter of last year was the most acute phase of the pandemic for the U.S and Europe, two of its larger markets. This year, the second quarter will consist of an economic reopening where restrictions are removed from an enormous number of businesses.
Still, Amazon management is guiding investors to look for robust revenue growth in the range of 24% to 30% for the second quarter. If it can hit that target, it would result in the third consecutive quarter of over $100 billion in sales. Millions of customers came to Amazon at the pandemic's onset and stuck around after the company proved itself to them -- a trend that could have positive long-term implications for the company Jeff Bezos founded.
The boost in sales is allowing Amazon to leverage its fixed costs and increase operating profits. From 2019 to 2020, operating profits rose from $14.5 billion to $22.3 billion. The company is on pace to eclipse the 2020 figure this year, reporting $8.1 billion in operating income in the first quarter and guiding for $6.25 billion in the second at the midpoint.
What this could mean for investors
Analysts expect Amazon to report second-quarter revenue of $115 billion and earnings per share of $12.22, which would be increases of 29.4% and 18.6%, respectively, from the same quarter a year ago. The revenue growth estimate from analysts is near the top of management's guidance range.
While it's interesting to follow a company's performance quarterly, it's even more important to focus on the long run. The pandemic allowed Amazon a chance to acquire millions of new customers and deepened its relationship with existing customers. The company started 2020 with 150 million Prime members and, as of its most recent update, had reached 200 million members.
As for reopening hurting the company's sales, that is inevitable. It was unrealistic to expect Amazon to continue growing revenue at the rate it was during lockdowns.
10 stocks we like better than Amazon
When our award-winning analyst team has a stock tip, it can pay to listen. After all, the newsletter they have run for over a decade, Motley Fool Stock Advisor, has tripled the market.*
They just revealed what they believe are the ten best stocks for investors to buy right now... and Amazon wasn't one of them! That's right -- they think these 10 stocks are even better buys.
*Stock Advisor returns as of June 7, 2021
John Mackey, CEO of Whole Foods Market, an Amazon subsidiary, is a member of The Motley Fool's board of directors. Parkev Tatevosian owns shares of Amazon. The Motley Fool owns shares of and recommends Amazon. The Motley Fool recommends the following options: long January 2022 $1,920 calls on Amazon and short January 2022 $1,940 calls on Amazon. The Motley Fool has a disclosure policy.
Source