Is Clover Health a Bargain Buy After Losing Half Its Value?
Clover Health (NASDAQ: CLOV) began trading on the Nasdaq in January, the company has had an eventful first year so far. In February, it became the target of a short-seller report, and retail investors have turned it into a popular meme stock that can sometimes go on wild rides. That's what happened on June 8 when the company's stock doubled in value and ended up closing at over $22 per share. There wasn't any big news from Clover Health that day, just speculators pushing the price up.
The hype has since cooled off, and last week the stock closed at just $9.27 -- down more than 50% from that recent high. But is this decline a reason to buy the stock, or is Clover Health simply too risky an investment to be holding on to today?
Short interest remains high
One of the reasons the stock is volatile is due to its high short interest -- Clover Health often ranks as one of the most highly shorted stocks. If there's a short squeeze, that can lead to wild price movements that are both sudden and unexpected. If investors are shorting a stock, that means that they are bearish on it and expect its value will fall, likely because of a poor outlook, bad results, or even a short-seller report.
In February, Hindenburg Research released a report saying that venture capitalist and billionaire Chamath Palihapitiya, dubbed by some the "king" of special-purpose acquisition companies (SPACs) misled investors about Clover Health -- one of the SPACs that he backed. Clover Health is no longer an SPAC, but question marks surrounding the business remain. One of the items the report criticized was the company's web application used by physicians, Clover Assistant, claiming that it contains old and potentially "irrelevant diagnoses." On Clover Health's website, however, the company claims that the Assistant improves decision-making and utilizes machine learning to make personalized recommendations on patient care. Since the scathing report, the stock's short interest has been soaring, dwarfing other notable meme stocks including GameStop and AMC Entertainment.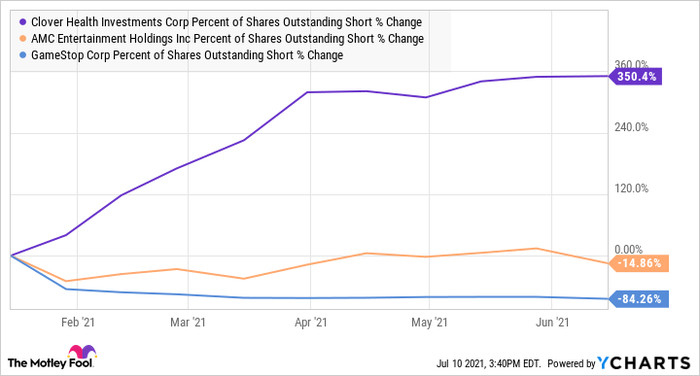 CLOV Percent of Shares Outstanding Short data by YCharts
Given the high short interest, it's certainly possible that shares of Clover Health could again spike to their previous highs. But that's a speculative reason to buy shares of the company, not an investable one.
What do the numbers say?
It can be difficult, if not impossible, to determine whether a short-seller report is accurate. And unless you're a physician who uses Clover Health's software, it will be difficult to know for sure whether it is as helpful and promising as the company says it is, or as big a waste of money as the short-seller report suggests.
But investors can assess the business objectively by reviewing its financials. And what Clover Health's most recent numbers show is that the business is growing. For the period ending March 31, revenue of $200 million was up more than 21% from the prior-year period.
However, simply generating sales growth isn't going to prove the business is investable or that its software works. A key metric that Clover Health uses to evaluate its margins is the Medical Care Ratio (MCR). MCR divides net medical claim expenses by the earned premiums. And here's how Clover Health has done on that metric over the past five quarters:
| Period Ending | Net Premiums Earned | Net Medical Claims Incurred | MCR |
| --- | --- | --- | --- |
| March 31, 2021 | $199,376 | $214,432 | 107.6% |
| Dec. 31, 2020 | $164,598 | $179,928 | 109.3% |
| Sept. 30, 2020 | $167,075 | $144,846 | 86.7% |
| June 30, 2020 | $170,315 | $119,366 | 70.1% |
| March 31, 2020 | $163,710 | $146,328 | 89.4% |
Data source: Company filings. Dollars in thousands.
For the past two periods, the company's MCR has been over 100%, meaning it has been spending more than the revenue it has been bringing in.. Management says that the pandemic has led to a surge in inpatient hospital costs, but even as the crisis has come under control, the company's MCR remains high. If the business doesn't get that ratio down, its bottom line could remain in the red. Last quarter, the company's net loss of $48 million was 72% higher than the $28 million loss it incurred a year ago. Not only is the MCR a concern, but so are rising administrative expenses -- sales and benefits of $66 million were more than triple the $21 million the company incurred a year earlier.
Investors should stay away from Clover Health
Regardless of what you think of the company's software or the short-seller report, the financial results alone should prevent you from investing in the business today. And the uncertainty surrounding COVID-19 makes it an even worse buy, as management admits it cannot predict the impact COVID-19 will have on the business; it has incurred greater costs as a result of the pandemic, and management notes that "a large portion of our membership is elderly and generally in the high-risk category for COVID-19."
Unless it can bring down its MCR low enough to absorb the heightened level of overhead and administrative costs, which will likely continue to rise as Clover Health grows its business, this is going to remain a risky stock to invest in -- even beyond all the volatility that comes with retail investors. If the company were to maintain its run rate and generate $800 million in annual revenue, that would put it at a price-to-sales multiple of nearly 5. That's much higher than the 1.9 times sales that the average stock in the Health Care Select Sector SPDR Fund commands. Throw in a lack of profitability, questions related to its business, and a wild roller-coaster ride, and you are left with an ultra-risky healthcare stock that probably isn't worth taking a chance on.
10 stocks we like better than Clover Health Investments
When our award-winning analyst team has a stock tip, it can pay to listen. After all, the newsletter they have run for over a decade, Motley Fool Stock Advisor, has tripled the market.*
They just revealed what they believe are the ten best stocks for investors to buy right now... and Clover Health Investments wasn't one of them! That's right -- they think these 10 stocks are even better buys.
*Stock Advisor returns as of June 7, 2021
David Jagielski has no position in any of the stocks mentioned. The Motley Fool has no position in any of the stocks mentioned. The Motley Fool has a disclosure policy.
Source