Cathie Wood's ARK Invest Only Owns 4 Dow Stocks, and They Aren't What You Think
Cathie Wood, the CEO of ARK Invest, is known for finding hypergrowth names with upside potential. The three largest holdings in ARK's six actively managed funds are Tesla, Square, and Teladoc. None of the three is cheap by traditional valuation metrics like price to sales (P/S) or price to earnings (P/E). But ARK believes that these companies, and others like them, will lead to a doubling of U.S. GDP to $40 trillion by 2035.
By contrast, The Dow Jones Industrial Average (DJIA) will celebrate its 125th anniversary on May 26. But while it's meant to reflect the entire U.S. economy, it doesn't exactly conjure an image of growth. In fact, the Nasdaq has given investors twice the return of the DJIA over the last five years.
Surprisingly, the four DJIA components that ARK owns -- Apple (NASDAQ: AAPL), Caterpillar (NYSE: CAT), Boeing (NYSE: BA), and Honeywell (NYSE: HON) -- are all relatively stable companies with histories of earnings growth, rather than up-and-coming rising stars. Here's why Cathie Wood likes these four Dow stocks, along with some surprising reasons she doesn't like a few others.
1. Apple: $79.6 million
The ARK Fintech Innovation ETF (NYSEMKT: ARKF) owns 606,427 shares of Apple, which is worth nearly $80 million as of Apple's closing price on April 12. While this may sound like a lot, Apple is the fund's 24th-largest holding, and comprises less than 2% of its total value. ARK is a firm believer in mobile technology's increasing role in commerce, repeatedly noting the success of China's mobile payment system, so Apple's fintech developments like the Apple Card and Apple Pay make it a natural fit in ARK's Fintech ETF.
Augmented Reality (AR) is one of ARK's most closely followed trends. In its Big Ideas 2021 presentation, ARK called out Snapchat, Facebook, and Apple for increasing their investments in AR (all three companies are held in the Fintech Innovation ETF). ARK also supports Apple's decision to transition Macs to ARM processors. ARK believes ARM could become the new processor standard by 2030, displacing Intel and leading to further domination by AMD and NVIDIA.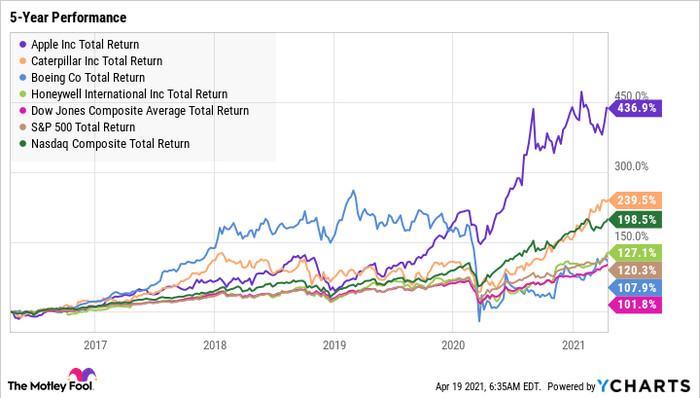 AAPL Total Return Level data by YCharts
2. Caterpillar: $75.6 million
Earth moving equipment manufacturer Caterpillar is the 15th-largest holding in the ARK Autonomous Technology & Robotics ETF (NYSEMKT: ARKQ). After a strong market-beating year in 2020, shares of Caterpillar are currently right around their all-time high. In fact, Caterpillar is up over 25% so far in 2021, making it one of the best-performing stocks in the DJIA.
Caterpillar is an international company that generates over half its sales from outside the U.S. Global competition in the construction, mining, and energy industries is fierce, especially in China -- which is Caterpillar's hottest market. To stay ahead, Caterpillar is implementing machine learning and big data to help its customers better manage their fleets. Caterpillar has developed tools like Cat Connect and Cat Digital, which can be used for both existing and new equipment.
3. Boeing: $22.5 million
Boeing is the 11th-largest holding in the newly launched ARK Space Exploration & Innovation ETF (NYSEMKT: ARKX). As the world's second-largest maker of commercial airplanes and a leading aerospace company, Boeing has a clear role to play in the burgeoning space industry. Boeing's Defense, Space, and Security segment is a prime contractor for NASA's Space Launch System, a heavy-lift rocket for human space exploration. Boeing also builds satellites and software systems for commercial, military, and scientific exploration.
4. Honeywell: $7.4 million
Honeywell is a minor holding, ranking 28th in ARK's Space ETF. Honeywell manufactures and designs components for the commercial airline industry and the defense industry. However, its strides in the industrial internet of things (IIOT), which involves developing operational technology (OT) for industrial equipment, are right up ARK's alley. Honeywell would fit nicely into the ARK Innovation ETF (NYSEMKT: ARKK), the largest of its actively managed ETFs. But because the fund is centered almost entirely around tech stocks, that's unlikely to happen anytime soon.
Surprising Dow stocks ARK doesn't own
ARK's tech-centered focus may lead investors to assume it owns Salesforce and Microsoft, which are both Dow stocks. But it doesn't. The ARK Next Generation Internet ETF (NYSEMKT: ARKW) holds 53 securities, but not Verizon. And while five out of the DJIA's 30 components are financial companies, Ark's fintech fund holds none of them. Finally, the ARK Genomic Revolution Multi Sector ETF (NYSEMKT: ARKG) is focused heavily on healthcare, yet holds none of the DJIA's five healthcare stocks.
Takeaways
Industrial stocks aren't often thought of as the most exciting sector on Wall Street. However, leading dividend-paying industrial stocks with growth potential have been handsomely rewarding investors for decades. Cathie Wood and her team think a handful of these names have bright futures in emerging industries. Honeywell and Caterpillar, in particular, stand out as two top-tier companies poised to raise their dividends and beat the market over the long term.
10 stocks we like better than Honeywell International
When investing geniuses David and Tom Gardner have a stock tip, it can pay to listen. After all, the newsletter they have run for over a decade, Motley Fool Stock Advisor, has tripled the market.*
David and Tom just revealed what they believe are the ten best stocks for investors to buy right now... and Honeywell International wasn't one of them! That's right -- they think these 10 stocks are even better buys.
*Stock Advisor returns as of February 24, 2021
Teresa Kersten, an employee of LinkedIn, a Microsoft subsidiary, is a member of The Motley Fool's board of directors. Daniel Foelber has no position in any of the stocks mentioned. The Motley Fool owns shares of and recommends Apple, Microsoft, NVIDIA, Salesforce.com, Square, Teladoc Health, and Tesla. The Motley Fool recommends Intel and Verizon Communications and recommends the following options: long January 2023 $57.5 calls on Intel, long March 2023 $120.0 calls on Apple, short January 2023 $57.5 puts on Intel, and short March 2023 $130.0 calls on Apple. The Motley Fool has a disclosure policy.
Source