Why Shares of Lordstown Motors Jumped Again Today
What happened
Shares of aspiring electric-pickup truck maker Lordstown Motors (NASDAQ: RIDE) are rising 9% Tuesday, as of 3:40 p.m. EST. The company updated investors yesterday with progress in several areas as it approaches the start of production of its Endurance light-duty electric trucks.
The company confirmed production reservations for about 50,000 trucks, representing interest from approximately 100 different commercial truck fleets.
So what
Lordstown said production is on schedule to begin in September 2021, and investors are showing interest, with shares nearly doubling just since the start of November.
The move in the company's shares are also part of a recent surge in investor interest in many companies in the sector.
Now what
Lordstown told investors yesterday about several areas where the company's growth plans are progressing. It included plans to double its headcount by the end of this year, to 500, with plans to have 1,500 employees by the end of 2021. Also included in the new update were plans to open a new research and development center as well as a new service center.
But the recent rise in the share price isn't just with Lordstown. Several Chinese EV makers reported sales and earnings recently, including Li Auto and XPeng, that have driven share increases. A third, NIO, reports quarterly earnings tomorrow. American start-ups have come along for the ride, with strong gains just since the start of November, as seen below.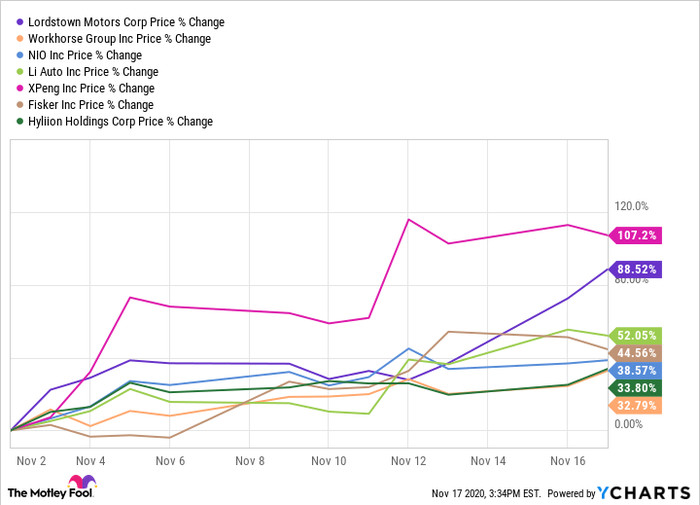 Lordstown shares may get another boost tomorrow, too, after CEO Steve Burns appears on CNBC's Mad Money with Jim Cramer tonight.
10 stocks we like better than Lordstown Motors Corp.
When investing geniuses David and Tom Gardner have a stock tip, it can pay to listen. After all, the newsletter they have run for over a decade, Motley Fool Stock Advisor, has tripled the market.*
David and Tom just revealed what they believe are the ten best stocks for investors to buy right now... and Lordstown Motors Corp. wasn't one of them! That's right -- they think these 10 stocks are even better buys.
*Stock Advisor returns as of October 20, 2020
Howard Smith has no position in any of the stocks mentioned. The Motley Fool has no position in any of the stocks mentioned. The Motley Fool has a disclosure policy.
Source