The Best Stocks to Buy During the September Sell-Off
The S&P 500 has lost its momentum in September, which may not seem surprising as the month has been historically poor for the stock market. As it turns out, the S&P 500 has declined 0.5% on average during September since 1950, but this time the decline has been steeper thanks to other factors that have spooked investors and triggered a sell-off.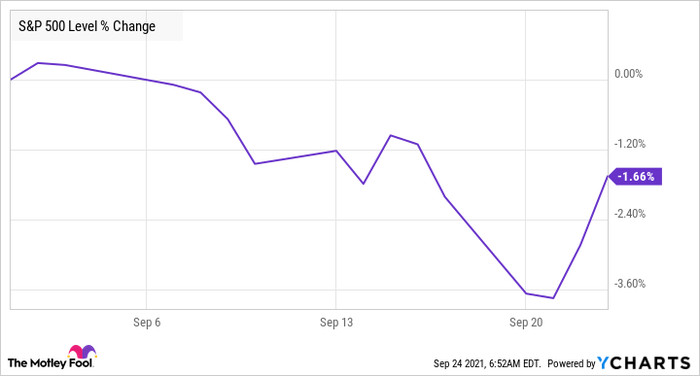 As seen in the chart above, the index has recovered some of the ground it had lost during the September sell-off. However, it is still down more than usual, which means that there's an opportunity for investors to buy some great companies at cheaper valuations. Advanced Micro Devices (NASDAQ: AMD) and Bandwidth (NASDAQ: BAND) are two of the best stocks you might consider buying right now. Let's see why.
Advanced Micro Devices
AMD stock lost a lot of ground in the first three weeks of September before bouncing back in recent sessions, but you can still buy it at a relatively cheap valuation right now.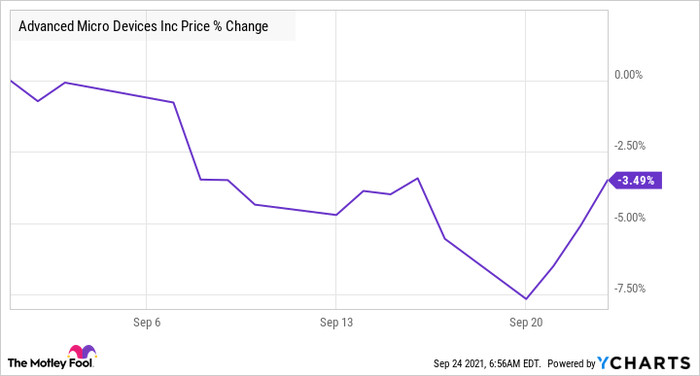 The stock was trading at nearly 40 times trailing earnings in the last week of August. Investors can now scoop up this high-growth company at a price-to-earnings (P/E) ratio of 37, which is quite attractive considering that AMD was trading at nearly 124 times earnings in 2020. Given that AMD is on track to record more vigorous growth in 2021 than last year, while the stock trades at a relatively cheap valuation, buying this tech stock right now is a no-brainer.
AMD expects 60% revenue growth in 2021, a solid step up from 2020's annual revenue increase of 45%. And analysts expect AMD's impressive growth to continue over the next couple of years.
| Year | Revenue estimates | Earnings per share estimates |
| --- | --- | --- |
| 2021 | $15.7 billion | $2.50 |
| 2022 | $18.1 billion | $3.06 |
| 2023 | $20.6 billion | $3.73 |
Source: YCharts
There are several reasons why AMD could keep growing at a robust pace. First, the company still commands a fairly humble slice of the x86 processor market, where it has been consistently taking share away from sector leader Intel. According to Mercury Research, AMD's share of the overall x86 processor market increased 4.2 percentage points year-over-year in the second quarter of 2021 to 22.5%.
AMD still has a lot of room to increase that modest market share, and Wall Street expects it to do precisely that through 2024 thanks to the technological advantage it enjoys over Intel's chips.
However, this isn't the only reason to be bullish about AMD. The company is also well-positioned to tap into the booming market for gaming consoles, as it supplies chips to Sony and Microsoft for the PlayStation 5 (PS5) and the Xbox Series X/S. Sales of these consoles are expected to soar in the coming years.
The PS5, for instance, is expected to clock 67 million units in annual sales by 2024, compared to just 4.5 million units last year. The Xbox Series X is also expected to step on the gas with sales of 37 million units in 2024, an increase from 3.3 million units last year. The addition of Valve's Steam Deck to AMD's portfolio of gaming console customers will further boost the chipmaker's prospects in a market that's expected to clock 15% annual growth through 2026, according to Mordor Intelligence.
Meanwhile, AMD is also breaking into the data center graphics card market, which is currently dominated by Nvidia. AMD's data center GPUs (graphics processing units) are gaining traction thanks to the demand from high-performance computing (HPC) customers. As a result, the company's revenue from data center GPUs more than doubled year-over-year in the second quarter.
AMD expects further growth in this segment, which currently produces a very small portion of its revenue. The company pointed out in January this year that its first milestone would be to clock $500 million in data center GPU sales, and the massive sales improvement last quarter indicates that it could be on its way to achieving that target. In fact, AMD expects data center GPU sales to double in 2021. The good news for AMD investors is that the data center GPU market could grow at 43% a year through 2026, hitting $26 billion in revenue, according to a third-party estimate.
So AMD stands to gain from several fast-growing trends in the long run, which makes it a top growth stock to buy in the wake of the September sell-off.
Bandwidth
Shares of cloud communications specialist Bandwidth have pulled back substantially in September.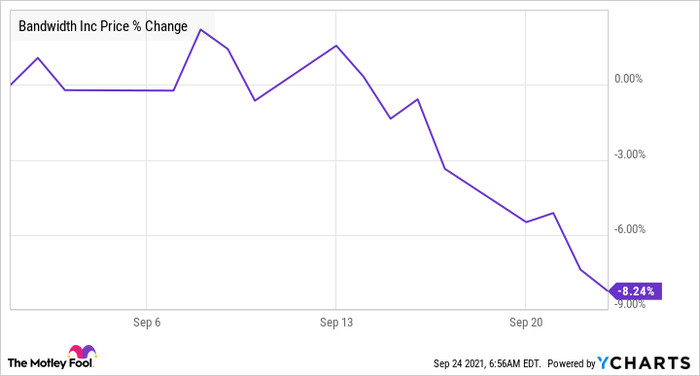 This has created a solid opportunity for investors looking to buy a fast-growing company at an attractive valuation. Bandwidth clocked 57% year-over-year revenue growth in the second quarter of 2021 to $120.7 million. Adjusted net income shot up to $0.32 per share in Q2 from $0.13 per share in the year-ago period.
Bandwidth's terrific growth was driven by a mix of higher customer spending and an increase in customer count. The company exited Q2 with 3,051 active customers for its communications platform-as-a-service (CPaaS) offerings, a jump of 61% over the year-ago period. Additionally, Bandwidth's active customer base increased its spending on the company's services. This is evident from the dollar-based net retention rate of 114%, which compares Bandwidth's revenue from the same cohort of active customers on a year-over-year basis.
More importantly, Bandwidth looks all set to maintain its terrific momentum. The company has upgraded the midpoint of its 2021 revenue guidance to $485.8 million from $474.6 million earlier. It now expects $0.73 per share in earnings, compared to the expectation of just $0.51 per share at the start of the year.
The upgraded revenue guidance means that Bandwidth now expects full-year revenue growth of 41%, while earnings are also on track to increase substantially from the prior-year period's figure of $0.55 per share. It wouldn't be surprising to see Bandwidth sustain such high levels of growth in the long run, as the CPaaS market is still in its early stages of growth.
According to IDC, the CPaaS market generated $4.2 billion in 2019. That figure is expected to jump to $17.7 billion by 2024, translating into a compound annual growth rate of 33%. Bandwidth's growth indicates that it is outpacing the industry it operates in. That's why it would be a good idea to take advantage of the pullback in Bandwidth stock.
The stock is trading at 5.6 times sales, which is much lower than last year's average of 12.7. What's more, Bandwidth's price-to-sales ratio is lower than that of industry peer Twilio, which trades at 25 times sales and recorded 67% year-over-year growth last quarter. With a far lower valuation and comparable top-line growth, Bandwidth offers a much better value proposition compared to Twilio right now, making it an attractive bet thanks to the September sell-off.
10 stocks we like better than Advanced Micro Devices
When our award-winning analyst team has a stock tip, it can pay to listen. After all, the newsletter they have run for over a decade, Motley Fool Stock Advisor, has tripled the market.*
They just revealed what they believe are the ten best stocks for investors to buy right now... and Advanced Micro Devices wasn't one of them! That's right -- they think these 10 stocks are even better buys.
*Stock Advisor returns as of September 17, 2021
Teresa Kersten, an employee of LinkedIn, a Microsoft subsidiary, is a member of The Motley Fool's board of directors. Harsh Chauhan has no position in any of the stocks mentioned. The Motley Fool owns shares of and recommends Advanced Micro Devices, Bandwidth Inc., Microsoft, Nvidia, and Twilio. The Motley Fool recommends Intel and recommends the following options: long January 2023 $57.50 calls on Intel and short January 2023 $57.50 puts on Intel. The Motley Fool has a disclosure policy.
Source