Better Buy: Nvidia vs. Digital Realty
Nvidia (NASDAQ: NVDA) and Digital Realty (NYSE: DLR) might not seem comparable tech stocks (or in the real estate investment trust's case, a tech stock at all), but both are poised to take advantage of massive trends in the industry that are right in their wheelhouse.
Each might have a different focus, but they're on a comparable footing, which actually makes choosing between them a difficult task. So let's see whether the chipmaker or the data center REIT is the better buy in January.
The case for Nvidia
Although the lockdown portion of the pandemic recharged Nvidia's business as gamers poured back into the market -- and millions more joined them because of all the time on their hands and having nothing to do -- Nvidia was already a phenomenally successful company, generating tens of thousands of percent returns for longer-term investors.
The cryptocurrency market collapse in 2018 caused Nvidia's stock to lose half its value as pundits worried whether the semiconductor stock could return to form, which it did in fine fashion. But now there's a vortex of opportunity swirling around its operations and Nvidia is ready to take it all on.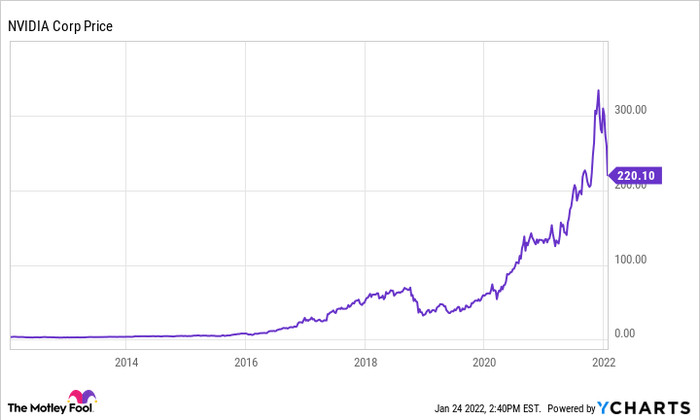 While graphics processing units (GPUs) for gaming generated 45% of third-quarter total revenue, hitting a record $3.2 billion, Nvidia also has its finger on the pulse of data centers, artificial intelligence, healthcare, networking, automobiles, and the just-emerging metaverse.
Data center revenue soared 55% year over year in the third quarter and should become Nvidia's largest segment by 2025. Its BlueField zero-trust platform fully protects data centers by requiring all users to be authenticated, authorized, and validated before gaining access to applications and data, whether they are working locally, in the cloud, or in hybrid situations.
Also, Nvidia's acquisition of Mellanox a few years ago positions the chipmaker to be a top supplier for networking hardware while its Nvidia Drive AV platform builds on the computational power the company developed for gaming to apply it to autonomous vehicles (hence the "AV" in the name).
Nvidia is also deeply involved in developing software solutions where its Morpheus platform uses AI to allow for cybersecurity protection of data.
In short, there are a lot of moving parts at Nvidia and they all point to enormous growth potential. Although its stock has lost a quarter of its value over the last two months, investors should consider that a buying opportunity.
The case for Digital Realty
As mentioned above, Digital Realty concentrates on the data center market, which as Nvidia's business shows, is growing rapidly and assuming ever greater importance in the day-to-day operations of all businesses.
Data centers are the backbone of the internet, the central core for every thing and every device that accesses a network, whether in the cloud or online. Because data needs a central depository, data centers serve as the secure warehouses for the servers and networking equipment that house the data.
Digital Realty owns 282 data centers that represent 35 million square feet of space, including 36 data centers held as investments in unconsolidated joint ventures. It's one of only two remaining REITs that focus on the sector as merger and acquisition activity has caused their numbers to dwindle.
Third-quarter adjusted funds from operations (AFFO), a critical profitability metric for REITs, was $1.60 per share, up from $1.47 per share a year ago. That was primarily pushed higher by the expansion of Digital Realty's PlatformDIGITAL service, its global data center platform in the cloud that allows for scaling and hyperscaling for very large deployments.
Of course, what makes the data center REIT attractive for many investors is its dividend, which is currently yielding 3% annually. It's a good bet this payout is going to be safe for many years to come.
As more and more businesses move their information to the cloud, the importance of data centers becomes increasingly critical. This ensures that Digital Realty will have a steady stream of business, particularly as it counts among its customers industry titans like AT&T, Meta Platforms, and Verizon, all of which are copious generators of data.
Digital Realty's stock has also dropped over the past two months, though not as steeply as Nvidia's, even as it carries valuation metrics every bit as dear as the chipmaker's. It still looks like a solid long-term pick, particularly if an investor wants to juice their returns with a dividend kicker.
The verdict
Both stocks are buys in my book and I don't think an investor will go wrong picking up either one (or both) for their portfolio, if they're holding around two dozen stocks and not planning on selling any of them for at least five years, preferably decades.
If forced to choose, however, I'd say it depends on the type of investor you are. For the more risk tolerant, Nvidia is likely to see greater volatility but also likely to generate greater returns. For obvious reasons, an income investor would be better off going with Digital Realty, even though the chipmaker also makes a nominal payout.
In short, it's an excess of riches that won't steer you wrong over the long haul.
10 stocks we like better than Nvidia
When our award-winning analyst team has a stock tip, it can pay to listen. After all, the newsletter they have run for over a decade, Motley Fool Stock Advisor, has tripled the market.*
They just revealed what they believe are the ten best stocks for investors to buy right now... and Nvidia wasn't one of them! That's right -- they think these 10 stocks are even better buys.
*Stock Advisor returns as of January 10, 2022
Randi Zuckerberg, a former director of market development and spokeswoman for Facebook and sister to Meta Platforms CEO Mark Zuckerberg, is a member of The Motley Fool's board of directors. Rich Duprey owns AT&T. The Motley Fool owns and recommends Digital Realty Trust, Meta Platforms, Inc., and Nvidia. The Motley Fool recommends Verizon Communications. The Motley Fool has a disclosure policy.
Source