Why Shares of Beauty Health, The RealReal, and Warby Parker Were Down Today
What happened
Shares of many consumer-facing companies were trading lower on Monday afternoon, on investor concerns about the growing likelihood of higher interest rates in the United States.
Here's where things stood as of 2:15 p.m. ET for these three consumer companies' stocks, relative to their closing prices on Friday:
Beauty Health

(NASDAQ: SKIN)

was down about 15.2%.
The RealReal

(NASDAQ: REAL)

fell about 9.1%.
Warby Parker

(NYSE: WRBY)

dropped about 6.3%.
So what
All of these stocks, and many others, were trading lower primarily on worries about interest rates. The benchmark 10-year U.S. Treasury rate jumped over the weekend, from 1.77% on Friday to 1.8% on Monday morning, on the growing consensus that the Federal Reserve will begin raising interest rates in March.
That's a concern for just about any company that depends on consumers' discretionary income, including all three of the companies here. Rising interest rates increase the costs of financing, whether on credit cards, auto loans, or adjustable-rate mortgages. Higher financing costs leave less money in consumers' pockets for things like fancy eyeglasses, second-hand luxury fashions, and skin care treatments. Higher interest rates will raise the companies' own financing costs as well, potentially limiting or slowing down expansion plans.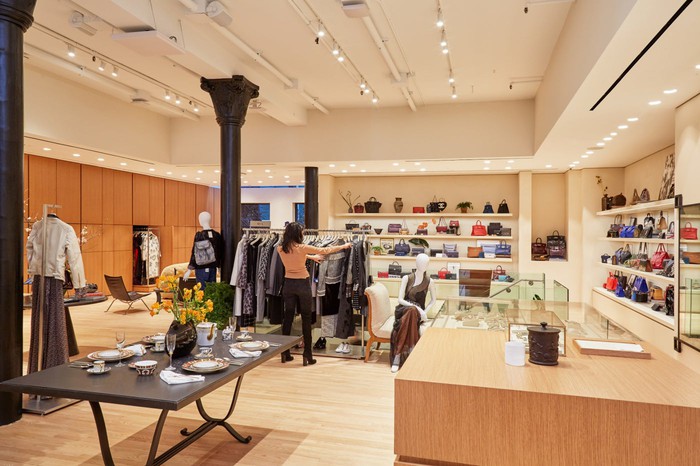 A RealReal store in New York. Rising interest rates could affect many businesses that depend on consumers' discretionary income. Image source: The RealReal.
While the interest rate fears were the key factor pushing many stocks lower on Monday, two of the companies on our list also had news that may have affected the stocks:
Beauty Health confirmed on Monday morning that it expects its full-year 2021 revenue to come in at the high end of the guidance range it provided with its third-quarter results in November, $245 million to $255 million. It expects its full-year adjusted earnings before interest, taxes, depreciation, and amortization to be in line with its prior guidance of about $30 million.
In a bearish note on The RealReal on Friday, B. Riley analyst Susan Anderson lowered her firm's price target for the company's shares to $12, from $15, while maintaining a previous sell rating. Anderson thinks that inflation, labor shortages, and supply chain issues will constituted an "evolution of new challenges" for The RealReal and other upscale specialty retailers.
There was no recent news of note on Warby Parker.
Now what
Investors can look ahead to upcoming earnings reports for more detail on each of these companies. Based on past trends, Beauty Health and Warby Parker will likely report in early to mid-February, with The RealReal reporting later in the same month.
10 stocks we like better than The Beauty Health Company
When our award-winning analyst team has a stock tip, it can pay to listen. After all, the newsletter they have run for over a decade, Motley Fool Stock Advisor, has tripled the market.*
They just revealed what they believe are the ten best stocks for investors to buy right now... and The Beauty Health Company wasn't one of them! That's right -- they think these 10 stocks are even better buys.
*Stock Advisor returns as of January 10, 2022
John Rosevear has no position in any of the stocks mentioned. The Motley Fool has no position in any of the stocks mentioned. The Motley Fool has a disclosure policy.
Source