Wanda Sports Group Stock Soars on Buyout Proposal
What happened
Shares of Wanda Sports Group (NASDAQ: WSG) soared on Wednesday after the company received a buyout offer. The proposed acquisition implied 37% upside from where the stock closed yesterday, hence its pop when the market opened this morning. As of 1:30 p.m. EDT, Wanda Sports Group -- a global sports events, media, and marketing platform -- was up 28%.
So what
So who is this buyer anyway? It turns out, the offer came from Wanda Sports & Media Holding Company. This holding company already owns 72% of the Class B shares of Wanda Sports Group. But now it wants to buy all of the Class A shares for just $1.67 each.
Before you get too upset, remember the Class A shares don't trade on the Nasdaq. Trading in the U.S. is in American depository shares, which represent 1.5 Class A shares each. Therefore, the buyout proposal of $1.67 per share is the equivalent of $2.50 per depositary share.
While today's pop is certainly nice for newer Wanda Sports Group shareholders, it's not welcome news for those who've been holding for the long term. The American depository shares have lost more than half their value over the past year, and the buyout proposal (if approved) will lock those losses in forever.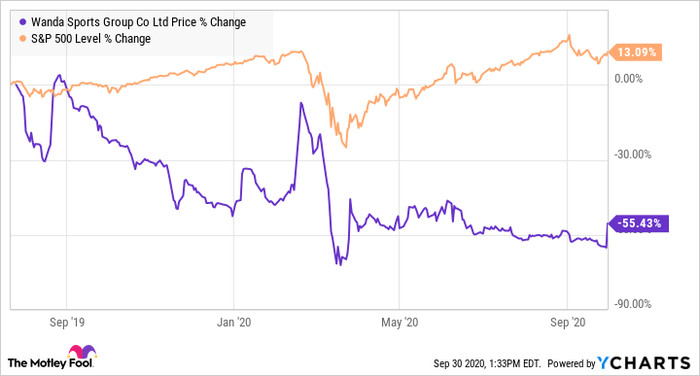 Now what
Here's why this deal is almost guaranteed to go through: Wanda Sports & Media Holding Company has 91% of the voting power of Wanda Sports Group, due to the large amount of Class B shares it holds. Therefore, even if other parties don't like this, they have little power to prevent it.
The issues caused by this kind of structure are rarely this extreme. But it is a reminder how important due diligence is. Included in due diligence, especially with international stocks, is understanding who really has control in the company.
10 stocks we like better than Wanda Sports Group Company Limited
When investing geniuses David and Tom Gardner have a stock tip, it can pay to listen. After all, the newsletter they have run for over a decade, Motley Fool Stock Advisor, has tripled the market.*
David and Tom just revealed what they believe are the ten best stocks for investors to buy right now... and Wanda Sports Group Company Limited wasn't one of them! That's right -- they think these 10 stocks are even better buys.
*Stock Advisor returns as of September 24, 2020
Jon Quast owns shares of Nasdaq. The Motley Fool recommends Nasdaq. The Motley Fool has a disclosure policy.
Source