Could GameStop Stock Supercharge Your Portfolio?
GameStop (NYSE: GME) stock is up some 950% year to date, eclipsing the already healthy gains in the broader stock market. However, the recent success of its shares may not necessarily mean this video game retailer can create fortunes for new investors. Let's take a closer look to see what may lie ahead for the company.
The state of GameStop
Without question, increased investor interest has become a boon to GameStop's stock. The shares fell below $6 per share late last year, because game downloads seemed to have made its retail model obsolete.
However, activity in Reddit's WallStreetBets forum led to an army of small investors buying into the company, countering moves by institutional investors to short the stock. Such interest took GameStop from near penny-stock status to an intraday high of $483 per share in January.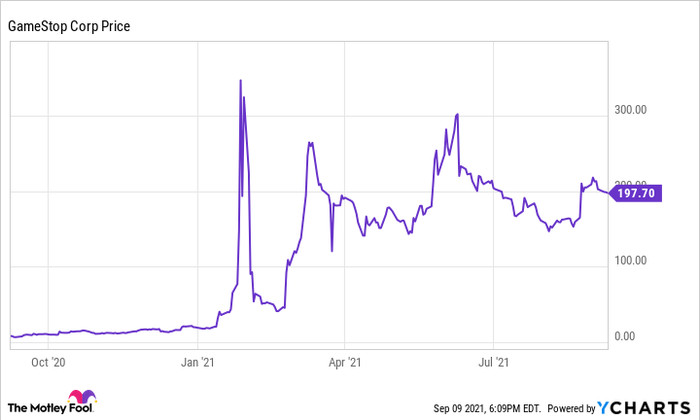 Although the stock has cooled off a bit since then, investors have more reason now to believe in the company. In April, GameStop removed its old CEO and CFO and installed Chewy founder Ryan Cohen as chairman.
Under this new leadership, GameStop bills itself as a "digital-first, omnichannel retailer." In keeping with that, it has permanently closed 480 stores since August 2020 and at the same time expanded its fulfillment network for customer orders, including a new 530,00-square-foot facility in Reno, Nevada, and a 700,000-square-foot facility in York, Pennsylvania.
It also now actively competes in the game download market, looking to become a one-stop shop where gamers can find products from several different companies. And it has gone into selling collectibles, accessories, and other items.
Why the changes may lead to survival instead of success
The new approach seems to have started turning its fortunes around. For the first six months of the year, revenue came in at just under $2.5 billion, a 25% increase from the same period in 2020. While that still led to a net loss of $128 million during the first half of 2021, it was a sharp reduction from the $277 million loss experienced in the first half of 2020.
In both its latest 10-Q and earnings call, the company emphasizes its intent to improve the efficiency of its e-commerce operations. Still, CEO Matt Furlong did not take analysts' questions on the earnings call, leaving some issues about this strategic pivot unanswered.
As of now, the company's prospects for success in e-commerce remain unclear. Even if the company succeeds as a centralized download platform, it could continue to struggle with maintaining a discernible competitive moat as it offers no advantage on price over downloading games directly from creators. Similarly, the collectibles and accessories businesses it has entered also remain competitive. With GameStop declining to offer any forward guidance, its new path remains uncertain at best.
Limited prospects for further gains
No doubt, changes in the C-suite have further enhanced the company's odds. Nonetheless, it appears the changes may still leave its competitive moat relatively weak. Given its ongoing challenges, today's investors -- even those who bought GameStop near its 52-week low -- could struggle to benefit further from this stock.
10 stocks we like better than GameStop
When our award-winning analyst team has a stock tip, it can pay to listen. After all, the newsletter they have run for over a decade, Motley Fool Stock Advisor, has tripled the market.*
They just revealed what they believe are the ten best stocks for investors to buy right now... and GameStop wasn't one of them! That's right -- they think these 10 stocks are even better buys.
*Stock Advisor returns as of August 9, 2021
John Mackey, CEO of Whole Foods Market, an Amazon subsidiary, is a member of The Motley Fool's board of directors. Will Healy has no position in any of the stocks mentioned. The Motley Fool owns shares of and recommends Amazon. The Motley Fool recommends Chewy, Inc. and recommends the following options: long January 2022 $1,920 calls on Amazon and short January 2022 $1,940 calls on Amazon. The Motley Fool has a disclosure policy.
Source