Why Did Skyworks Rise 26% in the First Half of 2021?
What happened
Shares of Skyworks Solutions (NASDAQ: SWKS) rose 26% in the first half of the year, according to data provided by S&P Global Market Intelligence, after two strong earnings reports and positive momentum around semiconductor stocks. The company's revenue rose 61% and earnings per share increased 96% over the first six months of its fiscal year. However, the stock experienced significant volatility along the way.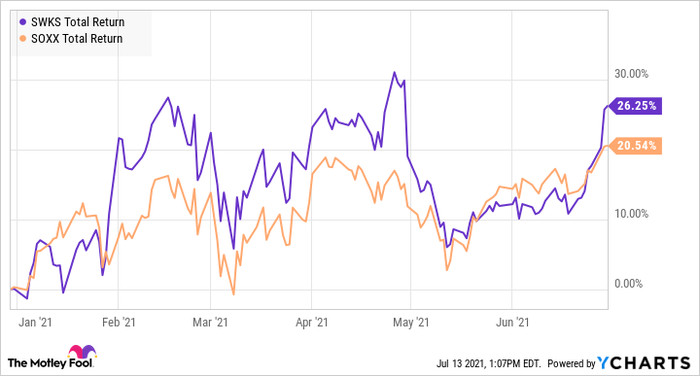 SWKS Total Return Level data by YCharts
So what
It's been a bumpy ride for Skyworks in 2021. The stock climbed nearly 20% after its fiscal first-quarter earnings report smashed analyst estimates. Skyworks is one of the leading semiconductor providers for 5G enabled devices, and the rollout of next-generation phones is fueling demand for its products. These gains were short-lived, though, as a global chip shortage weighed on the entire semiconductor industry in Q1.
Skyworks again beat analyst estimates in its second fiscal quarter, but the stock tumbled following its April 29 report. It seems that many growth investors were anticipating even better results following stellar iPhone sales by Apple, which accounts for roughly half of Skyworks' sales.
The stock closed out the quarter on a strong note, as analysts at major banks published bullish notes on Skyworks and other Apple suppliers. These improved expectations were based on reports that iPhone sales were exceeding previous expectations.
Now what
Skyworks is certainly in a position to deliver strong growth, with catalysts including 5G adoption, connected automobile proliferation, and the Internet of Things. There's a lot of opportunity for growth, but the stock will also be prone to volatility.
The stock pays a 1% dividend yield, which is low for income investors.
Its valuation ratios aren't extremely expensive, but they are on the high end of the stock's historical range. This would suggest that there's more risk to the downside than potential for upside. On the other hand, Skyworks has been notching wonderful financial results, and the stock could easily ride that momentum higher. If it continues to deliver high growth rates, returns should be excellent for shareholders.
Ultimately, investors should expect continued volatility. Skyworks presents a wonderful opportunity, but it would be vulnerable if it fails to meet analyst expectations in the upcoming quarters.
10 stocks we like better than Skyworks Solutions
When our award-winning analyst team has a stock tip, it can pay to listen. After all, the newsletter they have run for over a decade, Motley Fool Stock Advisor, has tripled the market.*
They just revealed what they believe are the ten best stocks for investors to buy right now... and Skyworks Solutions wasn't one of them! That's right -- they think these 10 stocks are even better buys.
*Stock Advisor returns as of June 7, 2021
Ryan Downie owns shares of Skyworks Solutions. The Motley Fool owns shares of and recommends Apple. The Motley Fool recommends Skyworks Solutions and recommends the following options: long March 2023 $120 calls on Apple and short March 2023 $130 calls on Apple. The Motley Fool has a disclosure policy.
Source