Why Shares of Arcimoto Jumped Again Today
What happened
The stock of Arcimoto (NASDAQ: FUV), a maker of electric three-wheeled vehicles, soared 26% earlier in the day today, but has settled back some after a five-day run that had seen them double. Shares are now up 7%, as of 3:30 p.m. EST.
The company's shares have been on a recent tear, along with those of fellow specialty electric three-wheeler maker Electrameccanica Vehicles (NASDAQ: SOLO). Here is the astounding weekly -- as in last five days -- chart of these two stocks.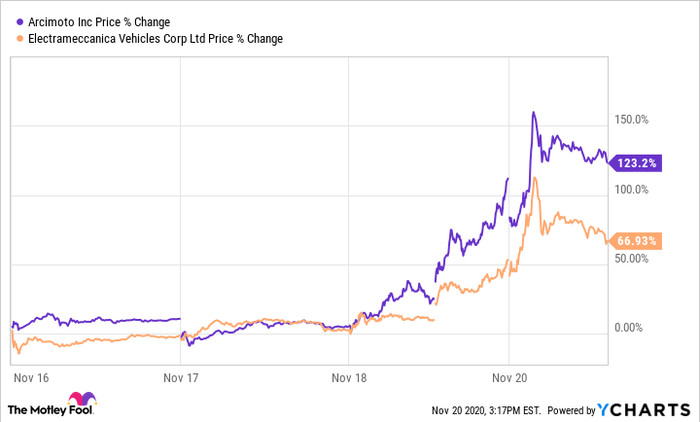 So what
This chart is what exuberance looks like, and today is continuing the trend -- though there are signs of a plateau.
Arcimoto itself decided to take advantage of the run in valuation to raise some capital with a stock sale today. It announced it plans to raise about $15 million issuing shares to an institutional investor for $13.25 per share. Shares initially reverted back toward that level this morning after closing at $16 on Thursday. But buyers came back to get it into positive territory again, heading toward today's close.
Now what
The company makes all-electric utility vehicles designed for commuting, delivery, rapid response, and just plain fun. The excitement and growing interest in electric automobiles has investors branching out to other battery-electric vehicles.
Last week Arcimoto reported it generated revenue of $683,895 in the third quarter. It has produced a total of 136 vehicles since it began production in September 2019. Today's capital raise is for the "acceleration of the manufacture of finished goods for delivery against pre-orders, and to address increased customer demand for its products," the company said in a statement.
Whether that growth will justify investors' current excitement remains to be seen. For now it is speculation, and therefore, it should reside squarely in that portion of one's portfolio.
10 stocks we like better than Arcimoto, Inc.
When investing geniuses David and Tom Gardner have a stock tip, it can pay to listen. After all, the newsletter they have run for over a decade, Motley Fool Stock Advisor, has tripled the market.*
David and Tom just revealed what they believe are the ten best stocks for investors to buy right now... and Arcimoto, Inc. wasn't one of them! That's right -- they think these 10 stocks are even better buys.
*Stock Advisor returns as of October 20, 2020
Howard Smith has no position in any of the stocks mentioned. The Motley Fool has no position in any of the stocks mentioned. The Motley Fool has a disclosure policy.
Source